WILLIE: PREMONITION by Heather Jones
WILLIE: PREMONITION
by Heather Jones
When Lucy and me go down by the river the moonlight in her long blonde curls. You can't trust no one near no shining hair like that I tell her no one should touch them long blonde curls. She laughs at me I'd be mad but for the sound of her laugh at night like when the sun and the moon sit in the sky at the same time. She laughs she holds her hair between her lily white fingers she says I can touch it. I want to.
Go ahead go ahead go ahead. Touch it touch it touch it she won't quit sayin it, I got to look down at the ground. No one. No one should touch. If I don't look she can't make me touch. My fingers twitch. She says she wishes I. would do. Something. She says it like that stops between her words I hear the air.
A stick calls to me a whisper a song, it calls me stronger than Lucy, touch it touch it, pick it up watch what it can do. So I do, I do I pick it up I hold it I wait Lucy don't see me wait she wants to go home.
I toss the stick on the water I watch it the weight of it the dark water, one side dips the other dips under finally the stick settles it floats, floats away so easy. So easy. I tell Lucy how easy the stick floats.
And Lucy so in the world all she sees is wood. She can't see. I watch the stick for both of us it floats she tells me take her home. We walk in the woods her hair in the moonlight the moon between the trees the branches on the ground. She walks on with her long blonde curls. She walks on with her lily white hands.
---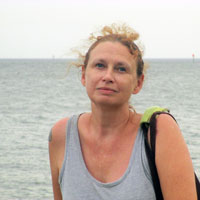 Heather Jones's plays have appeared in GLO, an annual festival of one-acts by women, The Philly Fringe Festival, Asheville Fringe Festival, The Dali Museum, and the Tampa Museum. Her writing has been published in literary magazines, including The Louisville Review, Cartagena, and Connotation Press, an Online Artifact. Heather teaches writing at University of South Florida, St. Petersburg. "Willie: Premonition" is adapted from her novel-in-progress, Tennessee Murder Ballad.
Image credit:mistiff on Flickr