PEACH JUICE COATED THE LIPS SO THAT EACH SONG by Jerrod E. Bohn
[PEACH JUICE COATED THE LIPS SO THAT EACH SONG]
by Jerrod E. Bohn
Peach juice coated the lips so that each song
became removals of pit. Her name was Valerie
(age 10) & her mother always packed an extra
we pretended was my gift
like her tracing the length of my hand she called
my fruit line. My first crush
promised me a sticker as if to suture
if I stopped professing loving her
like reopening a wound. I picked
scabs until they scarred. Mornings always resembling
blue bruises. Bleeding as if
to bleed a hole where there was no star, a slice
carved out to adhere
I walked out on my first wife & weave
like a palmprint left sticky on picnic tables
something imitated for lack of what's to say.
When I was young I wanted to be a paleontologist,
giddy among bones. Living tissue peeled
from gummy backs stuck beneath fingernails
Valerie told me I'd forever be in love.
---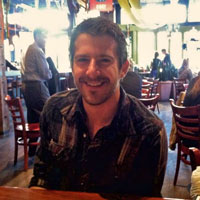 Jerrod E. Bohn completed his M.F.A. in poetry in 2010 at Colorado State University. His poetry and nonfiction have appeared in Phoebe, The Montreal Review, Smoking Glue Gun, alice blue, FRiGG, SPECS, Word For/Word, Watershed Review and elsewhere. He currently lives in Seattle where he teaches English and yoga, and he enjoys cooking and getting outdoors.
Image credit: Patrick on Flickr