VALENTINE'S (EMILY II) by Sophie Herron
VALENTINE'S (EMILY II)
by Sophie Herron
Leaning like a chiaroscuro,
a man outside a bodega says,
You only get one mother.
I want my skin to be better.
Eileen Myles says:
That's so gay, and I fantasize
about plant tattoos,
consider the best body
for a dandelion. Nothing
compares to pain.
………..But Lluvia, at a wedding in Vermont—
She tells her mother she can be patient,
getting her diapers changed.
Paciencia, she chatters, paciencia.
My hair is blue, and outside
everyone thinks I am competent.
Emily, I don't want a child.
---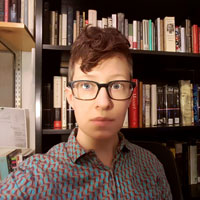 Sophie Herron received an MFA in poetry from NYU, where they were a Goldwater Fellow. They work at the 92nd Street Y's Poetry Center and live in Brooklyn with their cat. Their poetry can be found in Bodega.
Image credit: Herbert Goetsch on Unsplash