TWO POEMS by M. A. Schaffner
TWO POEMS
by M. A. Schaffner
WE HAVE TO TALK
Returning to this planet from the road
I find the plate tectonics have become
disturbingly unfamiliar. But you know
how Teddy Bears come home to roost, and how
it just becomes awkward for everyone.
I used to know a girl, I used to know,
I used to, oh well. Dust covers my hands
and blood just thickens it. I find my words
turning into little time bombs that sit
unobtrusively among other souls
before their lethal petals unfold, and
the solar wind sweeps over the surface
carrying me to a rest stop on Ninety-Five
where we all look friendly for one day only.
Some era, sagas will sing of our exploits
on the quiet wards, ones without laptops.
I won't be there, but driving, still en route.

WITH AN 'OON IN IT
The name our wind doesn't have must be long,
sonorous, and evocative. Our wind
plays in a special way with shrubbery
and bewildered household pets. In the eaves
its songs remind us that we do have eaves
that can fall like those of other peoples
in different lands and demographics.
You ask what it has to say about that
but it's only wind. We do the saying,
wondering, and fearing. No wolves bring it,
only butterflies and gaseous cattle
from far, far offstage. In the end it goes;
leaves subside in piles and pollen descends.
Summer will be long, though some enjoy it.
---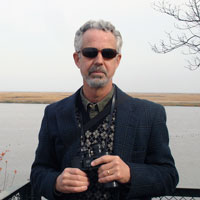 M. A. Schaffner has work recently published or forthcoming in The Hollins Critic, Magma, Tulane Review, Gargoyle, andThe Delinquent. Other writings include the poetry collection The Good Opinion of Squirrels, and the novel War Boys. Schaffner spends most days in Arlington, Virginia or the 19thcentury.
Image credit: NASA on Unsplash