THE TAO OF WORDS by Timothy Kercher
THE TAO OF WORDS
by Timothy Kercher
To my daughter Buddha
is a baby. Most everyone
is a baby unless you are ma-ma
or da-da or dog. Cows she knows,
as they stand in high-mountain meadows
in the Cimarron, laughter follows
our vehicle. Which is bee-eep,
these words and parts of words
that come and go with the waves
of vocal folds—her larynx learning
to move, to harness the power
of a puff of air, to launch thought
into the buffer zone between
beings. At two years old, she
is a blacksmith forging words
that will help her on the journey
she doesn't know she's on yet—
the more she empties herself,
the more the words
will come to fill in those spaces.
---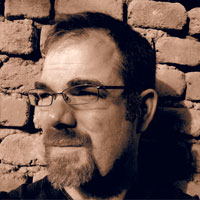 Timothy Kercher lived overseas for the last six years—four years in Georgia and two in Ukraine—and has now moved back to his home in Dolores, Colorado. He continues to translate contemporary poetry from the Republic of Georgia. He is a high school English teacher and has worked in five countries—Mongolia, Mexico, and Bosnia being the others. His poems and translations have appeared or are forthcoming in a number of recent literary publications, including Crazyhorse, Versal, Plume, upstreet, Bateau, The Minnesota Review and others.
Image credit: Barbara Backyard on Flickr