THE GAS STATION by Edward Hopper by Michael Kern
THE GAS STATION
………by Edward Hopper
by Michael Kern
The difference is light –
the natural settling of shade
upon the road
and the artificial illumination
of the store, lines cast
in degrees of transparency.
The attendant, caught in the middle,
counts the number of cars
that pass. Occasionally
he prays for headlights,
but he mainly passes time
outside waiting for Apollo
to come and turn his Mobil Gas lights
into mosquito traps.
The symbol of Pegasus
is backlit and blazing, a steady
beam that is reduced
to nothing more than a glint
in the eye of a passing driver
too focused on earth-bound deer
to worry about the speck of light
that is now getting further
and further in the rearview mirror.
---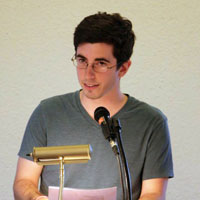 Michael Kern lives and writes in Washington, DC. He enjoys cooking, riding his bike everywhere, watching baseball, drinking good beer, making people laugh at his enthusiasm for Slurpees, and frustrating his friends by always being punctual. His work has previously appeared in Tidal Basin Review, Words Apart, and Blast Furnace. His poem "The Current Was Weak" appears in Issue No. 11 of Cleaver.
Image credit: "The Gas Station" by Edward Hopper, 1940, Museum of Modern Art