THE CURRENT WAS WEAK by Michael Kern
THE CURRENT WAS WEAK
by Michael Kern

I found my sister smashing china in the woods
because the color reminded her of bone.
We took turns throwing rocks at the shards of white
strewn on the creek-bank across from us,
prizing each chip, each crack in the façade.
We hadn't understood what the words meant:
dialysis, foot ulceration, neuropathy.
I only knew what I could hold in my hand —
a broken tea cup with its handle missing,
a nub that reminded me of the amputated foot
you showed me the week before I saw you last,
before I got a grip and skipped this broken
fragment across the creek's surface, watching
each new ring spread before crashing
against the tree roots on the far side.
Before each blow I checked over my shoulder,
scanning the leafless trees for movement.
No one could see us. The current was weak,
carving out a small canyon shoulder deep,
depositing large banks of silt and river rock at each bend.
It felt as if there was no end,
as if each toss called to you across the surface.
The china, glistening white and scattered,
appeared ordered on the far bank.
When the stars looked down that night
they reminded me of what we all are —
fissures of white cast across a cosmic mud.
---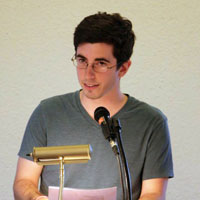 Michael Kern lives and writes in Washington, DC. He enjoys cooking, riding his bike everywhere, watching baseball, drinking good beer, making people laugh at his enthusiasm for Slurpees, and frustrating his friends by always being punctual. His work has previously appeared in Tidal Basin Review, Words Apart, and Blast Furnace. His poem "The Gas Station by Edward Hopper" appears in Issue 13 of Cleaver.
Image credit: Nicholas A. Tonelli on Flickr