THE ENERGIZER BUNNY LEADS A MARCH ON WASHINGTON by Kamden Hilliard
THE ENERGIZER BUNNY LEADS A MARCH ON WASHINGTON
by Kamden Hilliard
its about rhythm…. which is always about noise
because theres no better beacon
for all the revolution's bodies
and because cable cant handle bass
it damn sure wont be televised
whats a hihat if you cant feel it rattle?
the tipsy thirst of rhythm? its about
reaching that soul…. and flirting it open
because if you havent been scalped
with sadness by a Four Page Letter
or welded to anger by Brenda's Got a Baby
consider your"self" sterilized kook
consider yourself an island
rotting shipwreck in a sea of synonyms
for consumption
or just the worst kind of white
after all the myriad violations ive studied
or swallowed…. the worst still seems to be
not getting bloody to the beat not stirring
not knowing when to raise
and when to raze.
---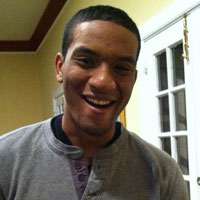 Kamden Hilliard is a poet/essayist running through Hawaii, New York, and Hong Kong with his woes. A recipient of fellowships from Callaloo and The Davidson Institute for Talent Development, Kamden is trying so hard. In the past he's been an editor of The Adroit Journal, Dark Phrases, and The Sarah Lawrence Review. Rumor has it, he's a contributor for Elite Daily and recipient of the 2015 Stanley and Evelyn Lipkin Prize for Poetry. His work has appeared in (or will drift into) Juked, Two Bridges Review, Bodega, The Atlas Review, Jellyfish, and other lovely places. If Kamden wasn't writing, he'd be very sad—or a scientist.
Image credit: slgckgc on Flickr