CONTROLLED BURN, WAKULLA SPRINGS, FLORIDA by Brenda Butka
Brenda Butka


CONTROLLED BURN, WAKULLA SPRINGS, FLORIDA



Cypress knees gather on the riverbank
like penitents. Rags of moss
banner overhead, anoint
bulrushes and pickerelweed.
Wings spread to preach, the anhinga sits,
skinny, untidy on his branch.
His hot blue eye pinions passersby,
bream shuddering in the shadows.
A double handful of alligators,
still cute in their orange-striped
baby suits, tumble slowly
in the sand.
The blonde's flesh-colored bikini
tilts back and forth on her towel,
shifting under the erratic sun,
as she puts lotion on, pointing
first one pink toe, then the other
at the baby manatee and her mother ,
majestic dirigibles cruising
the mottled water.
We consider the mammoth's bones
(reassembled in Tallahassee) ,
Tarzan looping through the air
(we have all seen him flying there),
an antique dining room for millionaires
(a leisure class we contemplate
with regret and sorrow, apologize
with potato chips and dirty plates).
Blowtorched, the forest floor in flames,
a tiny, lively hell, crackles benedictions
as we drive away. A great blue heron
drags its bony knees along the sky.
---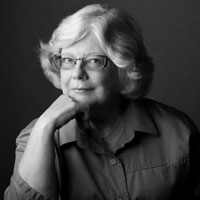 Brenda Butka practices medicine and poetry in Nashville, Tennessee, where she and her husband have just lost their home of 35 years, the farmhouse at Sulphur Creek Farm, to fire. She does write on subjects other than flames, and her poems have been published recently in The Threepenny Review, Florida Review, Cortland Review, Slant, 2nd & Church, Alimentum, Red Wolf, and in medical journals such as Chest, JAMA, and Annals of Internal Medicine, and others.
Image credit: JaxStrong on Flickr
Read more from Cleaver Magazine's Issue #10.