THE DUCK LADY by Jeremy Freedman
THE DUCK LADY
by Jeremy Freedman
In my dreams I see the duck lady,
her profile's sharp tang,
quack-quacking on Chestnut Street.
Pterodactyls are tame
compared to the rampaging avians
flying past her head, pecking at her,
causing her wracking sternutations.
Remember not to write me duck lady,
you don't owe me anything.
In my complacency, I betrayed you,
betrayed your otherness.
I did not believe in the modern polyphonic style
of your extruded aria on Chestnut Street.
You owe all to yourself and the Blessed Mother
and your home, husband and family.
Your needs are important to you;
they converge in the area
in front of you,
in the two feet of sidewalk
in front of your two feet.
If you'd sit quietly
with me and have a cup of coffee,
I'd like that.
I'd like to think we could pick up our heads
and look at each other like migrating animals,
our voices finally silent.
Come, have a cup of coffee,
the Roy Rogers is open now
and the sun is at a different angle.
---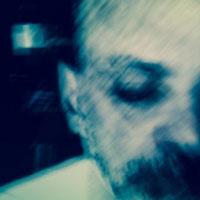 Jeremy Freedman is an artist and writer living in New York City. His photographs have been exhibited in Europe and the United States and were recently featured in Redivider, The Monarch Review, The Citron Review, and The Doctor T.J. Eckleburg Review. His poems have been published or are forthcoming in Cartagena, Eclectica, Otoliths, The Wilderness House Literary Review, Orbis, and elsewhere. More work can be seen at jfreenyc.com.
Image credit: "Little Nell", Clark Park, West Philadelphia. Photo by Karen Rile