BIRDSHOT by Michal Leibowitz
Michal Leibowitz


BIRDSHOT



After we've shot the swallows from the sky
I tell you of the coast you've forgotten,
memories turned legend, migrating inwards.
I am the gluttony learned by leeching
the ocean, all swallow bones and
winter. Wait with me as I sift through
this island, the almost-glass, the spirits
they promised. Let me pick these splinters –
murmur gentle things – let me make you
stay. Here are the swallows and here
are their feathers and here are the phantoms
waiting, wasting:
Let us take you to the grotto
where the walls glint inwards,
and the birds drop downwards,
lose their faces in the swell.
---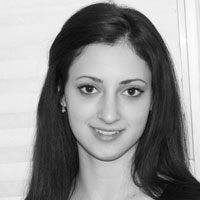 Michal Leibowitz is a student at Stanford University. She was born and raised in White Plains, NY.  Michal is a 2015 YoungArts Winner and a 2014 commended Foyle Young Poet of the Year. After high school, she spent a year in Israel where she wrote, studied, and collected stories. She has been published in the Winter Tangerine Review, The Best Teen Writing of 2014, and The Jewish Week.
This poem has been selected for republication by plain china, a national literary anthology that showcases the best undergraduate writing from across the country.
Image credit: Pete Birkinshaw on Flickr
Read more from Cleaver Magazine's Issue #11.