THE AUGUST TEMPLES by Jennifer Solheim
Jennifer Solheim
THE AUGUST TEMPLES
In the photo half my face is showing but the focal point is a streak of silver white. I dye my hair dark but last year when I began growing out my pixie haircut, I let my temples keep their natural color. I had cut my hair short when my daughter was a toddler and I couldn't stand a thick knot at my nape. But time was passing. My hair was growing. I was about to go for a run and when I tied my hair back I liked the look of it, the distinguished white and gray streaks.
I posted the photo before I went running. After I looked to see who had liked the post. There were several comments but it wasn't the photo that caught their attention. It was the caption:
the august temples
One person wrote, eminent! followed by a series of emojis. My friends from back when I played bass and sang said it sounded like a band name. I said we should start it. The August Temples, three grizzled emo dads and one mom, the bass player. It would have to be a four-piece because all of us came of age when indie rock was two guitars-drums-bass. Only occasionally keys. The guys would wear bowling shirts and I'd wear a tight ringer tee. The gear would be pulled from storage, or the corners of living rooms. (How long has it been since my bass amp was used with anything but headphones?) We'd write anxious loud songs about toddlers, a ballad about a kid crying his way through the first day of kindergarten called "The Kissing Hand." The van would have a muffler pipe patched with a tomato paste can. But at some point a conflict would arise: we'd realize we wanted to give up our families for each other. I imagine The August Temples in the practice space, with one responsibility: give a song a color and a shape.
---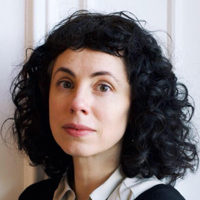 Jennifer Solheim is a French scholar, fiction writer, and erstwhile punk bassist. She is the author of The Performance of Listening in Postcolonial Francophone Culture (Liverpool University Press, 2018). Her fiction and essays have been published at Confrontation, Monkeybicycle, The Pinch, and Poets & Writers, among others. She is also a Contributing Editor at Fiction Writers Review. More about her work at www.jennifersolheim.com.
Image credit:  Diego Catto on Unsplash