SIGNS OF YOU, a young adult novel by Emily France, reviewed by Rebecca Lee
SIGNS OF YOU
by Emily France
Soho Teen, 240 pages
reviewed by Rebecca Lee 
Purchase this book to benefit Cleaver
Books labeled as science fiction and young adult can conjure many stereotypical images; a first kiss awkwardly felt on a playground swing set or a gothic vampire trying to survive an unknown universe. Emily France's Signs of You defies these stereotypes as it takes on the story of a loss, friendship, and healing.
The novel stars a likeable teenage girl, Riley, who has recently lost her mother in a fatal car accident. She and her three best friends, Jay, Noah, and Kate, all deal with the loss of a loved one and support one another through it. When they stumble upon an ancient cross, however, their relationship with death changes forever. As they take turns wearing the cross necklace, they begin to see the people they lost.
Although much of the novel may seem other-wordly, themes of friendship and coping with loss remain grounded and easy to relate to. Riley and her friends are loyal and help one another move forward in their lives.
After Mom's funeral, it didn't take long to get sick of the pity on people's faces when they saw me, followed by one of those it-sucks-to-be-you hugs. So Jay and I decided we'd do the fist bump handshake at all times.
Each character has his or her own unique personality traits and, together, they all influence Riley's perception of life and who she will become as an adult. There's Kate, a country music loving, gum snapping, cynical teenager who, even under her tough exterior, longs to be popular and accepted by her peers; Noah, the peace-keeper, who knows how to safely navigate the group away from conflict; and Jay, Riley's best guy friend, who she also has a crush on. But, with the territory of best friends, comes the leash of ownership. And as they navigate their own personal demons, the group is forced to reassess how much they really know about each other.
France details high school social life with accuracy and authenticity. She has a keen eye for the actions and intentions of teenagers and she knows how to write about tough topics. Not only does she take on grief, but she also captures the painful realization that crushes don't always pan out, the shock that accompanies children when a parent starts dating, and what it's like to want to be popular. Throughout each conflict France introduces, she brings a sharp and realistic tone.
Every year our school has an annual air band competition among the grades. It is exactly what it sounds like, and exactly as lame. Basically the popular kids run the thing, select who'll be in each air band, select the songs that will be blasted over the speakers, and then the rest of us get to watch them make asses of themselves as they pretend to be rock stars, but with no props and no talent. It's ridiculous.  But the fact that Kate has been asked to join means she's been invited to ditch us and move up in the social ranks.
This feeling of authenticity rings loud and clear throughout the entire book. Although the world they live in may waver from reality as the characters stumble through a darkened fantasy, their feelings are as relatable as a conversation between best friends.
---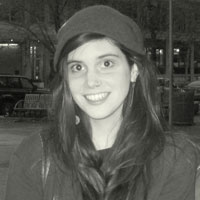 Rebecca Lee currently lives in Charlottesville, Virginia. She has been published in Existere Journal, Rusty Nail, The Noctua Review, and others. Read more at her website.