REPARATIONS WINE LABEL Text by J'nai Gaither Illustrated by Phoebe Funderburg-Moore
Text by J'nai Gaither, Illustrated by Phoebe Funderburg-Moore
REPARATIONS WINE LABEL
Click on images for full-size.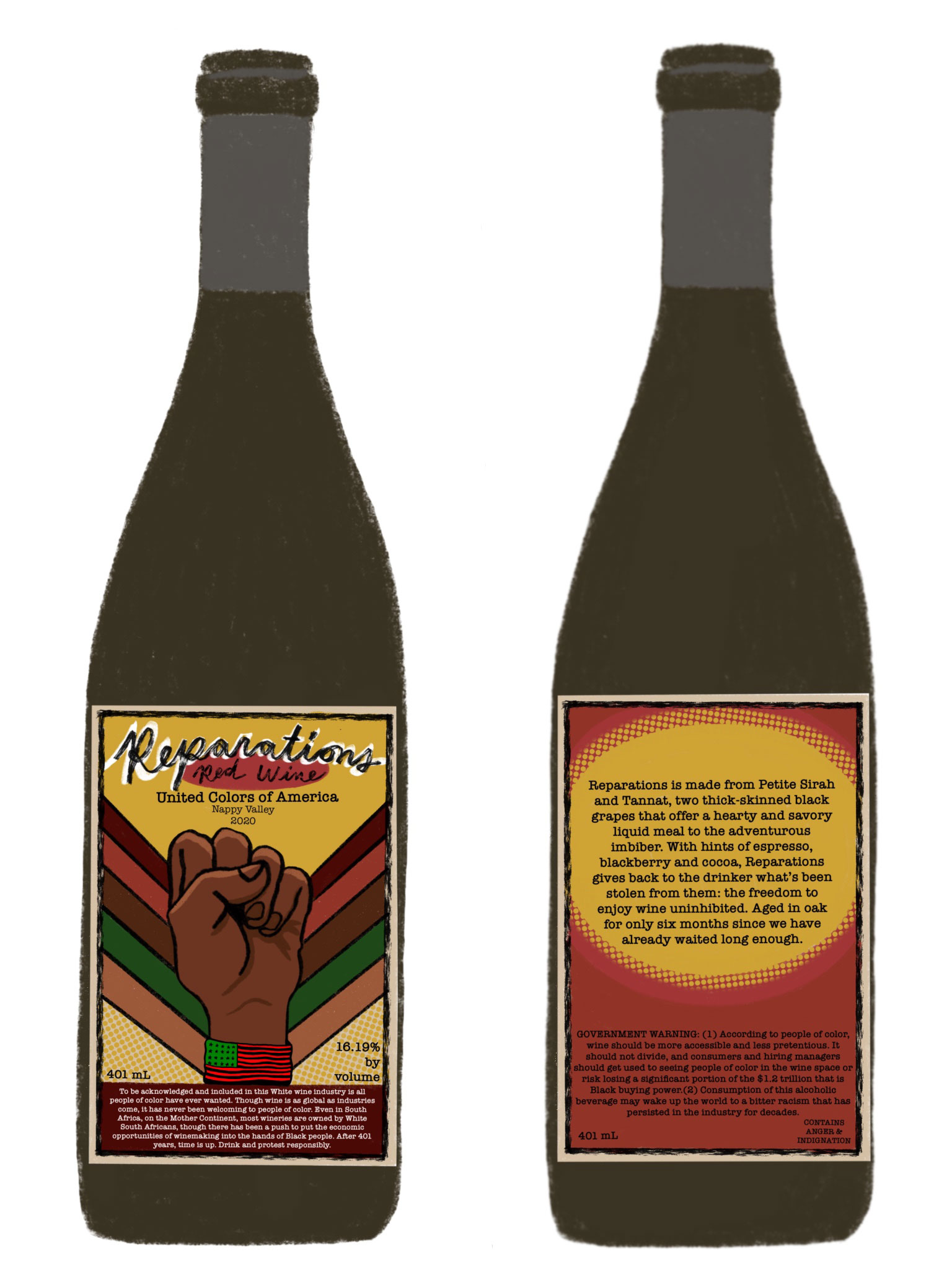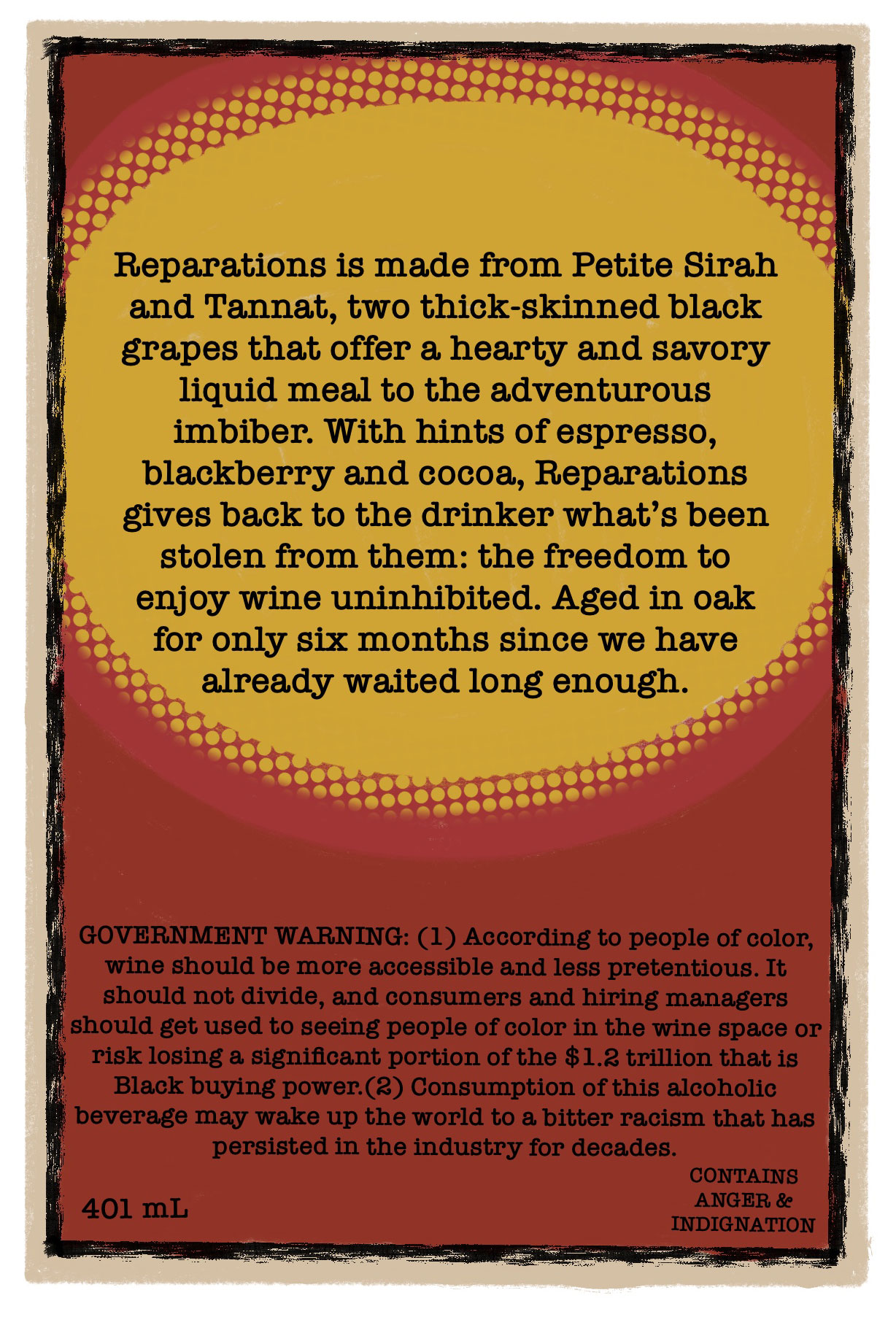 Full Text of Label:
Blacks in Wine Matter
Reparations Red Wine
United Colors of America
Nappy Valley
2020
401mL              16.19% by volume
To be acknowledged and included in this White wine industry is all people of color have ever wanted. Though wine is as global as industries come, it has never been welcoming to people of color. Even in South Africa, on the Mother Continent, most wineries are owned by White South Africans, though there has been a push to put the economic opportunities of winemaking into the hands of Black people. After 401 years, time is up. Drink and protest responsibly. 
Reparations is made from Petite Sirah and Tannat, two thick-skinned black grapes that offer a hearty and savory liquid meal to the adventurous imbiber. With hints of espresso, blackberry and cocoa, Reparations gives back to the drinker what's been stolen from them: the freedom to enjoy wine uninhibited. Aged in oak for only six months since we have already waited long enough.
Government Warning: (1) According to people of color, wine should be more accessible and less pretentious. It should not divide, and consumers and hiring managers should get used to seeing people of color in the wine space or risk losing a significant portion of the $1.2 trillion that is Black buying power. (2) Consumption of this alcoholic beverage may wake up the world to a bitter racism that has persisted in the industry for decades.
401mL                        Contains Anger & Indignation
---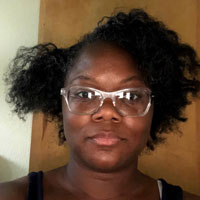 J'nai Gaither is the hungriest of storytellers, always foraging for the next, excellent food and beverage story, or the most delicious of ad campaigns. When not consuming copious amounts of champagne and burgundy, she's usually planning her next meal while listening to opera. Her work has appeared in Plate Magazine, New York Magazine's Grub Street, Eater, Dining Out Chicago, Vinepair, From Napa With Love and other books and publications. You can see her work on Amy's Kitchen website and packaging, as well as on current Sargento Cheese commercials. She has also been featured in the San Francisco Chronicle, Wall Street Journal, and Washington Post.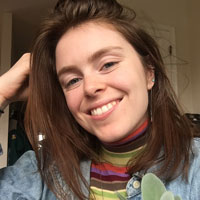 Phoebe Funderburg-Moore is a Philadelphia-based illustrator, screen printer, and graphic designer. Her work is focused around self-discovery, love of nature, and observational humor. Recently Phoebe has been teaching herself animation and digital illustration. To view more of her work, visit phoebefm.com and follow along on Instagram at @phoebemakesart.