FIVE WAYS THE WORLD ENDS by K.S. Lokensgard
FIVE WAYS THE WORLD ENDS
by K.S. Lokensgard
By Drought
The year the rains never came, the ground dried up and cracked wide open. Dust settled on laundry hung in the yards and you appeared on my porch, hands clasped. In the fields, only the grasses survived, growing tall around our knees. There was a sense that it was all ending, but no one talked about it.
When even the grass started to turn yellow, we knew. You stood there, folding a blade of grass in half and half again, squeezing each crease. From the stoop, we watched garbage drift through the empty streets, waiting for the earth to swallow us up.
By Flood
The price of boats skyrocketed. We carved one out of a tree trunk, the way the natives used to. Our blisters sang out, but our panic kept us moving. On TV, we watched aerial footage of the waves racing towards land.
When the water came, it was a wall and a bomb and a blanket; it swirled, eddied, slammed, rose up. From our tree-trunk boat, we saw things swimming that stole our breath. The water was brown and filled with bodies and we couldn't drink it; that was how we actually died, from thirst.
By Witches
At first, it was what we expected: animal milk soured right out of the teat, low-grade seizures, small figures made of straw left on our beds. But then they closed their fists: they called the bears and the wolves out of the forests; they lashed us with storms that destroyed whole cities and made each night last a year. People began to lose their minds from fear.
Near the end, we watched them congregate in the night sky, hair streaming. The air was thick with hexes that clung to our clothes. In a few days, it would all collapse: cities burned out, pastures fallow, screams on the wind, grass bloodied.
By Fire
It started as a series of small fires, unrelated, that could not be put out. They ate up the roads and the fields, city blocks, and grew, rolling across nations, consuming. They met eventually in the center of the world, which we never knew beforehand was the center: a village outside Cuzco, too small for a post office.
Before the heat struck us, ash blew in on the wind. It was soft in our hair and with the horizon darkening, it almost felt like just a change of season. But the heat did come: it blackened and shrieked and nothing survived, not even the sky.
By Neglect
Ivy grew up and strangled walls, pulled them down. Crops rotted in their fields. Even the animals gave up and lay down in their meadows and desert holes. They left their nests half-finished and stopped their dances towards each other.
This end was slow and almost easy: a gentle decay, apathy grazing our bones like a virus. Some thought it actually was a virus, but no one had the will to find out. All the microscopes sat in vacant labs. The earth quieted.
Warm under our sheets, we thought, it won't end like this—someone will do something. You brushed my eyelashes with your fingers and felt the length of my body and then we ran out of food, dust in the cupboards.
---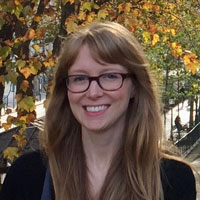 K.S. Lokensgard is a writer and lawyer in Washington, D.C.
Cover photo by Markus Spiske on Unsplash