OUR LADY OF THE MARVELOUS WRISTS by Jennifer Moore
OUR LADY OF THE MARVELOUS WRISTS
by Jennifer Moore
Conchita Cintrón, 1949
I killed my first kill in the slaughterhouse.
Stabbing oxen with a dagger was my drill.
One's eyes must be open to one's own horrors.
One's eyes must be open to one's own persona:
with training I became the Blue-Eyed Torera,
diosa rubia, the Blonde Goddess of the Arena.
I fell in love with a sword, made pandemonium
in the crowd. Through her glass eye, the cat
wants the robin's beak, then the entire robin.
Bull, I'll be the cloud that taps on your shoulder.
When the declining sun shines full in your eyes,
my wrists do marvelous things.
It's my veronicas that dazzle the afternoon
and make it rain carnations in the ring.
The audience roars: "Bait the bull, you bait me."
So let me coax you closer, but: this blood-dance
will be simulated. As you thunder by, I'll touch
your shoulders, then drop my sword in the sand.
The death-blow will not be remembered.
When I sculpture with the cape, I disappear.
A clever girl peeks through the door, not around it.
---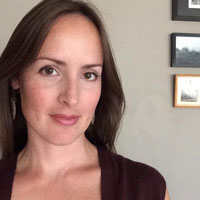 Jennifer Moore is the author of The Veronica Maneuver (forthcoming, The University of Akron Press), and What the Spigot Said (High5 Press). Her poems have appeared in American Letters & Commentary, Best New Poets, Columbia Poetry Review, Barrow Street, and elsewhere, and criticism and reviews in Jacket2, Spoke Too Soon, and The Offending Adam. A native of the Seattle area, she holds degrees from the University of Colorado and the University of Illinois at Chicago. Jennifer is an assistant professor of creative writing at Ohio Northern University and lives in Defiance, Ohio.