SHIFTLESS
by Jason Irwin
after Raymond Carver
"He doesn't want to work. He just wants to get drunk and grow his hair long." I could hear my grandfather's mocking voice as I stood beneath the rusted ass of a machine that roared and spit cranberry residue. It was the end of summer. I'd just returned from California, a cross-country one-sided love affair with a hippie woman and her dog that ended in disgrace when we settled in with her stunt pilot boyfriend in a San Fernando bungalow and I realized I was the third wheel. I was twenty-six and going nowhere, back home and living with my mother, who worked nights at a nursing home. After a few weeks I was hired at a juice factory through a temp agency.
Three hours into my first shift, with blisters blooming on the heels of my hands like stigmata, a man with a toothpick between his lips and an Ewok's beard tapped my back and motioned with a greasy thumb.
"Break time!" I followed him through a maze of metal work and fruit slop. The noise was horrendous, the heat devouring. I felt like I'd been plunged into the depths of William Blake's satanic furnaces.
◊
On Fridays my grandfather and I would go to The Knights of Columbus for fish and a beer. He always paid, smiling as I gulped down my first draft, eager for a second. The portions were small, the batter soggy, but my grandfather liked the bartender, who looked like Andre the Giant's kid brother and hosted a local sports radio show.  After dinner I'd drive my grandfather around town in his red Pontiac. We'd stop at the pharmacy, the grocery store—all the while he'd point out the empty lots that used to be something—a barber shop, a bar, Brooks' Locomotive Works, the church he and my grandmother were married in.
◊
Outside the factory a soggy breeze hung in the air like bad breath. The sun had gone west, but the sky still held its saffron aftermath. I watched two men in blue jumpsuits stand against the wall smoking cigarettes.
"Screw this," I said in a moment of delinquent inspiration and walked across the parking lot, kicking bits of gravel in my path. At the corner of Central and Second I turned left, meandered along the lakefront. Seagulls soared and screamed, fought over garbage. One stood on a tire and blinked into the wind. "Goddamn shit!" I screamed with pride, until my lungs burned, while in the distance a ship's silhouette rose above the horizon line, beyond which I traced the jagged blue outline of Canada. I could hear my grandfather's voice again:
"He doesn't want to work."
And he was right. All I wanted was to stare out at the lake, the clouds, the cracks in the sidewalk, to drink cheap beer and read Camus, to dream of all the places I'd yet to travel, the person I would one day become if I had the guts, if I could survive.
---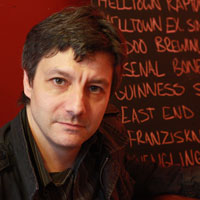 Jason Irwin is the author of A Blister of Stars (Low Ghost, 2016), Watering the Dead (Pavement Saw Press, 2008), and the chapbooks Where You Are (Night Ballet Press, 2014) and Some Days It's A Love Story (Slipstream Press, 2005). He is the winner of the Transcontinental Poetry Award, and he has an MFA from Sarah Lawrence College. He has essays published or soon-to-be-published in The Crux and IO Literay Journal. He lives in Pittsburgh. More at http://www.jasonirwin.blogspot.com.
Image credit: Sarah Diniz Outeiro on Unsplash