ONE MINIATURE GAMEBOOK by Drew Knapp
ONE MINIATURE GAMEBOOK
by Drew Knapp
Sylvia works stain into peeled orangewood counters while the sunset peeks in muted veil through kitchen window milk glass. The month of flowering is nearly finished, and this barren woman has a wedding to attend. Too stressed by her own state of affairs, she daren't dream herself into any others—she for(goes/gets) the gift.
Her body had been a pebble to him, or perhaps he'd thought himself a colossus; still, it felt bizarre to shake his hand now that the fountains were dry and the roses over. She stirred the silence so her mind could quit its usual habitations: "I'm sorry, I bought you a wine rack but didn't bring it"—he for(gives/feits) the absence.
At home the leaves in the garden are already yellow to the heavens. She walks among them and lets the sun ruin her for a blank hour like a shored trout. Upstairs she undresses, thinks about scars. An old gown soiled with memories sits out of stasis in the dim wardrobe. She pulls it down and wraps it 'round herself like a fever, then walks for(ward/lorn) to a small spot in front of the mirror, a black-hole woman, a vase for paradise.
---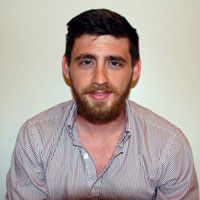 Drew Knapp is a writer living in Washington, DC. He has previously published work in decomP, Hobart, The Citron Review, and others and received two Pushcart Prize nominations. His first book, monologue pastiche, is forthcoming. He can be reached via Twitter @ggzuzwan.
Save
Save