FIVE THINGS by Victoria-Lynn Bell
Victoria-Lynn Bell
FIVE THINGS
1. The last thing that made you smile.
The orange sticky note is hard to miss—the corner peels off, pricks me as I pluck it from the headboard of my bed. Your handwriting is large and round. I hope your interview goes well tomorrow. Remember to be yourself! I toss it into the garbage and get ready for bed. The next morning, I pause in front of the mirror and dig the note out of the bin before shoving it into the pocket of my dress pants.
A secret.
My mother is dying. 
The last thing you wrote.
I was myself.
Favorite city.
I was lucky enough to live in LA for one week. I learned how to hail a taxi and dance on the beach. I dipped my toes into the cool Pacific as the sun sank below the horizon and watched a sea lion chasing fish off a lighted pier in the middle of the night. When I return home, I tell you LA wasn't all it was cracked up to be. You've never been to the West Coast, and you never will.
What you'd place in a time capsule.
Three feet below the ground, you will not feel the earth as it presses down from above. Beside you, the peel of a Halo, the only brand of clementine you would ever buy; chapstick I stole from your dresser; a playbill for The Secret Garden; the last book you borrowed from me, The Golden Compass; and all the pens that have run out of ink in my attempts to write about you.
---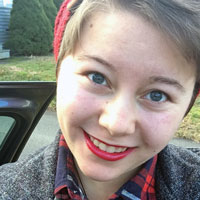 Victoria-Lynn Bell is a student attending Central Connecticut State University. She is editor-in-chief of The Helix, an undergraduate literary and art magazine. When she's not climbing mountains or swallowing saltwater, she can be found with a good book and a purring cat.
Image credit: Stuart Guest-Smith on Unsplash