ON THE RUN WITH MARY, a novel by Jonathan Barrow reviewed by Ava Van der Meer
This review by University of Pennsylvania undergraduate Ava Van der Meer won third place, The Lilian and Benjamin Levy Award, in the university's creative writing competition for reviews of a current play, film, music release, book, or performance.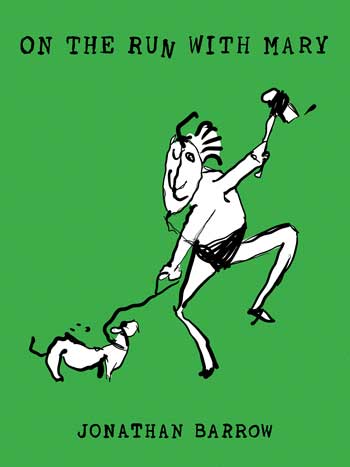 ON THE RUN WITH MARY
by Jonathan Barrow
New Vessel Press, 115 pages

reviewed by Ava Van der Meer
Little can mirror the hyper-exaggerated, hypersexual imagination of Jonathan Barrow's On the Run with Mary—an engaging picaresque with perversely comic undertones. To be sure, this rendition of the 20th century is definitely not for the faint of heart and far from your run-of-the-mill coming-of-age story.
Don't expect any topic to be off-limits as you join a young, jaded schoolboy as he flees from an elitist English boarding school to brave the streets of 1960s London. Befriending a talking 34-year-old dachshund named Mary, the narrator navigates a luckless, schizophrenic world of substance abuse, evil headmasters, bodily excrement, and sexual licentiousness. Dead rats are crowded on quickly passing trains, terriers commit suicide by jumping off the Waterloo Bridge, and entire busloads of strangers defecate on each other. Taxi drivers are paid in sexual favors, priests are burned alive in crematoriums, and schoolchildren swim in sewers with frogmen. Time and time again, the narrator is sexually abused by his superiors as he runs from the large metal "hook" of his eccentric former headmaster. Barrow discards logic and common sense, subverting normalcy with a sense of paranoia and morbidity that is only occasionally punctuated by small snippets of unreciprocated kindness.
In an ironic performance of fate, the violent nature of the story seems to prophecy Barrow's own demise. At age 22, Barrow was killed in a car crash on April 5, 1970, just days after completing On the Run With Mary (originally titled The Queue). Although having died at such a tragically young age, Barrow offers a tale pregnant with his own experiences as a rebellious British schoolboy. Even Mary can be traced to the Barrow family's aged dachshund Gilda. Assuming full artistic license to transform his reality to fiction, Barrow straddles the line between an absurdly nightmarish explosion of words and a clever commentary on one youth's attempt to grapple with adulthood. "Head Master, furious and disappointed, is now chasing me through the school kitchens. Suddenly the tail of his gown catches in a dish-washing machine," writes Barrow,
and, as the propeller revolves, he is dragged into the machinery. He is in considerable discomfort and I switch it off. He begins to cry and I am overcome with remorse. I take him in my arms and, watched by an enormous crowd, carry him gently toward his bedroom. We arrive at his bed and immediately I am overcome by an appalling stench. I pull back the sheets and find numerous recent deposits of excreta. Then, to my horror, I find between the sheets the corpse of a boy named H. R. Short.
Barrow dares readers to open their minds to the suppressed outskirts of the human condition—the societal taboos and indecencies that epitomize both the grotesque and the humorous. Large blocks of text and simple diction reveal the youthful, crude nature of the storyteller, while the fast-paced (though scanty) plot line adds a witty energy. The author's black-and-white drawings dapple the pages, complementing the bare-boned text. One can't help but wonder how Barrow might have developed as an interpreter of modern life had he lived and aged.
Central to the beauty of Barrow's work is the understated depth of his characters. Stumbling from one misadventure to the next, the boy and Mary encounter shame, guilt, and mortality, masterfully disguised by Barrow's extreme surrealism. The boy narrator, normally objective in his accounts, occasionally breaks his emotionless façade to reveal cutting insights and heartbreaking sympathies. After watching the manager of a pet food company commit suicide in a bathroom, the narrator reflects the he "could not take punishment like a man," a sad and misguided internalization of what it means to be an adult. Likewise, the boy admits he was "in tears" when rescuing Mary's injured body, overwhelmed by the sad, cruel emotion he so often suppresses to fit the expectations of the adult world. Such moments of expression (both woefully jaded or naively touching) forge a bond between reader and character that overcome the otherwise intimidating temperament of the story. Even within the horrific comedy that is Barrow's London, youthful honesty finds refuge. Thus is the artistry of Barrow's work.
---
Ava Van der Meer is a student at the University of Pennsylvania, pursuing a major in Political Science and a minor in Economics. An avid reader and writer, her pieces appear in UPenn's travel magazine STAMPED and arts magazine 34th Street. Ava also enjoys painting, running, and traveling the world in her free time.