LOVE OF YOUR LIFE by Kris Willcox

Kris Willcox
LOVE OF YOUR LIFE
They say you fall in love with your children the moment they're born, although this was not my experience. Paul was a nice baby, but his needs and insistent gestures confused me. Fifty years ago, it was normal for fathers to feel that way. Babies weren't worn in pouches from dawn to dusk, and no one had ever thought of a jogging stroller. Paul's carriage looked like a tiny hearse, and I'm sure I never pushed it.
One Saturday, when he was not quite two, Carol went shopping during his afternoon nap. She left me with instructions for the casserole (into the oven at five) and for Paul (wake him if he sleeps past four). I spent an hour circling the house with a push mower, and when I noticed that the light had become golden, I knew it must be time to wake him. I removed my shoes at the front door and went upstairs to his room.
He wasn't there.
I spun around as if someone behind me had spoken, but there was no one—just Paul's bed, and blankets. Panicked, I gave myself simple directions: Remain calm. Look. He's here somewhere. I checked the closet, his toy chest, behind the curtains. I looked in our bedroom and in the bathtub.
"All right, Paulie," I said, running downstairs. My socks slipped on the wooden treads, and I grabbed the railing to keep from falling. I jammed my feet into my sneakers and rushed around the first floor, then again upstairs. I got on hands and knees to look under the claw-foot tub, a space even he could only have fit by crushing himself, but how could I know his mind? Each night, he'd wave to me as I came up the driveway, then hide when I tried to talk to him.
Now he simply refused to be anywhere—not in the garage, the cabinet, the cellar. My limbs were heavy; the blood was silting up in my veins. I couldn't think. That's how Carol found me, grunting like a bear and yanking keys from the pocket of my overcoat.
"He's gone!" I shouted. She bounded upstairs with me directly behind her, yelling that I'd already looked there, for Christ's sake.
"He's right here," she said. I stumbled in.
And there he was, so small I'd mistaken him for a twist in the blankets. Our voices woke him, and he began to cry. Carol soothed him against her shoulder, and I shuffled downstairs, a fool gripping my keys.
Paul's sneakers were beside the door. A blue pair, and a red. When I saw them, I realized what Carol must have known from his birth: that if he left us, by choice or by accident, we'd have to rid ourselves of every trace of him, starting with those shoes. It was the only way we'd survive.
That's what they mean when they say you fall in love. It's true. It's terrible.
---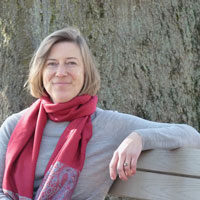 Kris Willcox lives in Arlington, MA with her family. Her writing has appeared in Crazyhorse, Kenyon Review online, Beloit Fiction Journal, Cimarron Review, Tin House online, Vela, Molecule, and elsewhere. Kris Willcox's flash fiction piece "Love of Your Life" received Honorable Mention in Cleaver's 2022 flash fiction contest judged by Meg Pokrass.
Cover Design by Karen Rile