IN WHICH LIFE?: A Conversation with Chauna Craig, author WINGS AND OTHER THINGS, speaking with Emily Huso

IN WHICH LIFE?: A Conversation with Chauna Craig
author WINGS AND OTHER THINGS, Press 53
speaking with Emily Huso
Chauna Craig's second story collection, Wings and Other Things, speculates about the possibilities that exist beyond fear, self-doubt, and patriarchal control. Most of the collection's sixteen stories are set against Midwestern expanses and center female protagonists who dare to imagine the roads not taken and to re-imagine themselves.
In these narratives, Craig explores moments of silent but irreversible rupture: an unwelcome revelation about a significant other, words that can't be unspoken, a dream dashed. Like the exposed anatomical heart depicted on the book's cover, Craig's prose demonstrates vulnerability, a rawness of syntax and image. Through sharp sentences and halting fragments, we are shown not just the breaching whales and the prairie's sky of infinite stars but the wiped snot, feet scraped raw in a field of corn, mouths that taste of mint, smoke, and betrayal.
Like the illustrated heart, the collection has a distinct rhythm and pace. If the book's flash fictions are like skipped heartbeats and its longer stories sustained throbs, then the female characters are the collection's steady pulse. In their quiet assertions of self, their desire for "other things," the women in Wings demonstrate profound resistance to silencing and disenfranchisement.
Corresponding via email, Craig and I discussed fiction as an exploration of unlived lives, movement and suspension in story, and the power of small, quiet actions.
—Emily Huso, September 2022
---
Emily Huso: In "Impossible Blue," the opening story, you write, "There was no her. Or maybe there were millions of her and she just hadn't discovered the right one" (10). I love how this line invites the reader to think about the multiplicity of selves, the lives not lived and unrealized versions of the self. Why did you decide to lead with this particular story?
Chauna Craig: Most of the stories in the collection are quite limited in timespan—the length of a phone conversation, a night, maybe a couple weeks—but this one spans years, hinging on the moments when something changes and exploring how, even if you're content with your present life, you can simultaneously spin back to the past to reconsider choices and spool forward into the imagined futures where you might feel spontaneous grief for losses that never felt like losses before. I wanted to open the book with a character who becomes conscious of the multiple lives compressing and expanding in her every moment because that's my experience as a writer with a head full of characters, and I hope readers feel the same, that some characters linger and live on in the mind. Maybe this story is my ars poetica for this collection? The idea that writing and reading fiction is about the chance to live multiple lives and explore opportunities we couldn't or shouldn't in the "real" world? I just came up with that, but it feels true. The protagonist of "Impossible Blue," told by a shrink to explore something in her life, asks, "In which life?" As a reader and writer, I take her question very seriously.
EH: It's such a provocative question, and I appreciate that these stories never land on an easy answer. That resistance to resolution along with the thoughtful story sequencing left me with a feeling of suspension. The flash fictions in the book feel like quick updrafts, the longer stories like gliding. What are your concerns when thinking about the overall arc of a collection?
CC: My original ordering of these stories was consciously built around the elements of water, air, earth, and fire, and I'm fortunate that my editor recognized that I was forcing stories into that structure, which prevented me from seeing the more organic connections. When I returned to the table of contents, I realized I had to cut at least one full-length story that simply didn't fit in. I went through finished stories that hadn't been included originally and found flash-length stories that amplified in bursts some emotions that were drawn out in longer stories. So it delights me that you mention the reading experience as updrafts and gliding! Even though a lot of people don't read story collections in their published order, I wanted that reading experience of sustained narrative interrupted with little, concentrated bursts.
EH: So many of these stories begin and end in places of uncertainty or possibility, depending on your perspective—mid-flight somewhere between a reckless recently divorced girlfriend, a protective husband, and two daughters; balanced on railroad tracks stretching "in either direction, infinitely"; frozen at a knock on the door, steeled for whatever is on the other side. How do you think about beginnings and endings? In a story, what do beginnings and endings need to accomplish?
CC: The standard position on story beginnings is that they need to pull the reader into the fictional world and make them want to keep reading or, as one of my old teachers said, "begin with trouble then make it double." And I'm still all about that because I will pick up a book in a store and read the first page to see if it entices me to turn the page. The older I get, the more I'm aware that I don't have time to read everything I want to, so something better hook me right away.
Endings are less clear cut for me. Some readers require resolution to the story's external events, but as you point out, a lot of my stories end in suspension, a pivotal pause that could go many ways. I think what's important is that something has been resolved, though. With the knock-on-the-door ending you referred to, the character recognizes she can't stop or hide from whatever's coming, but that she can and must reframe her own desires around what she previously accepted as fate. That's a significant realization. Even when character epiphany is out of fashion, as it sometimes is, the reader needs a sense of movement, change, significance. You have to leave a reader feeling that the time spent reading a story was an investment, that they've been left with more than they started with, and that might mean something different to every reader.
EH: Speaking of movement and suspension, the women in this collection frequently seem trapped not just by their circumstances but by their social conditioning. This feeling of limitation makes me think about the trapped chimney swift in the title story. Even if the bird could escape its fate, it seems highly unlikely that it will abandon its nest. Maternal instinct seems to dictate the choice the swift makes, perhaps even eliminates choice entirely. What does agency look like for characters who feel trapped by their circumstances or whose social conditioning limits their ability to make their own choices? How would you respond to the common workshop critique that characters must have agency to be round, complex, and/or interesting?
CC: I have certainly been the object of that particular workshop critique! I do think it's important that characters make choices and act on them—that's part of what makes well-rounded characters, and we read fiction to consider the range of choices humans make, the possibilities for all of us. No one wants to read about the human doormat who remains a human doormat. That said, as a culture we pay a lot more attention to the loud people who live large. We expect heroes who grab guns and right wrongs, women who run with the wolves. I love those characters too, but as an avowed introvert, I know how much we underestimate the power of small, quiet choices and actions. I think of women in controlling relationships, like Elise in "The Sweet and the Heat," and I'm keenly aware of her constant calculations about when and how to resist her partner's control. While she lives largely in reaction to Levi, she demonstrates genuine agency in forging a friendship with her neighbor and in searching for her runaway stepdaughter. She is not one-dimensional or merely passive, and I think the challenge with characters like her is to find ways to explore why and how someone surrenders agency or doesn't.
EH: You mentioned "The Sweet and the Heat." That story along with "The Ferryman's Smile" and "Smoke, Iowa" stands out to me from the rest of the stories in the collection for how it centers women's relationships with other women. The specter of male violence and control moves to the periphery, making space for questions about "the culture," as Camille puts it in "The Ferryman's Smile"—about the ways that social norms dictate what women's relationships with other women look like, perpetuate the harmful ways we talk about and treat women, and teach girls to perceive themselves. What issues were you turning over in these particular stories? How do you see them in contrast or synchronicity with the other stories in the collection?
CC: I think a couple of other stories try to explore women's central connections to other women, i.e. the sisters in "Big Sky Blue," the narrator/her mother and mother/best friend in "The Empty Set," but in those ones, the looming threat of marriage and the father's release from jail seem to pre-emptively close that space you mention. I dedicated this book "to the women who give me wings and keep me aloft, and to those who help me land safely" because, with a few exceptions, women have been the people who show up for me in my times of need, who celebrate with me, who make me believe there is always more me to become. And as much as I wish these themes about control and cultural norms were dated or irrelevant because we live in a post-patriarchy, we don't. Control of women is literally being codified right now by state legislatures deciding vital questions of personal autonomy. Women are presumed incapable of knowing their own minds and making their own decisions, and the further outside of the patriarchal lines those desired lives are, the tighter the cultural control. Jenn Shapland in her fabulous memoir, My Autobiography of Carson McCullers, talks about McCullers' first biographer describing her "ambivalences" and how that seems to be code for her love for other women, also implying confusion or "a woman who doesn't know her own mind, her own wants." Hear that enough, and it's easy to start to believe that about yourself.
At the beginning of "The Sweet and the Heat," the runaway stepdaughter leaves a note that Elise fixates on: I want other things for myself. The character doesn't have context for understanding what that might mean because she has so deeply internalized the message of not wanting, of equating expressing a self with "selfishness." To even be able to hear the voice of the self, we have to unlearn the powerful messages that women only know themselves by their service, even submission, to others, whether men, the family, or their workplace. And men have to unlearn those messages about women too. These issues are so persistent and pervasive and often personal that I can't help but explore them in the lives of my characters.
EH: That thematic thread definitely feels urgent in these stories, whether it is explicitly explored through characters or implied through metaphor. Speaking of metaphor, I have to ask how you go about creating the startlingly vivid images in your stories that carry so much symbolic weight. For example, in "Scrap Moon," the narrator's ailing mother describes the moon as "a withered hangnail. Throwaway," and the reader can't help but think about things that, like a hangnail, hold on—the residents at the assisted living community who hold onto life, onto fractured memories—and about what we discard: a hangnail, a severed part of ourselves; the people society dismisses, like the narrator's unmarried son or the elderly, including our own parents. Can you talk about your process of discovering and developing loaded metaphors?
CC: Definitely a "loaded" question, but I appreciate how you describe "discovering and developing" metaphors because that really is the process as I experience it. If I'm writing regularly and paying attention to the concrete world of the story, I trust the unconscious to show up and do its job. As I steadily build scenes with attention to sensory detail, my mind tosses up images and descriptions that create or reinforce patterns. That's how our minds work: we seek order, patterns, balance. More, I have to let go and let readers make the smart, intuitive connections you made about images in "Scrap Moon." In revision, I do often look for how images and ideas echo each other, but I confess I never thought about the hangnail moon image tying into the themes you note, and now I think "that's so smart, I wish I'd thought (consciously) of it!"
Writing is first and foremost discovery for the writer, but I don't pretend I can control what readers discover for themselves, and that's part of what keeps stories alive.
EH: Do you have a favorite craft technique to use? If so, which one, and why?
CC: I don't know that I have a single favorite technique, but I have always loved collage and montage where the reader has to work to make leaps, white space where everything is hinted at, happening off scene. I tend to experiment like that in creative nonfiction, and the stories in this collection are more traditional narratives, but there is an irresistible energy in stitching bits together into a living Frankenstory.
EL: As a writer, what artistic transitions are you in the midst of? In what ways are your aesthetic imperatives shifting?
CC: I love this question. I also find it terrifying because at this point in my life, I don't have an answer, not a good one. My impulses seem to push toward weirder, more fragmented writing while fear of "wasting my time" drives me to be more "marketable." I know those aren't mutually exclusive directions and that there is no single market either. I'm not good at patience, but I am trying, as Rilke famously noted, to "learn to love the questions themselves." Still, like so many of my characters, I'm waiting for the lightning strike to tell me what's next, so I really hope I haven't failed to recognize the subtler nudges all around me.
---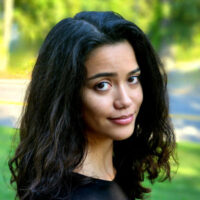 Emily Huso's stories and essays appear or are forthcoming in The Roadrunner Review, Reflex Fiction, and Watershed Review. A graduate of the MFA program at the University of Washington, she has received support from AWP's Writer to Writer Mentorship Program and the Bread Loaf Writers' Conference. Find her on Twitter @emilyhuso.