FORCE: 2nd GRADE by Jessica Cuello
Jessica Cuello
FORCE: 2nd GRADE
Hunger was secret—hump
on the back, the something else,
the body insisting that it was present.
Child head and child arm. Teeth
like rows of letters written
on colored cards. An assemblage
of girl—put together like a first
sentence. Remember when
shame was the time of day,
when the body spelled need with
her ugly limbs: half blue, half
skin. Shame to eat. Shame to pee.
Shame to enter in and exit out.
Grownups made a body. Made it
like a weed and sent it to school.
The bones grew. The skin stretched.
The body sat in the square of desk.
Hunger pulled. The alphabet lined
the board. The words That This Those
were tacked to the wall, strange suns
of literacy the body grew toward.
---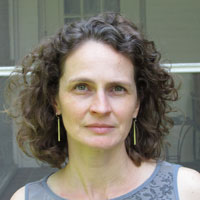 Jessica Cuello is the author of Pricking (Tiger Bark Press, 2016) and Hunt (The Word Works, 2017). She has been awarded The 2017 CNY Book Award (for Pricking), The 2016 Washington Prize (for Hunt), The New Letters Poetry Prize, a Saltonstall Fellowship, and most recently, The New Ohio Review Poetry Prize. Her newest poems are forthcoming in Copper Nickel, Cave Wall, Bat City Review, Pleiades, and Salamander.
Image credit: Alexas_Fotos on Pixabay