THREE POEMS by Darren C. Demaree
THREE POEMS
by Darren C. Demaree
A NIGHT SO BEAUTIFUL WE BURNED DOWN THE SENATOR'S HOUSE #4
Nobody saw who flipped over
the bedframes. Nobody saw
who opened up the windows.
Nobody noticed when the meat
was gone. Everybody talked
with their teeth. A crowd gathered
in the yard. We were loud
enough to become vessels
& drunk enough not to care.
.
---
A NIGHT SO BEAUTIFUL WE BURNED DOWN THE SENATOR'S HOUSE #5
The neon green
lipstick was passed
slowly. We all
became brides
& grooms of this
night. I don't
remember when
the chanting
combed our hair.
..
---
.
A NIGHT SO BEAUTIFUL WE BURNED DOWN THE SENATOR'S HOUSE #6
Those that whispered
stayed in the corners
unadorned, protecting
their corners, pissing
in their corners, un-
willing to dance
or play with the bones
of the chicken
we had picked clean.
---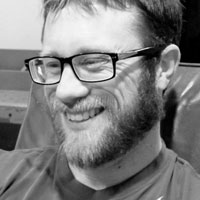 Darren C. Demaree is the author of eight poetry collections, most recently "Two Towns Over", which was selected the winner of the Louise Bogan Award from Trio House Press.  He is the recipient of a 2018 Ohio Arts Council Individual Excellence Award, and the Nancy Dew Taylor Award from Emrys Journal.  He is the Managing Editor of the Best of the Net Anthology and Ovenbird Poetry.  He is currently living in Columbus, Ohio with his wife and children.