ETERNAL CALM by Samuel Hovda
Samuel Hovda


ETERNAL CALM



A mother descends on a meteor.
Her kids on a keychain
attached to her pants.
When she lands,
the whole forest goes up
in delphinium flames.
The mother walks
to a dust-grey town
where the single stoplight blinks after nine.
Her children cry each time
they smack against her thigh.
She'll raise a family here.
She steps into the Kwik Trip
to buy a water. She asks the cashier,
mister, have you seen a woman
whose face is made of bandages?
And of course he does.
---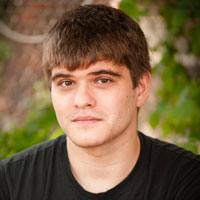 Samuel Hovda was born and raised in rural Minnesota. He now attends the MA program in Creative Writing at the University of Wisconsin—Eau Claire. His poems appear or are forthcoming in Cleaver Magazine, Contrary Magazine, and elsewhere. You can find him at SamuelHovda.com and on Twitter @SamuelHovda.
Image credit: Dawn (Head of Hypnos), Simeon Solomon, after 1870, courtesy of the Metropolitan Museum of Art, New York.