EPISTLE TO THE COPS ON A WINTRY NIGHT by Cal Freeman
EPISTLE TO THE COPS ON A WINTRY NIGHT
by Cal Freeman
Dear historical ambling
in that souped-up Ford, dear steel
gaze hidden behind tinted glass,
keeping these hours, everything
is a question of before
or after dawn. Your briefs spell out
blank descriptions of men
whose retreating shadows have been glimpsed
at the scenes of nearly-executed crimes;
not sour breath, red-eyed, and wandering,
but black male on foot, possibly armed,
suspicious. Before dawn,
those hours between bar
and liquor store, when the nerves pull taut
and the birds start with their racket,
crepuscular hours no do-gooder is awake to bless
when the dreams of the civic mind
grow skittish with wild imaginings.
Post-dawn but not quite day and not
fully-decomposed on the garage floor,
the bones of poisoned mice:
of this, I am among the guilty.
"I held a mouse skeleton to my eye
like a monocle while snow
kept blanketing the warren that slopes
toward the frozen river
in shades not exactly white
and subnivean snow fleas
and vagrants eluded your shrill light"
is a sort of alibi.
The habits of this body
are not illegal; the real thefts
were not committed in the streets.
My boot prints in the white
are not illegal. You can follow
their tracks from creek to storefront
until the next squall buries them.
---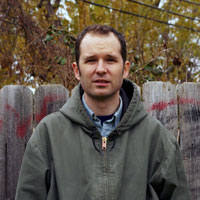 Cal Freeman was born and raised in Detroit.  His writing has appeared in many journals including Birmingham Poetry Review, Rattle, Ninth Letter, and Drunken Boat.  He is the recipient of the Howard P. Walsh Award for Literature and The Devine Poetry Fellowship (judged by Terrance Hayes).  He has also been nominated for Pushcart Prizes in poetry and creative nonfiction.  His first book of poems, Brother of Leaving, has just been published by Antonin Artaud Publications.   
Image credit: Raffi Asdourian on Flickr