COUNTRY FUNERAL by D. G. Geis
COUNTRY FUNERAL
by D. G. Geis
I never knew you were Baptist.
Nor, I suspect, did you.
Perhaps it was the funeral director
or your most recent ex
that finally got you into church.
Your waterless baptism, surprise testimony
to the suddenness of your saving.
Passing alongside your open casket,
my noncommittal shadow
must have tickled just a bit,
because in that nearly arranged smile,
I thought I saw the candle
of your face still flickering.
In your pressed Wranglers
and straw Resistol
covering those idle hands,
it looked as if the devil's business
had finally been concluded–
with your honky-tonk soul
starched now for all eternity,
ready for a night out on the town.
And your brother's boy, the cowboy preacher,
comparing Jesus to a rodeo clown
willing to take all the hits,
rolling around in his barrel for days,
waving off that un-rideable bull.
And the pickup trucks on the church lawn,
lined up like celestial stepping stones,
more numerous than the stars
engendering Abraham's children.
With mourners squeezing slowly
down the narrow chute of grass
between sanctuary and Fellowship Hall,
that Dry Valhalla of antique trophy buckles
and green bean casserole,
of aproned angels and third cousins,
all waiting to pour lemonade
in paper cups
and offer their condolences.
---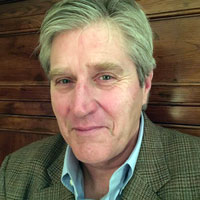 D.G. Geis is the author of 'Fire Sale' (Tupelo Press/Leapfolio) and 'Mockumentary' (Main Street Rag). Among other places, his poetry has appeared in The Irish Times, Fjords, Skylight 47 (Ireland), A New Ulster Review (N. Ireland), Crannog Magazine (Ireland), The Moth (Ireland), Into the Void (Ireland), Poetry Scotland (Open Mouse), The Naugatuck River Review, The Tishman Review, The Kentucky Review, Ink and Letters, The Journal of Creative Geography, Solstice, The Worcester Review, Broad River Review, and Crab Creek Review. He divides his time (unequally) between Dublin, Houston, Galveston, and the Hill Country of Central Texas.
Image credit: Aaron Burden on Unsplash
You may also enjoy: