BLACK WINGS HAS MY ANGEL, a novel by Elliott Chaze, reviewed by Claire Rudy Foster
BLACK WINGS HAS MY ANGEL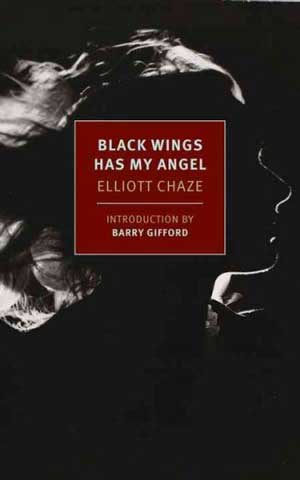 by Elliott Chaze
introduction by Barry Gifford
New York Review Books Classics, 209 pages
reviewed by Claire Rudy Foster
Some people believe that for each person there is only one soulmate. One chance. One perfect fit. The soulmate completes us and knits up our ragged edges. We heal into a wholeness that is sacred. It's fate, people say. It's the way of the world. Broken marriage? He wasn't your soulmate. Still lonely? Haven't yet met your soulmate. When the soulmate appears, it's like the universe holds a mirror up to us. Our love shows us our true selves. Everything is beautiful.
But beauty can kill, too. Elliott Chaze's novel Black Wings Has My Angel explores a brilliant but fatal partnership between two criminals bent on committing the perfect heist. "Tim Sunblade"—not his real name—escapes prison with nothing but his wits and a foolproof plan for a high-end robbery. His first week back in civilian life, he hires Virginia, a "ten-dollar tramp" who is not only more than what he paid for, but more than he bargained for. "What I wanted was a big stupid commercial blob of a woman; not a slender poised thing with skin the color of pearls melted in honey." It isn't exactly love at first sight, but Tim finds Virginia absolutely irresistible. She becomes his partner in the scheme to rip off a bank for a quarter million, and over time, the keeper of his secrets as well:
You read about the therapeutic value of lying on a psychiatrist's couch and spouting your troubles. Let me tell you this. Substituting, for the couch, a young woman who is crying her heart out, is the way it should be done.
Virginia is Tim's soulmate, and once they're bound together by every kind of love—of the flesh, of money, of the heart—the plot thickens rapidly. The novel, which begins in a bathtub in Krotz Springs, Louisiana, sprints across several states to a Colorado bank, an armored car, and an abandoned mine called the Katie Lewellyn. The breakneck pace suits the narrator, who's unraveling faster than an imported sweater. "Try drawing a blank for any length of time, emptying your head of everything and still you land on a color, a shape, a personality, a grievance. I can sit here on this cot in my cell and stare at the plaster wall, go absolutely limp in the head, and the story, the story of Virginia and me is there in the plaster." Virginia, it seems, is as inescapable as Tim's own breath, and their love chokes the last gasp from them both.
Black Wings Has My Angel is hard hitting noir, the best kind, barbed with minimal, beautifully turned sentences that stick into your skin like a lover's cruel words. Written in the 1950s, the novel was intended for Gold Medal Books, a house that introduced authors like Jim Thompson, Chester Himes, and David Goodis to a crime-loving audience of readers. Chaze never made it to the limelight, though. Barry Gifford, who wrote the introduction, attempted to publish it through Black Lizard Books, but the publisher folded before Black Wings made it into print.
Now, the discerning appraisers at New York Review Books have given this electrifying thriller new life. The novel is as fresh and cutting as if Chaze had written it yesterday.
The book's timeless appeal is derived in part by its lack of references to current events or politics—just Tim's "thirty-four months in the Japanese prison camp on the Island of Luzon, clamped there in the heat and filth with ten thousand others," the shard of shrapnel in his brain, and a passing mention of the newness of the FBI. Change the names, and Tim could be a veteran of Afghanistan or Vietnam. As he and Virginia are drawn further into their plan, the outside world falls away. She is Tim's whole world: a soulmate with black wings, his personal angel of death.
Despite the milieu, the novel isn't pulpy. Chaze's language has an immediacy that is addictive, and in 209 pages he accomplishes more than most bestselling authors do in 450. This sleek, slim novel is, like Virginia's hips, "obscenely perfect," and can stand to be explored again and again. Perusing it two or three times, it's easy to see how the whole thing with Tim and Virginia worked—and why it didn't. It was meant to be, after all. Until it wasn't.
---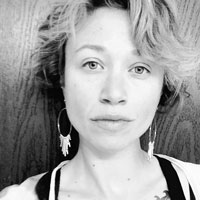 Claire Rudy Foster lives in Portland, Oregon. She holds an MFA in Creative Writing. Her critically recognized short fiction has appeared in various respected journals and she has been honored by several small presses, including a nomination for the Pushcart Prize. She is currently at work on a novel.