BAYOU by Kathryn V. Jacopi
BAYOU
by Kathryn V. Jacopi
Dip and paddle, bloom.
A dragonfly barrels and darts.
Hot afternoon balm rolls
across the pond.
The pending night
wicks off the sweat
drawn out from the shoulders' beat.
Brownish water folds into itself,
turtles bubble to the spread,
snap toward the dragonfly,
see me, and dive.
I break the pond
with a short stroke
kind of code.
---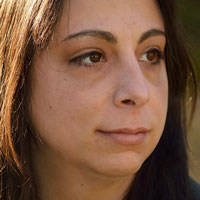 Kathryn V. Jacopi, a part-time English professor for Fairfield University, received her MFA in creating writing from Fairfield University. Her writing has appeared in Pudding Magazine, Statorec, Fjord, Manzano Mountain Review, and Drunk Monkeys. Kathryn's poem received first place for the 2016 Hysteria Writing Competition. When she's not reading, writing, and lesson planning, Kathryn's either kayaking or enjoying her partner's fantastic cooking.
Image credit: Boris Smokrovic on Unsplash