ARE YOU SEEING ME? by Darren Groth reviewed by Allison Renner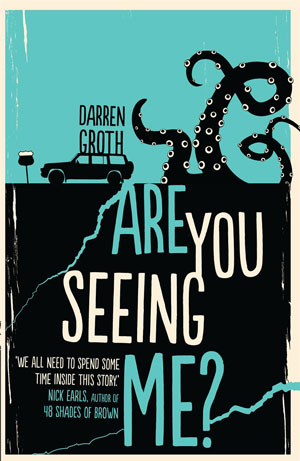 ARE YOU SEEING ME?
by Darren Groth
Orca Book Publishers, 278 pages
reviewed by Allison Renner
Books are often seen as a respite from everyday life and road trip books can be an even greater escape. They let you travel without having to go through airport security or get stuck in a strange city's traffic. Darren Groth's Are You Seeing Me? takes readers from an Australian airport to several stops in Canada and the United States, journeying alongside nineteen-year-old Justine and her twin brother, Perry.
The trip is a big undertaking, but it's meant to be a send-off, a farewell to the lives the twins have always known. Justine and Perry's father died a year ago and, since then, Justine has been Perry's caregiver. Before his death, their father secured Perry, who has autism, a spot at an independent living facility. Justine is conflicted: Perry says he wants to move away; her boyfriend wants to move in; and she can finally live a life without caring for a brother with disabilities. But she doesn't really mind taking care of Perry, and worries that he'll forget about her as he establishes his own independent life. She knows how to prevent his behaviors (sometimes!), how to calm him down, and how to explain his condition to others with a rehearsed speech. She promised their father that she'd take care of Perry, but is she doing that by letting him go off on his own?
Justine doesn't know that Perry had promised their father something similar. Perry wants to take care of his sister by making an important discovery, something that will make them rich, so he and his sister can live in comfort. He hates worrying Justine, hates feeling like a burden, so he decides that independent living is the best choice for them both. If only he can find a way to show Justine she needs to be alone on a trip where they are together every minute of every day.
Groth's vibrant descriptions of setting shine. He sends readers staring out across the desolate lake with the twins, then packed like sardines alongside them in the crowded Pike Place Fish Market. Even the highway pit stops and hotel stays are painted with vivid, film-like details.
As the twins travel to see the Canadian sea monster that has captured Perry's fascination and visit the world famous fish-throwing shop in Seattle, tensions rise beneath the surface. Wanting time to say goodbye to Perry, Justine has asked her boyfriend not to call her for the duration of the trip. Perry doesn't know what's going on with his sister, only that he hates to see her cry. He tries to distract her with his two passions: lighthearted Jackie Chan movies and endless somber information about earthquakes. But Justine has a secret plan, something she kept under wraps as much to protect Perry as to keep herself from being pestered by his incessant questions. They have an opportunity to meet their mother, who left when the twins were four, but who has been writing letters to Justine.
Grounding one another in the present, the twins ask, "Are you seeing me?" The question repeats itself, but the twins keep seeing limited projections of the other, not their true thoughts and desires. Justine and Perry are portrayed, perhaps, a bit too sweetly, with conflicts barely ruffling the surface of their relationship. While it would have been interesting to see a bit more upheaval in the plot, it is true to Justine's personality not to dig beneath the emotional surface while quickly settling major conflicts.
The book's narration alternates between the twins. Justine is very matter-of-fact, intent on caring for her brother the best she can. Though she's neurotypical, Justine rarely shows emotion, choosing, instead, to hide behind humor and sarcasm. Sections told from Perry's point of view show how deeply he understands the basic human emotions Justine so deftly hides.
The struggles of autism are also portrayed realistically throughout the story. Justine distracts Perry from crowds and other triggers, and Perry explains his own coping devices, like thinking of himself as Jackie Chan when it's time to complete a difficult task. Familiarity grounds Perry. When he finds himself in a strange place without his sister, the difference in his behavior is enlightening.
Though it's classified as a young adult book, Are You Seeing Me? will appeal to readers of all ages because of its depth of story. Groth deftly and sensitively addresses the issues of living with autism, but the book's focus and strength is in the complex but touching relationship between siblings.
---

Allison Renner has worked as a photographer, student teacher, and graphic designer. She is currently a librarian who shares her love of young adult literature with teens in public libraries.