AMERICAN ARCADIA by Filip Noterdaeme
AMERICAN ARCADIA
by Filip Noterdaeme
Spicing up realist landscapes with fantastic nudes and infiltrating austere family tableaux with whimsical eroticism, American Arcadia is a mixed distillation of artful irreverence and subtle mischief. Here is the story of its making.
In 2005, my partner Daniel Isengart and I took a trip to Madrid, where we spent many hours at the Prado and the Reina Sofia. On the day of our return to the States, we found ourselves aimlessly browsing through the souvenir shop at the Madrid-Barajas airport, where a pocket-format deck of cards depicting famous nudes by (mostly) European masters—some of which we had seen at the Prado—caught my attention. On a whim, I bought it. Back in Brooklyn, I happened to walk past a stoop sale one late morning and, among the usual junk and knick-knacks, made out an extra-large deck of playing cards with prints depicting "American Life, Manners and History" by the popular 19th-century lithographer duo Currier & Ives. I bought it for $1. To my amusement, the stack included a legend that informed me that the original prints had been "hand-colored by a dozen or more women in a assembly-line manner" and that the deck of cards I held in my hands was "Printed in Hong Kong."
At home, armed with scissors and glue, I married the European and American decks, superimposing classical nudes by the likes of Cranach, Boucher, and Goya over Currier & Ives' illustrations of town views, weather scenes, steamboats, trains, and sports events. I was most enthralled to see how each rarified nude blended in—or clashed—with Currier & Ives' all-American populist imagery. The extreme pleasure of conflating frivolous High Art  with puritan American 19th-century culture felt like slowly turning a kaleidoscope and watching a whole new New World magically, neatly fall into place.
The offset four color printing process by which both sets had been cheaply produced facilitated my playful mixing and matching of the wildly varried pictures, each new pairing conjuring up new scenarios: at the very least, the homogenized, matted color palette of both sets prevented any chromatic clashes. Whatever stood at odds in terms of iconography I "rectified" through proper (or gleefully improper) alignment. Still, as I went on cutting and pasting, I remained keen on highlighting the tension within each chosen pair of cards, striving less for seamless harmony than for the kind of dazed ecstasy reminiscent of the culture shock I experienced 25 years ago (and often still do) in New York City as a newly arrived, expatriate European artist.
The fact that each card of th American deck had its own title only added to the fun: by keeping the titles intact, I practically inserted the European Masters into an American context. As a result, what puritanism and patriotism dictated to Currier & Ives in terms of subject matter, moods and colors, has been radically transformed. It now appears as if the titles had not been penned by the earnest (though business-savvy) American duo but rather by some divinely deviant madman whose comedic cosmic whimsy adds a touch of deadpan irreverance to the dream-like permutation of serious and light imagery, demoting much of Currier & Ives saccharine vision of America to a kind of slapstick that juxtaposes New and Old World values to hilarious effect.
In retrospect, I recognize that the excitement I derived from making these surrealist collages (an art form I am proud to call part of my Belgian heritage—just take a peak at the risqué collages of my compatriot Marcel Mariën) is connected to my admiration for the American expat Gertrude Stein and her deep fascination with words and pictures. Fittingly, she stressed in her Lectures in America: "I like a picture, that is an oil painting to do anything it likes to do."
---
THE CARDS: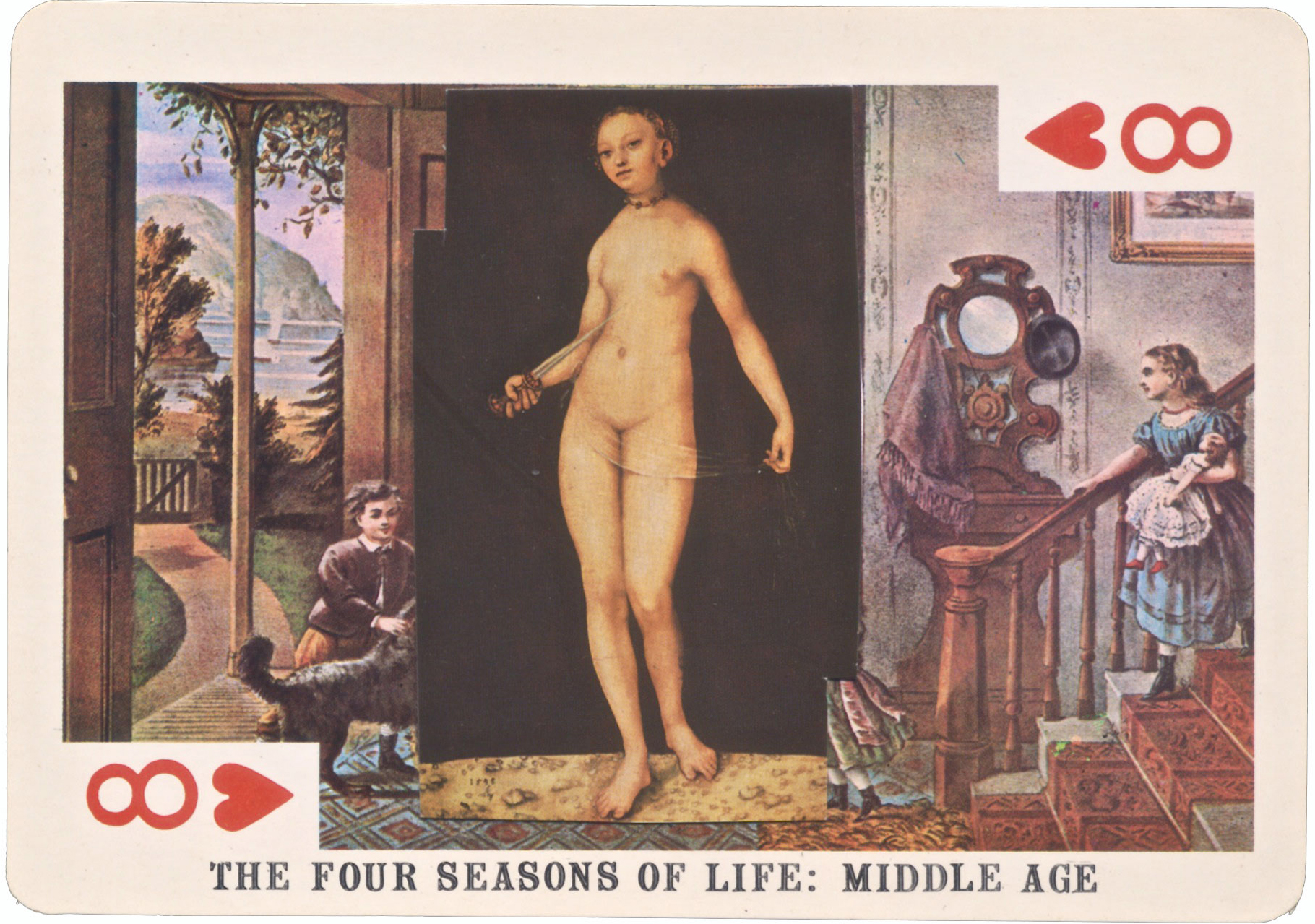 The Four Seasons of Life: Middle Age. A sorrowful Lucrecia by Lucas Cranach (1533) is magically transplanted inside the elegant foyer of a mid-nineteenth century American household. Alas, Lucrecia is not about to luxuriate. Oblivious to the domestic bliss that surrounds her, she remains cloaked in her own darkness. Lucrecia has no eyes for the glorious summery Hudson River-like landscape visible from the front porch, no eyes for the freshly groomed little boy standing at her feet next to the family dog, and no eyes for the pretty blond girl descending the staircase with her look-alike doll. Instead of joining the fun and tumble or, rather, carrying on with her domestic duties, Lucrecia is about to stab herself to death. This absurd scene of domesticity gone awry recalls Tennessee Williams' ability to mix outright poetry with a macabre, almost crude sense of humor. In a strange way, we all understand why Lucrecia wants out.
♠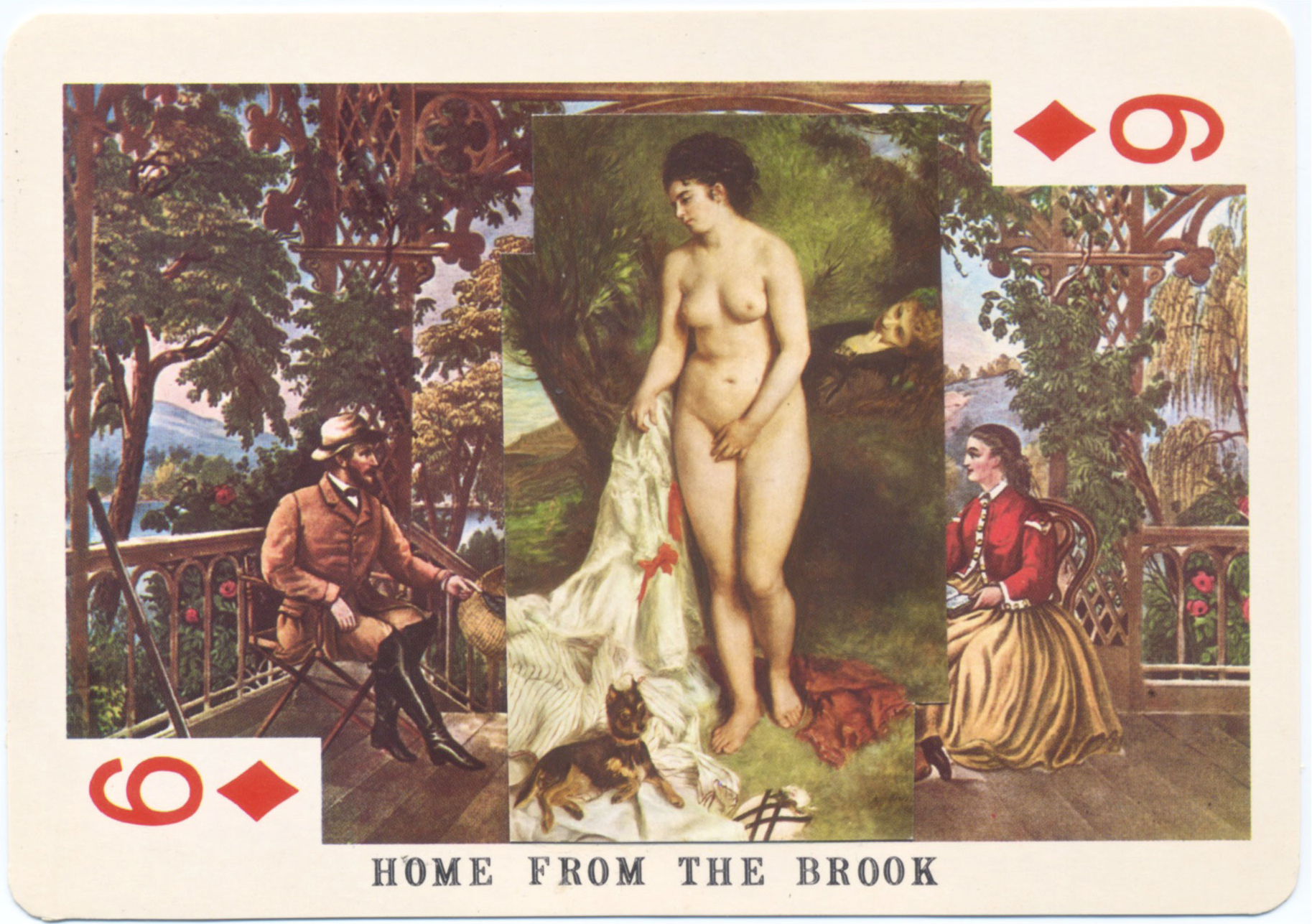 Home From the Brook conflates Renoir's Bather with Griffon Terrier (1870) with yet another cliché image of the joys of wedlock by Currier & Ives. Husband, clad in full fishing gear with hat and boots, and bookish stay-at-home wife relax on an elevated terrace in serene seclusion surrounded by natural wonder. She holds a book in her lap, possibly a romance novel, but her attention is now exclusively on him. Separating the two and possibly interrupting the light colloquy about fishing, or acquaintances, or politics, or servants, stands a voluptuous bather. At her feet is her black terrier. As if aware of the prudish couple, the mermaid-like nude, undoubtedly the catch of the day, covers her pubis while clutching her bridal-white undergarment for cover. A naughty accent of red ribbon calling to mind virginal bloodstains brilliantly punctuates the immaculate transparency of the scene. Renoir seems to be saying under his breath, Silly prudes Currier & Ives! They try in vain to dress nature in undergarments closed at the throat, but look at what I found on my way the brook! 
♥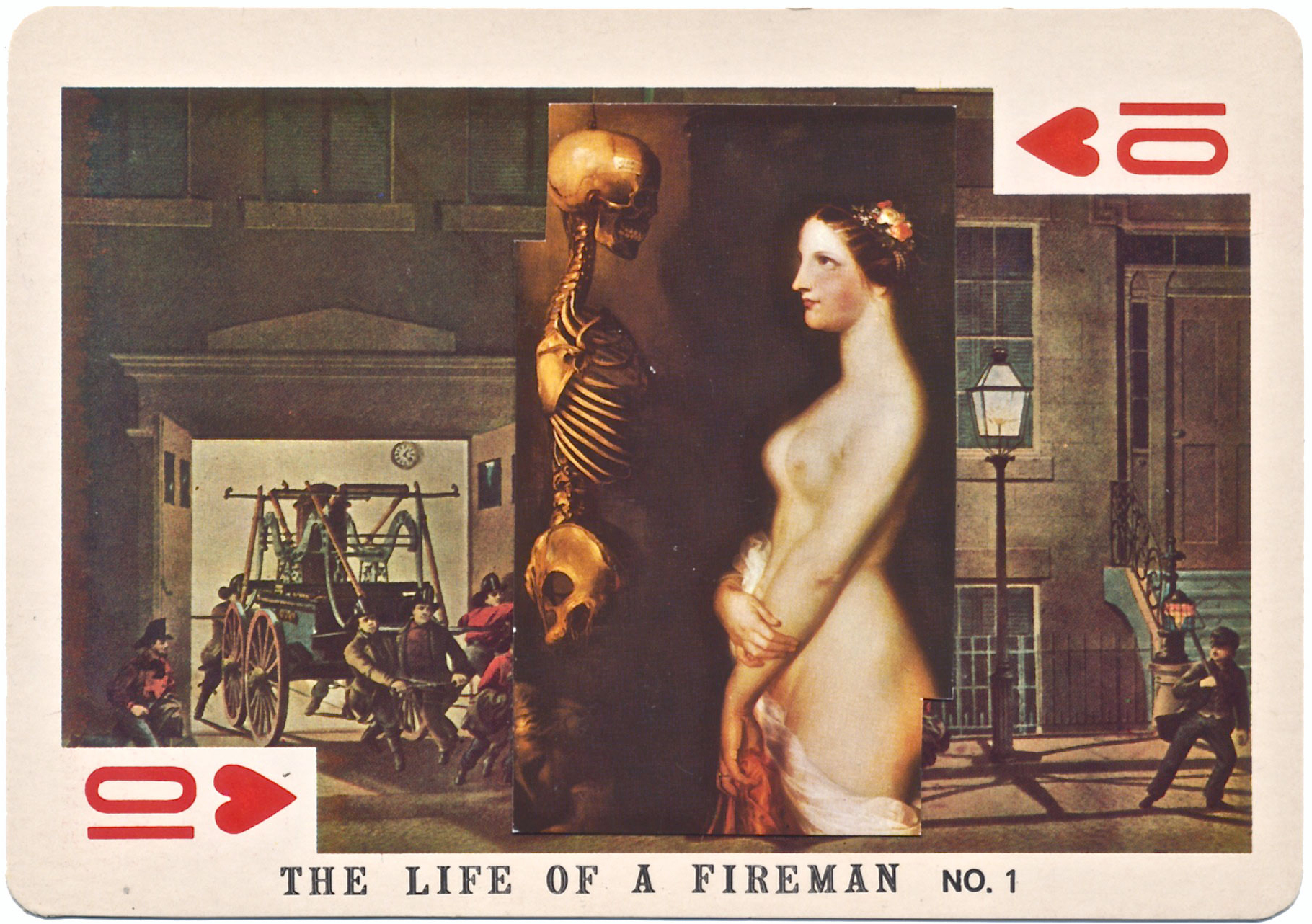 The Life of a Fireman No. 1. For some reason or other, Currier & Ives considered that there is nothing more picturesque and universally fascinating than a good fire. Like savvy television producers more than a century later, they staged a number of dramatic fire scenes. In this one, firemen are seen answering the call of duty in the middle of the night. Possibly foreshadowing what they're about to witness, Beauty and Death confront each other in the foreground. The ominous presence of the "Two Young Girls" (Deux jeune filles—La Belle Rosine by Antoine Wiertz, 1847) both underscores and resists the blatantly heroic narrative staged by the two American lithographers.
♦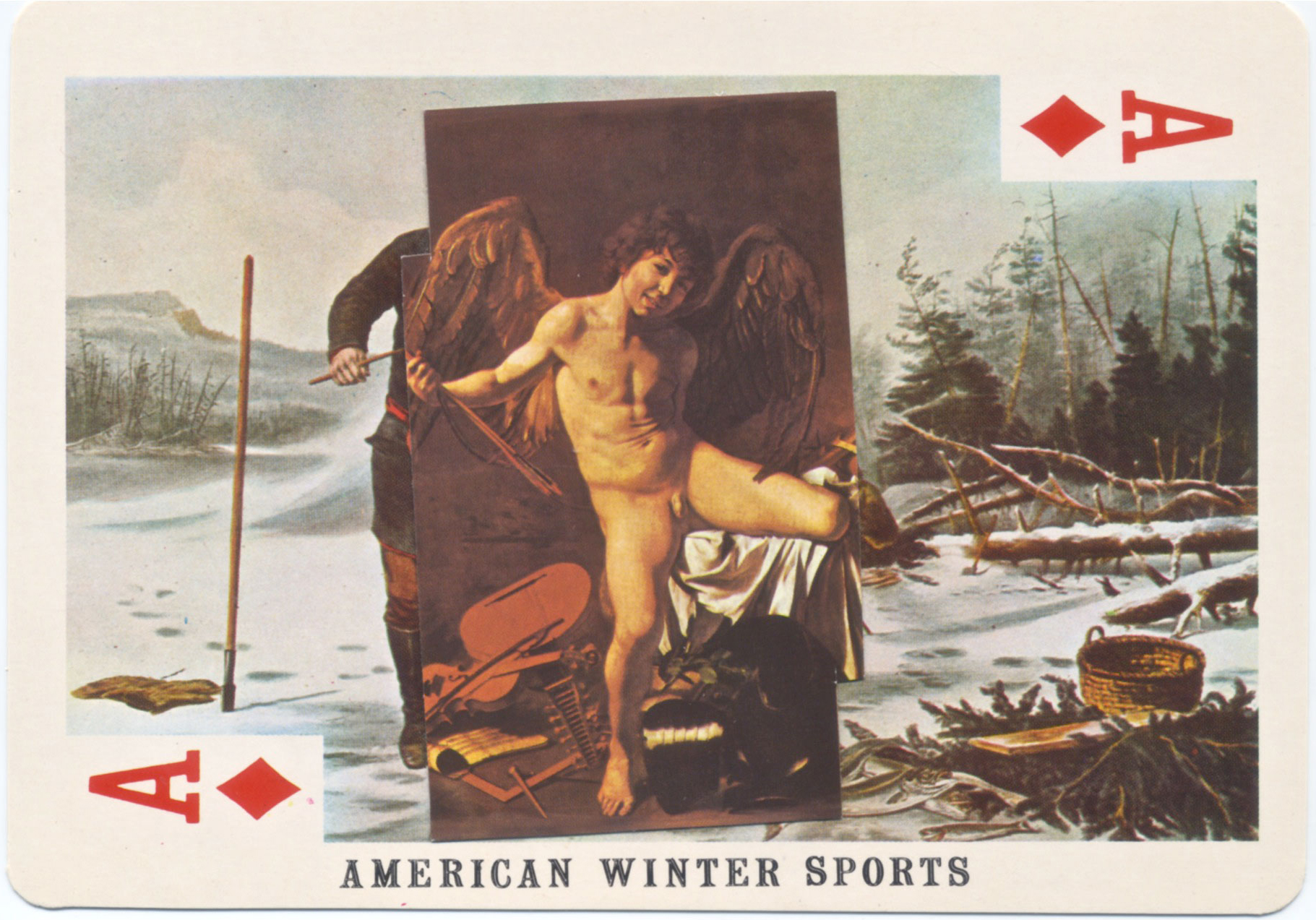 American Winter Sports. Here is another fishing moment courtesy of Currier & Ives, but this time with a catchy Cupid as bait. Caravaggio's Amor Victorious (1602) illustrates a line from Virgil's Eclogues: Omnia vincit amor et nos cedamus amori ("Love conquers all; let us all yield to love!"). If all sports are linked to sensual pleasures, Amor is my all-year-round favorite sport. And if ever there were to be another Winter Olympics in Salt Lakes, I pray this Ace-winning Cupid be outfitted with a pair of figure skates and become everybody's favorite quadruple-jump challenger.
♣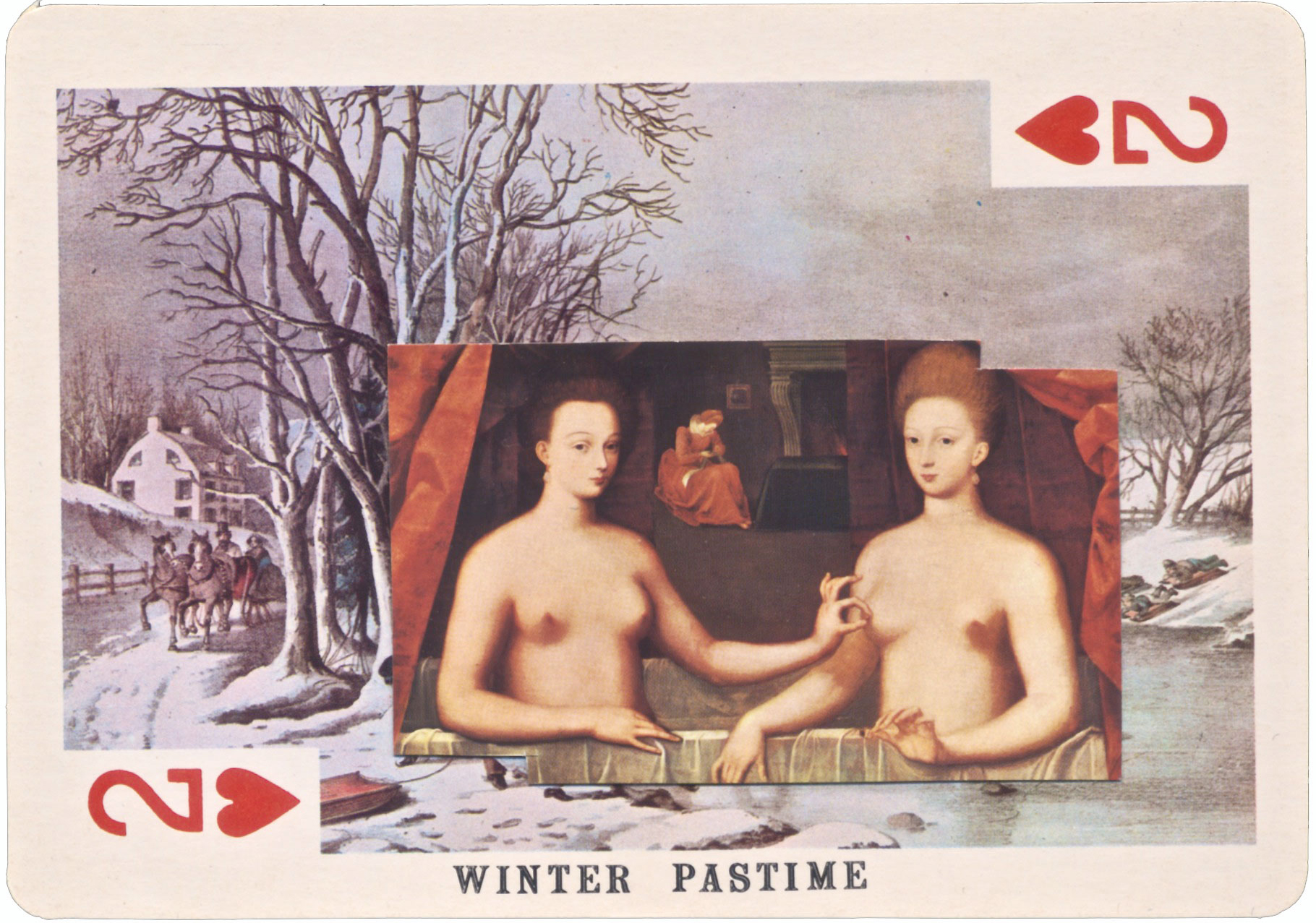 Winter Pastime. Baby It's Cold Outside! Gabrielle d'Estrées and her Sister in a Bath (1595) are nonchalantly checking out each other's tiny pouting flower buds, which await voluptuous blossoming in the coming spring. For them, winter pastime means sensual hibernation inside as opposed to frolicking in the snow outside. The Two of Hearts befits the moment just right.
---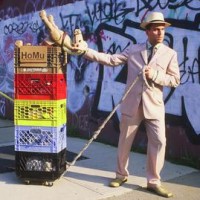 Filip Noterdaeme is an artist-provocateur best known for his Homeless Museum of Art (HOMU), a pastiche of the contemporary art museum he created in 2003. He holds a Bachelor in Fine Arts from the School of Visual Arts in New York and a Masters of Arts from the Gallatin School of Individualized Study at New York University. He writes a blog about art for The Huffington Post, lectures at the Museum of Modern Art and the Guggenheim Museum, and teaches art history at the New School, New York University, and CUNY. Noterdaeme was born in Brussels, Belgium, and lives with his partner Daniel Isengart in Brooklyn. His conceptual memoir, The Autobiography of Daniel J. Isengart, written as an homage to Gertrude Stein's The Autobiography of Alice B. Toklas, was published in March 2013 by Outpost19. Visit the Homeless Museum atwww.homelessmuseum.org. Learn more about his book at www.outpost19.com/Autobiography