THE AUTOBIOGRAPHY OF DANIEL J. ISENGART by Filip Noterdaeme reviewed by Michelle Fost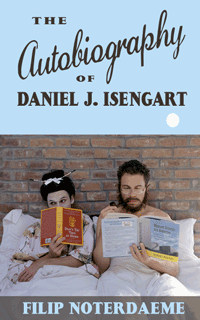 THE AUTOBIOGRAPHY OF DANIEL J. ISENGART
by Filip Noterdaeme
Outpost19, 351 pages
Reviewed by Michelle Fost 
Because Gertrude Stein wished readers would pay more attention to the ambitious but largely unread work she considered her masterpiece, The Making of Americans, she had a tendency to knock her very popular Autobiography of Alice B. Toklas. Years ago, as a young fiction writer working on a master's thesis on The Making of Americans, I sometimes identified with Stein.  Here she is, in that book, wondering if her work will be read:
Bear it in your mind my reader, but truly I never feel it that there ever can be for me any such a creature, no it is this scribbled and dirty and lined paper that is really to be to me always my receiver,—but anyhow reader, bear it in your mind—will there be for me ever any such a creature… listen while I tell you all about us, and wait while I hasten slowly forwards, and love, please, this history of this decent family's progress.
I was impressed by her direct expression of a longing to be read, and the lonely seriousness of her project.
Like Stein, I championed her neglected work and cared less for the Autobiography.  Filip Noterdaeme's new work, The Autobiography of Daniel J. Isengart, came with an invitation to have another look at Stein's Autobiography. I was struck by how good Stein's writing is—witty, perceptive, nicely phrased.
Filip Noterdaeme has gleefully appropriated, recast, and remade Gertrude Stein's Autobiography of Alice B. Toklas.  In this version, we follow a Stein and Toklas-like couple, Daniel and Filip, as they establish themselves in New York. Daniel is a chef and a cabaret singer, and Filip is an adjunct teacher, sometime lecturer in museums, and art establishment outsider and provocateur. He's often very funny, if frivolously so. They are both outsiders to the New World, Daniel from Germany, and Filip from Belgium.
At times, Daniel and Filip's concerns feel excruciatingly trivial. Yet Daniel and Filip are also very entertaining, as when Filip arranges the books in their apartment:
When the paint was dry Filip Noterdaeme decided to shelve all the books facing the other way, that is with the bookends in the back. He found that they were much more pleasing to look at this way. But how do you find a book, our friends said. You don't find a book, Filip Noterdaeme said, the book finds you.
I was okay with this Autobiography finding me. What's more, I enjoyed the many very nice collisions with Stein that had me appreciating both Autobiographies.  During an all Elvis cabaret performance, someone in the audience is excessively eager for Daniel to sing "Heartbreak Hotel." He accommodates, but his version takes the familiar words and translates them into German. As he says, "I was making the most known american song foreign for them so they could once again hear it as if for the first time." It's his version of Stein's "A rose is a rose is a rose is a rose."
I really liked Noterdaeme's description of a period of his life: "All his creations for the museum were based upon his years of working for art museums and the many hours he had been watching and thinking about the homeless and it was like a kaleidoscope slowly turning, all falling into place and creating miraculous things." This seemed to describe The Autobiography of Daniel J. Isengart, a kaleidoscopic turn of Stein's work into something new but strongly related. I was then rewarded by finding Stein's description in The Autobiography of Alice B. Toklas of her early days in Paris as "like a kaleidoscope slowly turning."
How do we read The Autobiography of Daniel J. Isengart?  Is it a conceptual art piece, a work that stands on its own, or a simple mash up of Gertrude Stein's popular and famous work? Is it slight or is it profound? Did I mention that The Autobiography of Daniel J. Isengart is full of gossip and New York art scene names? (Brace yourselves, fans of Marina Abramovic.)
Stein wrote about how nothing is new in literature, and words like rose lose meaning through regular use. After centuries of appearing in poems, a rose no longer corresponded to the flower in the world. Stein's idea of repetition was to restore meaning. Repetition was very important to Stein. Noterdaeme, by repeating the form in his Autobiography from her Autobiography, has renewed the work.  In both cases, what looks like an amusement has some depth. Here is Daniel looking at Filip, simultaneously on the cusp of success and failure: "When I saw Filip Noterdaeme, the director of the Homeless Museum of Art, an as yet insufficiently known institution of which he is the founder, stand outside in the cold for two hours in a cheap rented tuxedo and holding up a signpost pointing towards the Museum of Modern Art, I must confess I began to cry." Drawing on the originality, intelligence, and humor of Gertrude Stein, Noterdaeme has created a spirited portrait of two men who are at once insiders and outsiders at a particular moment in the New York art scene.
---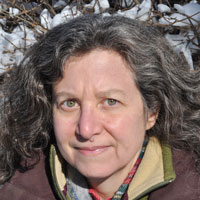 Michelle Fost is a writer living in Toronto. Her fiction has appeared in The Painted Bride Quarterly and her book reviews have appeared in The New York Times Book Review, The Philadelphia Inquirer, and The Boston Phoenix Literary Section.