A BRIEF GLOSSARY OF IRELAND for the American Tourist Trying to Cram Thousands of Years of History into a Ten Day Tour by Sarah Ann Winn
A BRIEF GLOSSARY OF IRELAND for the American Tourist Trying to Cram Thousands of Years of History into a Ten Day Tour
by Sarah Ann Winn
Carvings: Everywhere there were stones, vines, and leaves twined together, along with knots and crosses, where animals often played in the hewn greenery, or people's faces peered up at the top of columns. In some places, they'd been knocked away, in others they were restored from drawings, and in still others, most amazingly, the originals retained their details. A monkey sat at the foot of a monk. Saint Catherine held her book with the cover cross intact. At Maynooth University, the College Chapel featured fantastical creatures and plants in rare wood and marble, which never repeat after that first appearance. Between the gold leaf, the hand painted ceiling, the chorister which seats four hundred and fifty people, the pipe organ with three thousand pipes and bells and spinning stars, and an ornate marble alter piece surrounded by five small chapels, equally extravagant, the effect is exactly what each craftsman and designer over the two hundred years of construction intended — provoking marvel and wonder.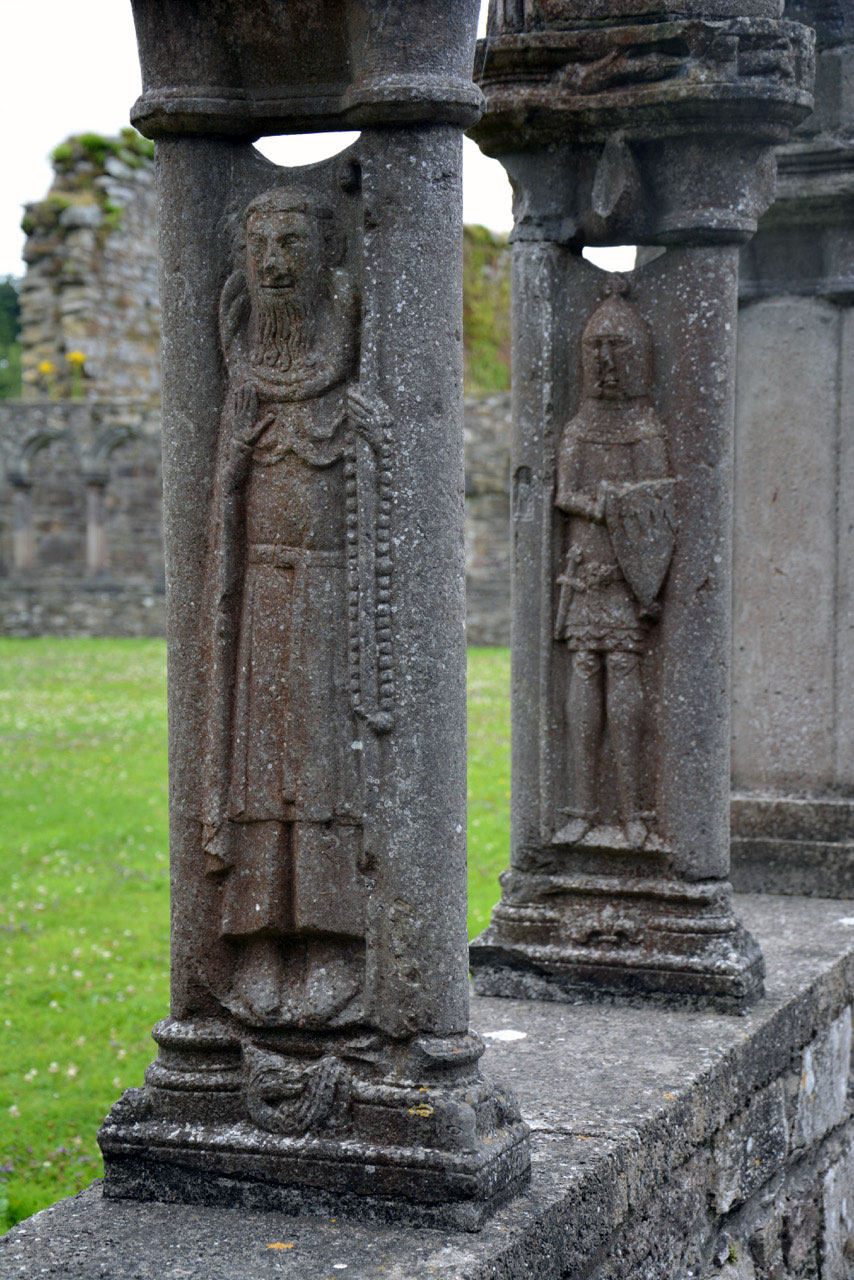 Castles: A fairly fluid architectural definition, dependent on: how continually they were occupied (Birr Castle felt more Downton Abbey in its grounds and "family only" use); how much a part of the town the castle walls comprised (Kilkenny's castle seemed to fill the town, and had been restored match to its Victorian period furnishings); how much the castle helped the town's income (Trim Castle, where most of Braveheart was filmed, was not fully restored, but had a modern framework inside of it where the tourists ambled up an actual winding staircase, to a small chapel said to be haunted by a priest, seen only on Sundays); how much an investor wanted to spend (fire-damaged Powerscourt had been turned into an upscale mall, with artisan shops occupying the inside of the castle and the intact formal gardens were packed with roses, a pond, a Japanese themed garden, and a "folly," a miniature tower built just for looks); how far visitors were willing to drive to prove its existence (Blarney Castle was theoretical for us, as it was more than three hours from our hotel, so I vowed to hang upside down and kiss something closer to home, and probably closer to the earth at a later date).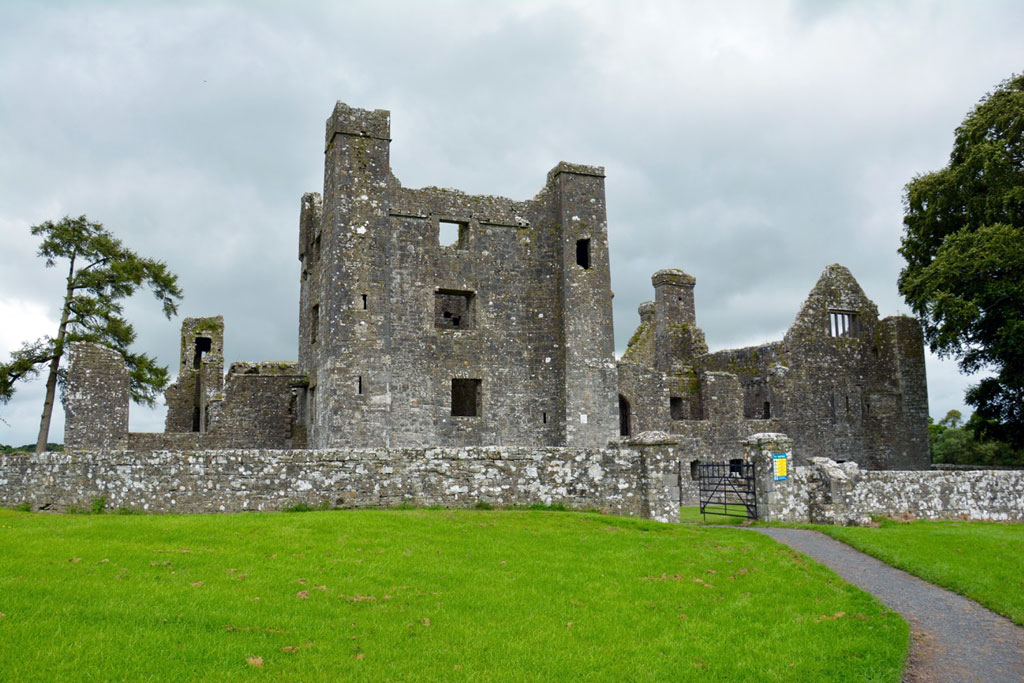 Graze: The most efficient form of eating, an opportunity to affix a moment in your mind. The grocer near our hotel had wonderfully cheap cheeses and chocolates, as well as peppered salami, which reminded me that I could never be a vegetarian. We packed sandwiches and had picnics in places more scenic than I could have imagined. I appreciated the moments when I paused to snack and soak in the towns we visited more than the specific mealtimes, which were often nice, quiet moments for me and my husband, but not much different than the dates we had at home. I'll remember the scones with clotted cream at Willoughby's, a coffee shop overlooking Kilkenny's busy town square, longer than I'll remember a fancy restaurant's take on corned beef and cabbage. There was no shortage of fresh produce, and on our last day, we ate as well as we did the entire trip at a farmer's market, where we sat at on rickety folding chairs eating German sausages and fresh Spanish olives, with peanut butter shortbread cookies and a decadent, bite-sized cupcake a piece.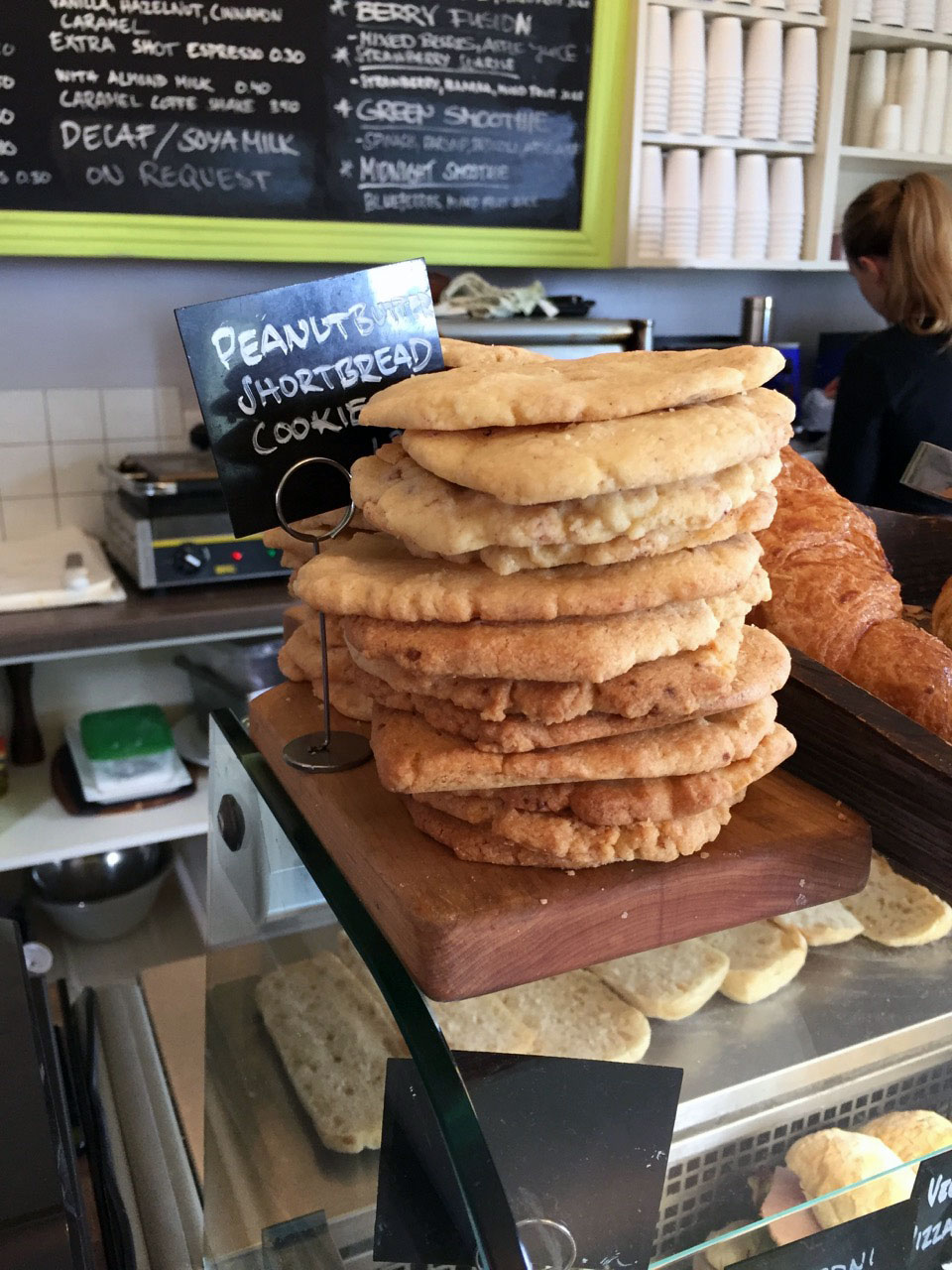 Green: Beginning with our flight's descent, I discovered shades of green I hadn't known existed. There were segments of land in all the shades of emerald available to a painter, parceled off by darker green, almost black hedges. In our rental car, an automatic which did not actually have the "park" function aside from the brake, we careened along the countryside, through narrow roads which were gorgeous, shady, and terrifying. Local drivers are polite, but love their accelerators and their plentiful roundabouts. In many places, I felt I could have put my hand just outside the window and tapped the greenery covered wall we were flying past. Excursions off the highway often included only one tone of green until our destination: hedge colored. The high hedges abated once we got further from the cities, and the cow filled fields, the endless quilt of green, dotted with sheep and castles passed in a literal blur. My husband is mission oriented, so on some jaunts I barely had time to gasp: Oh, there goes another ruin! Oh another princess tower! Oh another flower-basket-lined street! Another town as scored with old walls as an ogham stone is with lines!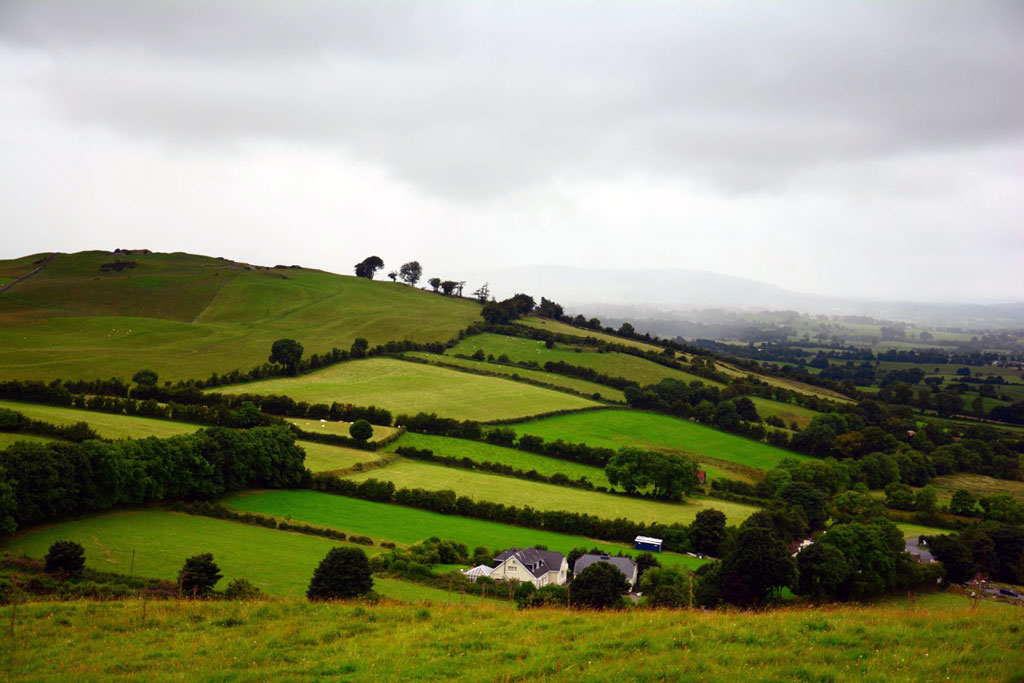 Heritage Pass: Although many of the castles we visited had no entry cost (especially the less restored ones), we used this money-saving bundle constantly, since it seemed to encourage the tour guides at each castle to advise beyond their location. At each castle on the pass, there was a tour guide who specialized in the history of that castle, but seemed to know a good bit about many other castles in the area, and was willing to direct us onwards in our quest. We made it our goal to visit one heritage site per day, and then planned small stops around the location we'd picked.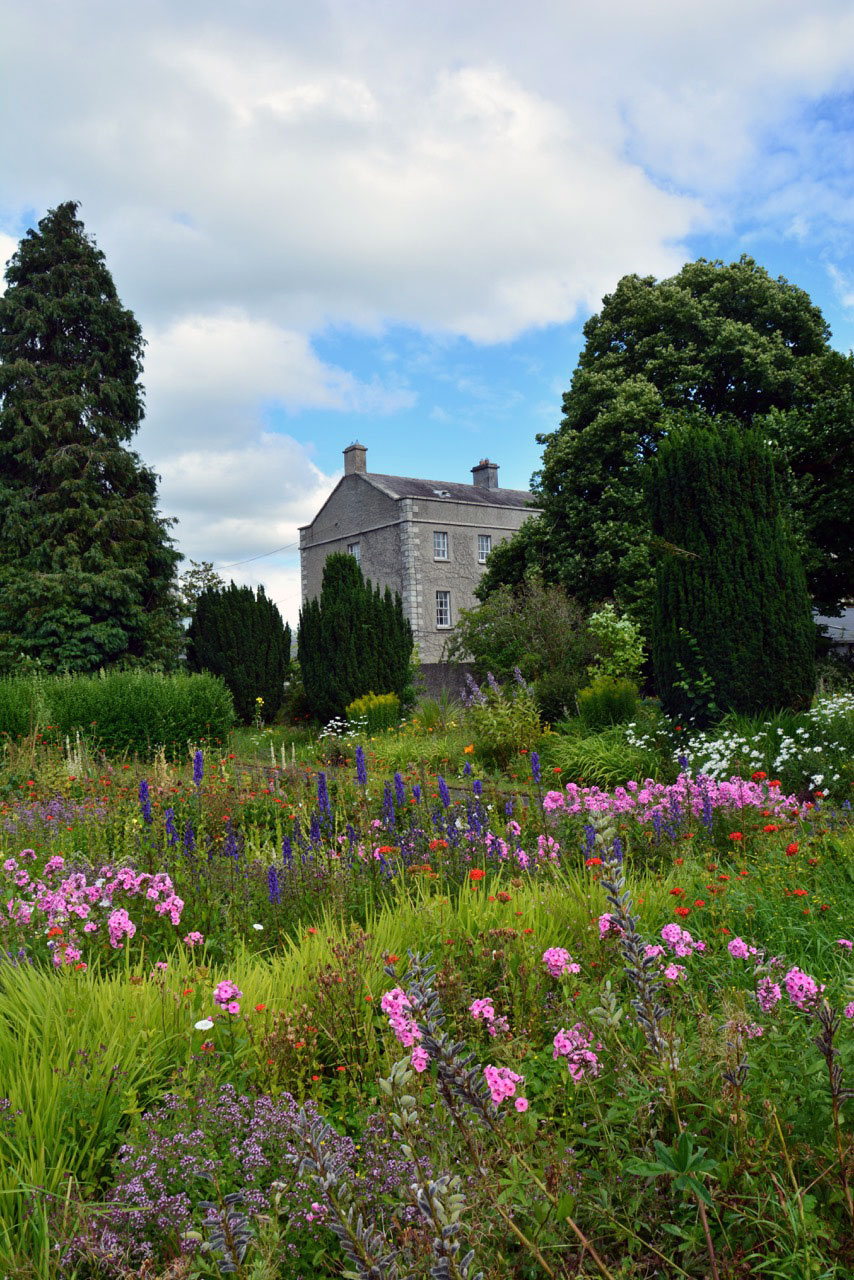 Itinerary: Something planned and executed, or planned and then abandoned. Example: "We followed our itinerary, and made all of our flights" or "We slept more than we planned, and had to discard one day's itinerary in favor of visiting castles closer to our hotel.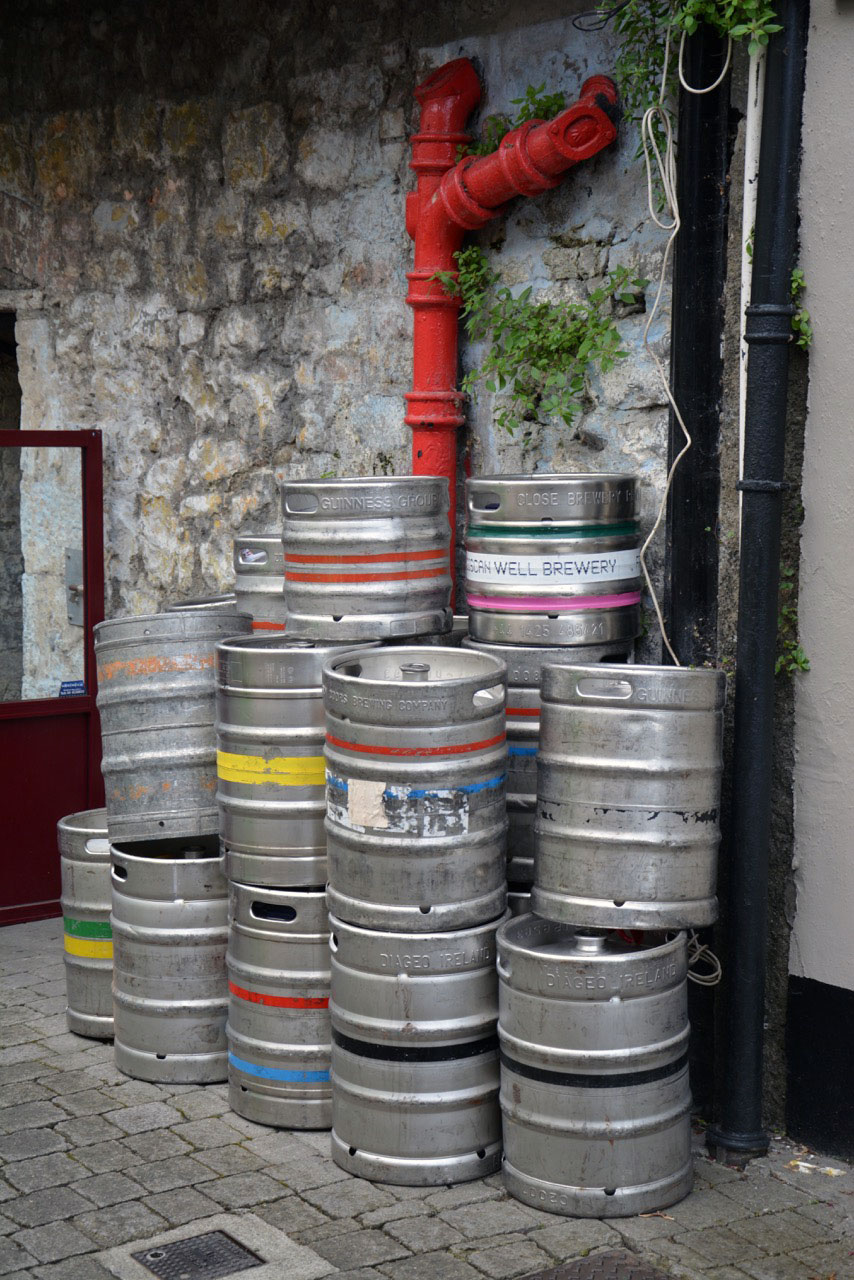 Noise Canceling Headphones: Not strictly Irish, but for our trip, an essential. Do not bother to use these in cities, but consider bringing them along in the rental car. The roads are narrow and have no shoulders. In these headphones, your husband can't hear you yelp in panic each time a car approaches from the opposite direction. On the other hand, with headphones you can't overhear discussions at a nearby table in a pub, when an older brother told his little sister: "You got the chicken? That's flat gross. You know they take them from the yard and kill them straight out?" and this one, overheard at the Hill of Tara, where all the ancient kings of Ireland were crowned, and where you can get a nice cup of tea and listen to local families laughing at the next table over. Their kids' squabbles were even enjoyable: "Ma, he smacked my arse!" as were the weary replies: "Oh me sweethearts, please don't ruin the day on all these innocent people."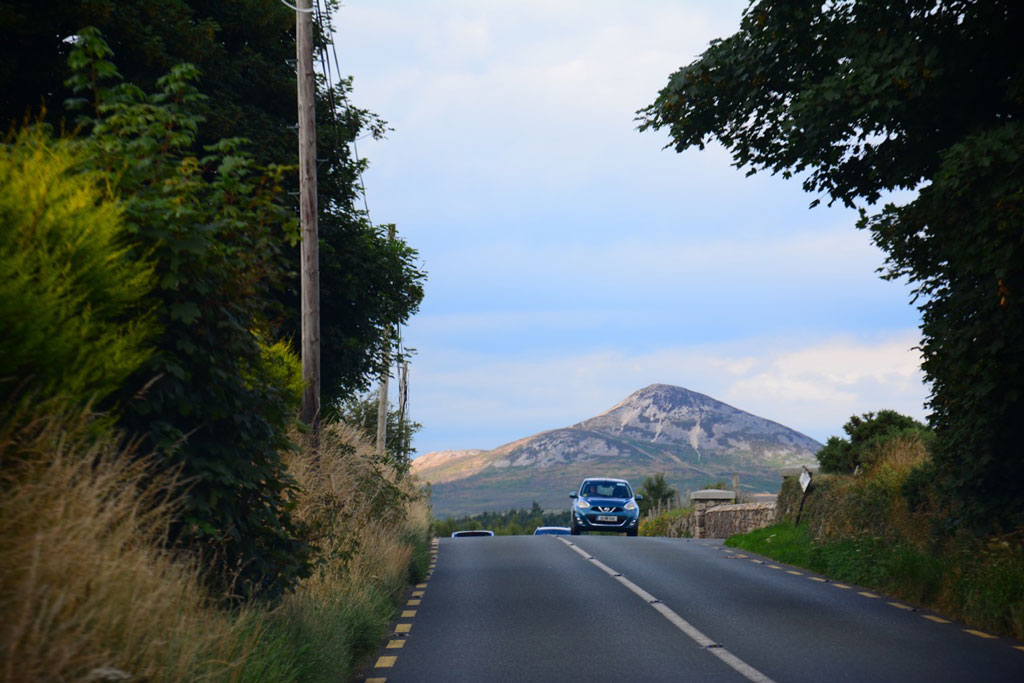 Plan: An evolving list. Something made with the idea of flexibility and impossibility of completion. Ideas can come from anywhere, from detailed travel guidebooks to the country, from well-intended tour guides to your husband, who plays a Viking game on his phone. You can mentally add "Vikings" to your list of things you'd like to investigate. Mental lists overflow. You add it to the real and running list you're keeping on your phone, which already contains: Celts, cliffs, castles, Book of Kells, Irish money and the word SCONES bolded and italicized. The only plan you can follow with reliability is to drive in any direction, take in the countryside, explore a castle, climb around a ruin, eat delicious non-chain food, return to a hotel bed with a comforter made of actual clouds, sleep, and repeat. (see also: itinerary)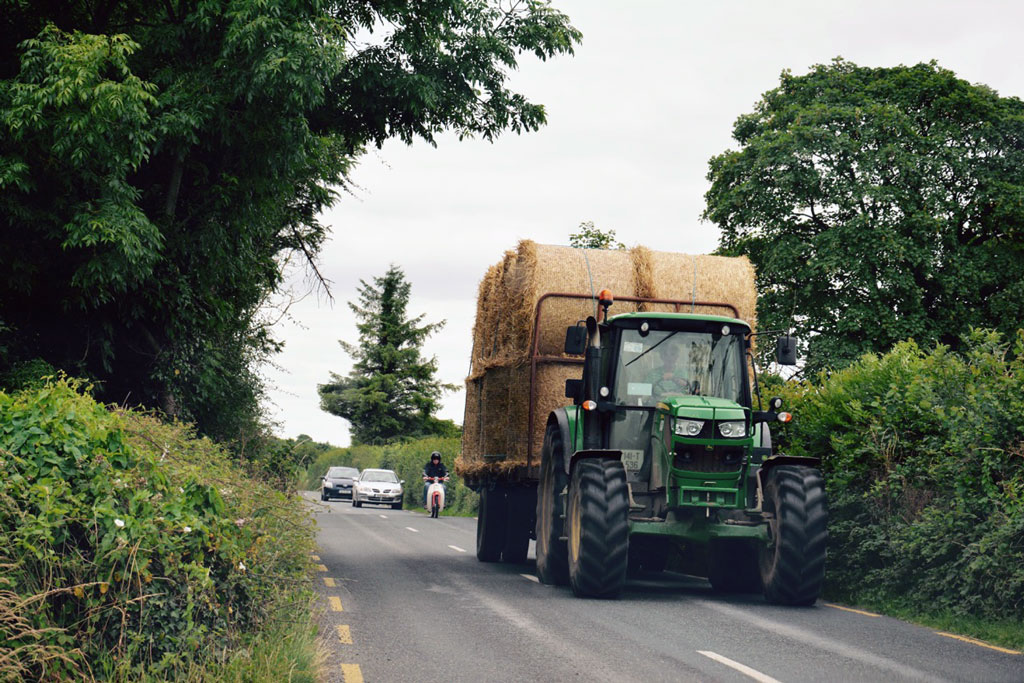 Pub: Easy to locate. A warm environment not strictly centered around food. A poetry reading there included live music, and hot tea. A woman sliding in next to me in our booth (a "snug," padded three quarter booth seat around a table) exclaimed to nobody in particular: "I'm knackered!" This is a place where people can recover from being knackered. When pints of Guinness arrive, someone says: "At last! Real food!" and someone else replies: "Give us this day our flowing bread." We were part of a lock in, where after hours you pay your tab ahead of time, and although the bar is strictly closed, the socializing continues. After the reading, the host said "And now, the Noble Call, a trade off, as you might do at your gran's." We were then treated to recitations, jokes, more music, and audience members who sang traditional songs as sweetly as any recording artist. Even the bartender performed.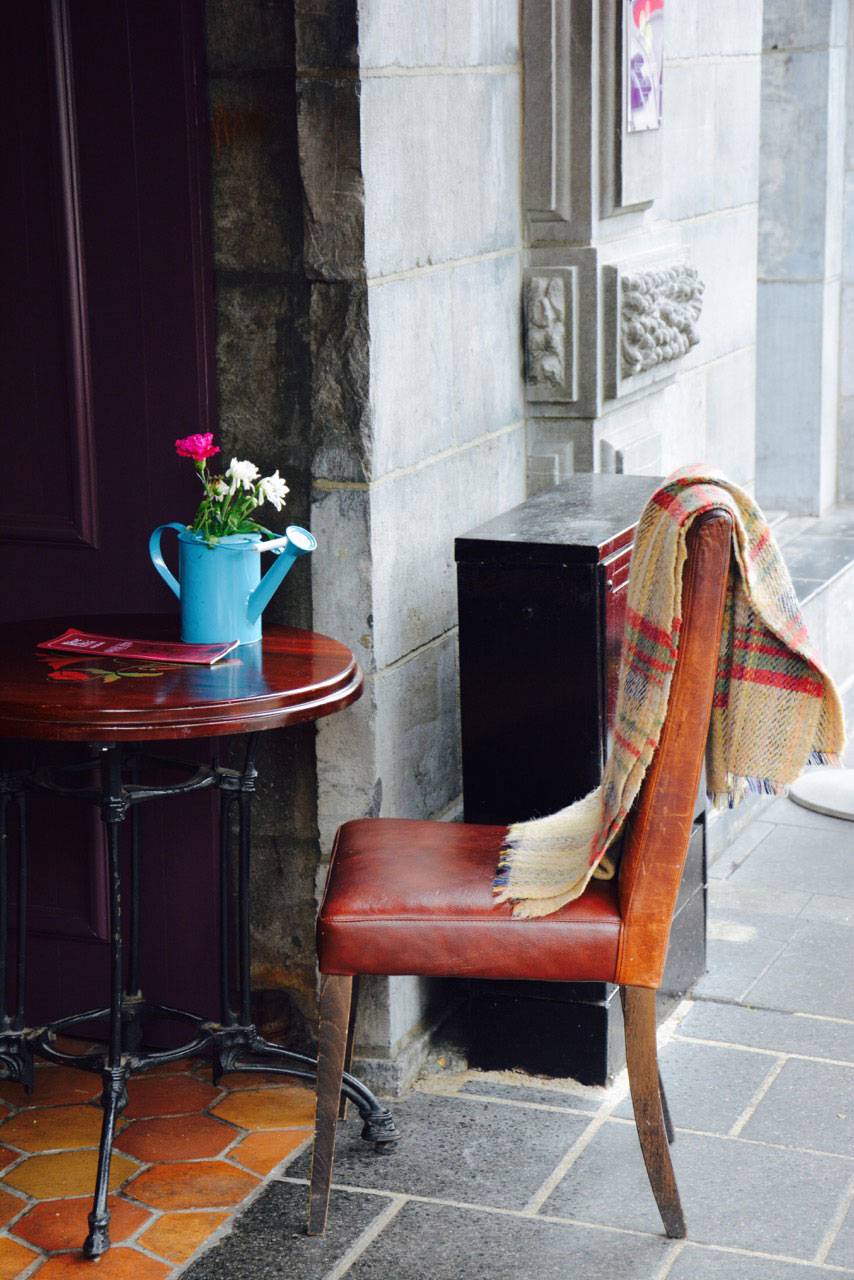 Ruin: Castles which are not yet restored often have only a sign featuring a person dangling mid-fall beside a castle wall. The small print is a little less direct, but only slightly so, making sure you know you are entering these places, which have been falling down for years, at your own risk. Sometimes, a curving staircase to nowhere invites you upwards, sometimes someone has put a gate up to block climbing or entry into a dangerous place. More than once we saw notes that people had been seriously injured because they failed to obey warnings/were more interested in getting a selfie than in safety. I was reminded of Peter, Susan, Edmund, and Lucy at the ruin of Cair Paravel when they return to Narnia in Prince Caspian. When I was a child I couldn't understand how they didn't know where they were. Wasn't the view the same? Weren't the bones of the castle still intact? And if not, how would the armory still exist? I understand much better now.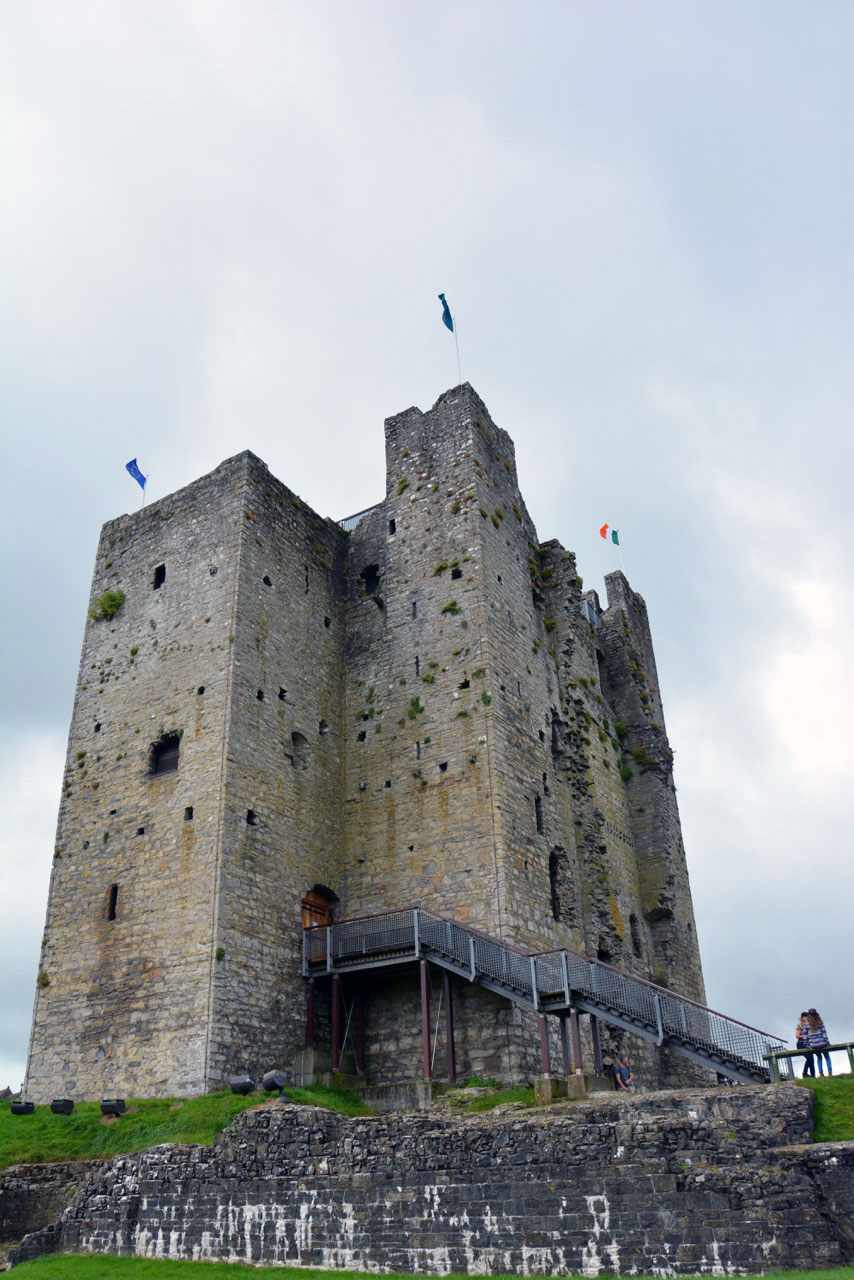 Signs: Advertising, road rules, and open to interpretation. Some were inscrutable to me, either in Gaelic, or sporting odd wordless clip art. (One resembled a horse's head, another a car diving into what was almost definitely water). Some are sweet, for example, a chain of daycares was called "Cheeky Monkey Nursery School." Sprite's ads told us "You look shattered and soaked" and "You look deadly in your profiler." We are not sure these are compliments.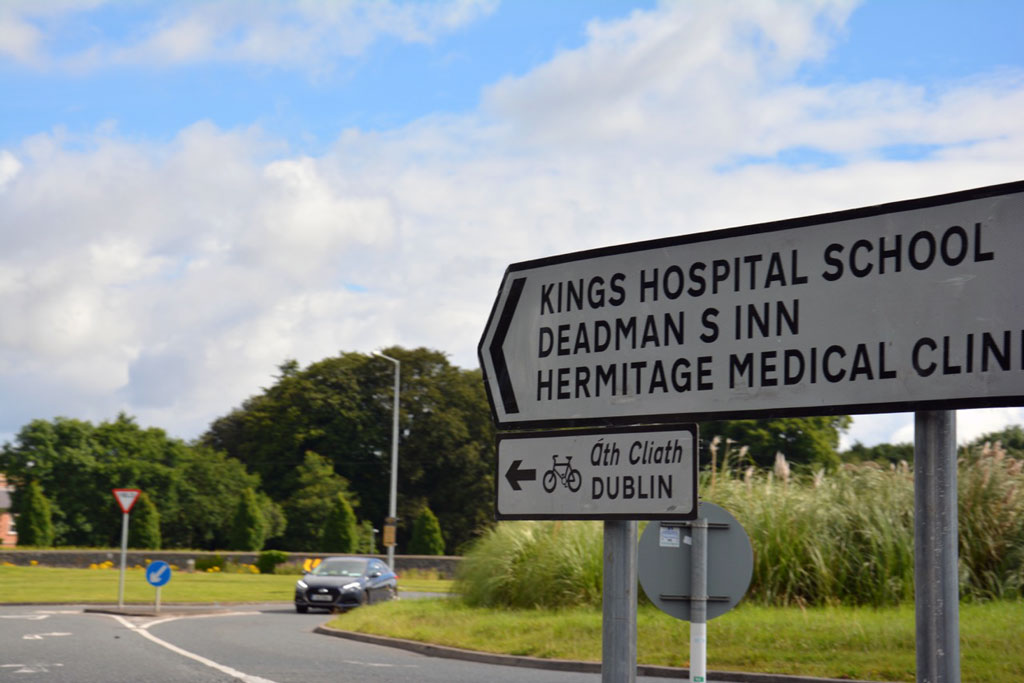 Tea: The endless and truly bolstering "cuppa," best sipped slowly, while reading over your new-found treasures from used bookstores, or while eavesdropping (see noise canceling). A sampling of some wonderful places where I had tea: on the wall of a castle overlooking a river, beside a wide window looking down at a busy car-filled intersection overflowing with flower baskets and brave bicyclists, in a garden nestled inside a seat shaped like a teardrop where a passing gnome would have blended in. A way to relish the day, to take note of your regret in having to leave any place so storybook, so welcoming, something grown modern but no less beautiful, its history set in stone, something you dreamed and try to grasp as you wake, to never forget.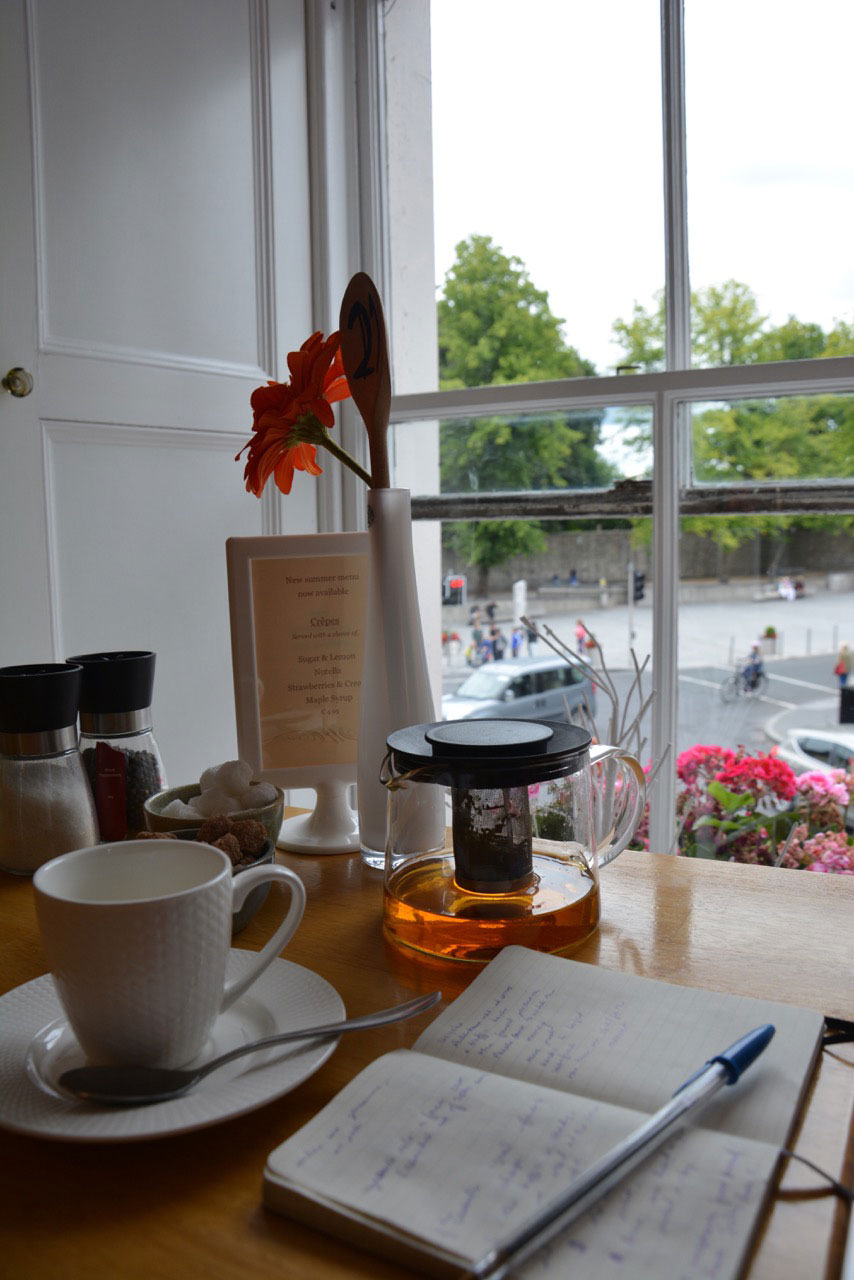 Tourists: At the airport, while waiting to leave for Dublin, you overhear two twenty-somethings in suits exchange the following words: "You brought a kilt? I brought a kilt!" "Dude!" You are fairly sure that Norsemen on the cusp of invading the Emerald Island could have exchanged these words and bumped grimy fists in a toast on the eve of battle. You feel superior to the dude-bros until you hear yourself whining about your need for a cup of actual coffee in your hotel room. It's true, you have touched the stone in the farm field with the maze carved somewhere around 3000 BC, you have tried not to step on the worn carving of the knight in relief on the church's floor, not even roped off. You have gone into the graveyard whose gates stand open, after asking a nearby groundskeeper if you can take a peek. Sometimes you have crossed a line, sometimes you've held yourself back. You don't want to be a tourist, you want to be a traveler, you want to stay, to be asked to stay, to be invited to return (you are, you will). Everywhere, people chatted with us, advised us where to go next, told us stories of local life, recommended their favorite places. When a tour guide marveled that I knew that Saint Jude was the patron saint of lost causes, she said "It's a sign you've got Irish blood!" which pleased me down to my toes, but I admit, it's probably more of a sign that I am a lost cause. Still, the urge to return is blood level, breath level. I didn't get my fill of this country. I don't know if it's possible to reach my fill of such a place.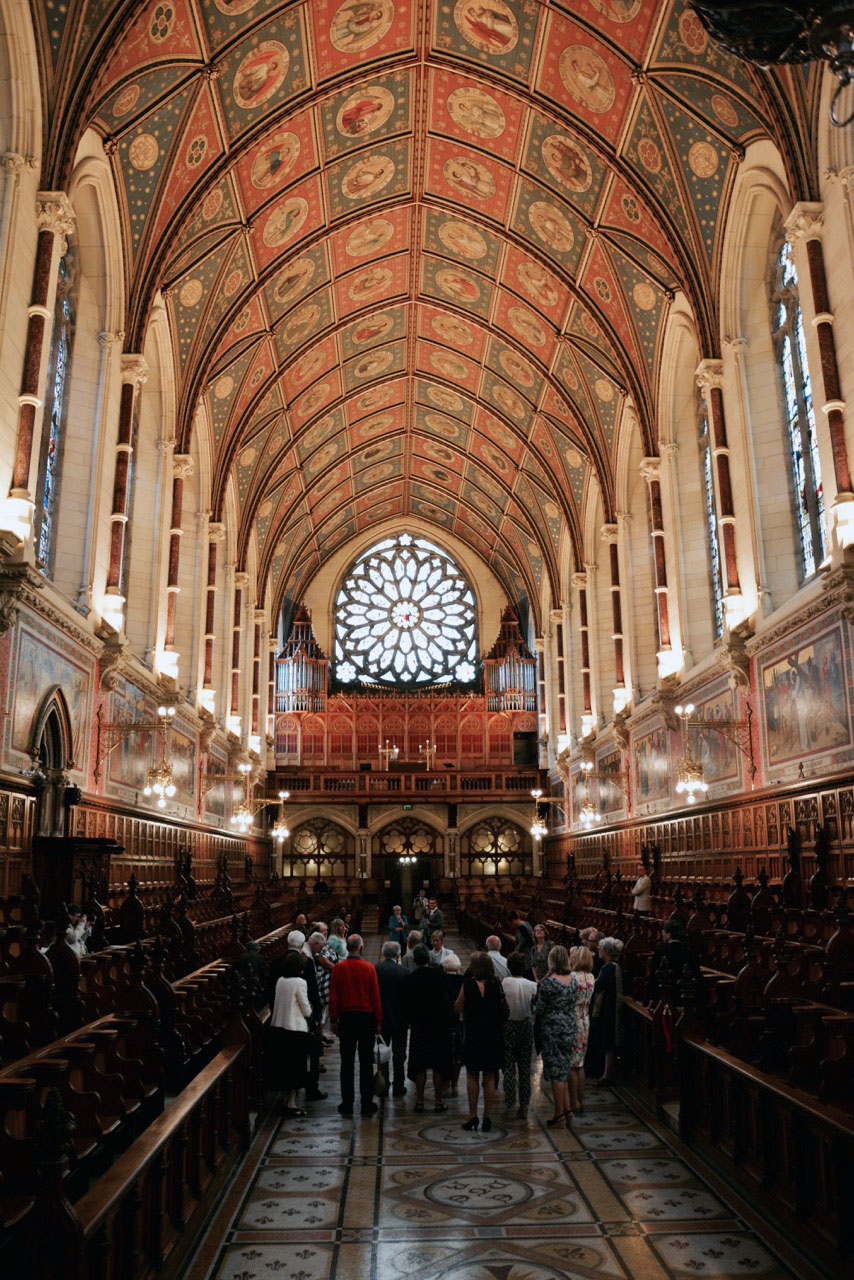 View: Shifting, easy to find vistas. Daunting, as when we drove into the mountains of Wicklow. Mysterious, as from the Hill of Tara, where locals probably are even more inspired when they visit, knowing better exactly which tower spears the sky in the distance. My favorite, the one that felt transformative, was at the megalithic cairns of Loughcrew, where we climbed through steep and grassy farmland, and when we reached the peak where the cairns were, a thick mist below us obscured towns, and quiet descended. I imagine that this is what inspires stories of time travel. We could have been transported after touching the ancient glyphs. I could have been there for years, or moments. I could have stayed there in the place that resists time, and which retains story, become a part of the myths.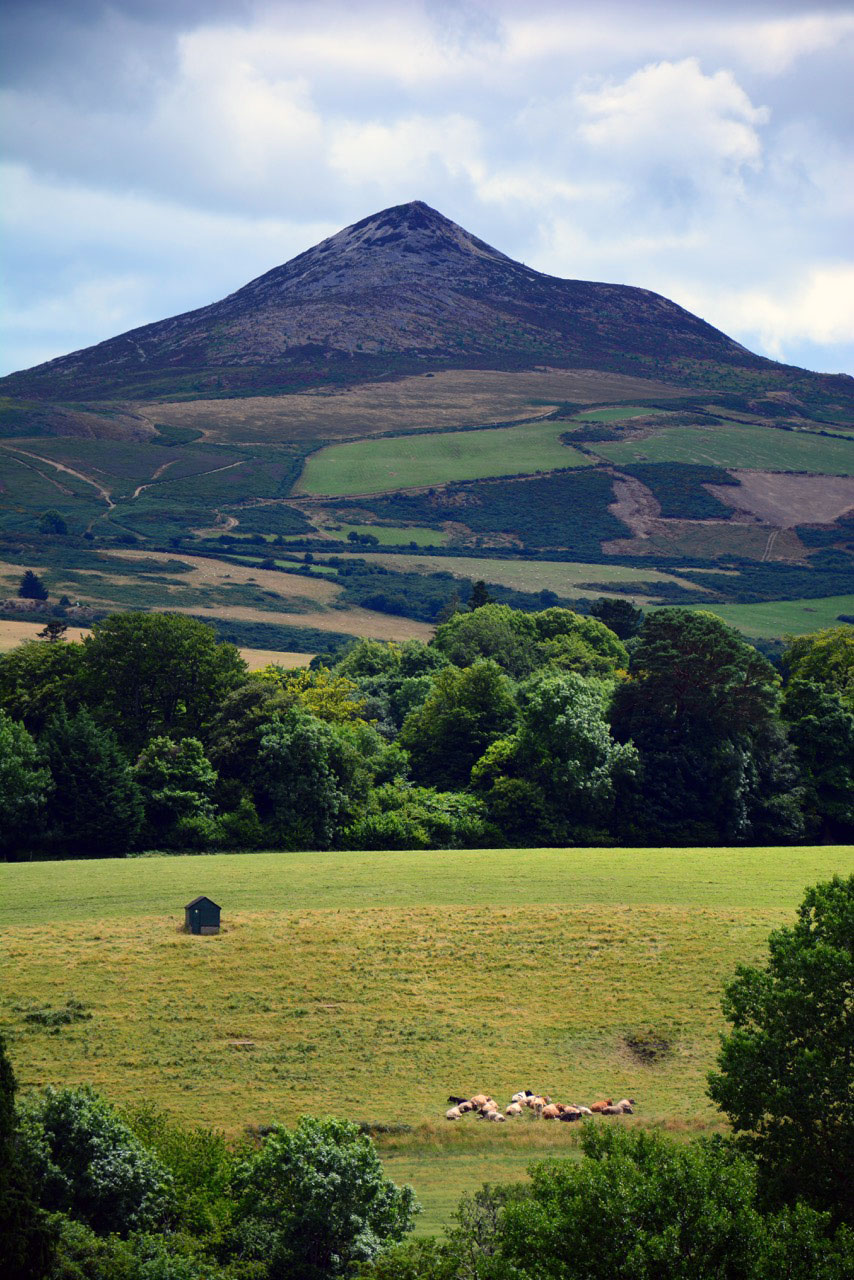 ---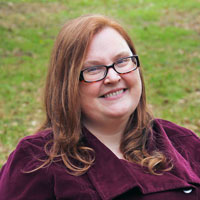 Sarah Ann Winn's writing has appeared in Five Points, Hayden's Ferry Review, Massachusetts Review, Passages North, and Quarterly West, among others. Her chapbooks include Field Guide to Alma Avenue and Frew Drive (Essay Press, 2016), Haunting the Last House on Holland Island, Fallen into the Bay (Porkbelly Press, 2016) and Portage (Sundress Publications, 2015). Her first book, Alma Almanac, was the winner of the 2016 Barrow Street Book Prize, and is forthcoming from Barrow Street in 2017. She lives in Manassas, Virginia with her husband, two sweet beagle/lab mixed dogs, and one bad cat. You can visit her at http://bluebirdwords.com or follow her on twitter @blueaisling.
.
Images of Ireland credit: Sarah Ann Winn.