where we come from by Patricia Hartland
where we come from
by Patricia Hartland
tiny springs meet
the red red sand the sea
we built our little huts of buoys
of tern wings and of jelly fish
purple perfectly in a pool
in the belly of the spade
we gather them with
days of red clay
the seal under glassy dark
peers into our mouths
full of fish or of sky
our faces struck
out over the white cloud
of the row boat the salt
the oars magnificent splinters
we leave in our palms
in place of almost anything
trusting skin to its magic
and in the wind gusting scream
or laugh or salt catches us from
the shore somehow our sisters
and our brothers their voices
in our ears of endless twisting conch
and we could be in any wind
mud
holiest water
compels the bygone
the hoofclad the painstake
when we were strung by seas
over histories so they say
my feet have lapsed again
swallowed-in
wear the snails on your eye
for Fibonacci
who could've never dreamed up this gutted sky
this complete synthesis
elsewhere ricochets
the only right word here:
where tin becomes the cliff enclosed glass becomes the pond as a whole the
shattering is all
bone and drowning along the lines
along laced fingers
become spider-webs
became the window screens
where we witnessed you thrown
into gaping sea
writhing [a wrath] of those stinging jellies
from on now
your chest always a little rashy
or the clay bed fed and dripping red red red sand in our genes cold springs or biome at least
beneath your foot across the floor
beetles crackling like rice in a hollow stick
bringing rain
when i opened the hatch
the space dug away from the dark
to lay egg shells over the flames
in your absence i burn what i please
acrid succulence
a purge
crumpling sun-in-fist
an anodyne
too bitter for the flies
but all this smoke
dirt of our ancestors
in the cracks of the floor
in the hallway
the neighbor's scalded thigh
and a bat no one wants
looming over the toilet
too busy being the poem
---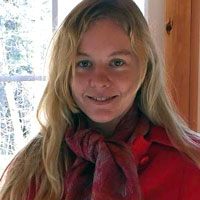 Patricia Hartland is a candidate for the MFA in poetry at the University of Notre Dame, and a recent graduate of the Iowa Translation Workshop. She translates from French, Martinican Creole, and Hindi, with a special interest in Caribbean literature. Her translations of prose, poetry, and theatre have appeared or are forthcoming in Asymptote, Circumference, Drunken Boat, Two Lines, and elsewhere.
Image credit: Unsplash