WHAT I CARRY, a YA novel by Jennifer Longo, reviewed by Aja Todd
WHAT I CARRY
by Jennifer Longo,
Random House Books for Young Readers, 336 pages
reviewed by Aja Todd 
Buy this book on Bookshop.org to benefit Cleaver
From the very first moment of her existence, Muiriel was born alone. Found abandoned at a medical center with no parents to claim her, Muiriel has lived in foster care her entire life. But blessed with a book of survival by naturalist John Muir and her experience in nearly twenty different foster homes, seventeen-year-old Muiriel knows she will not let her past dictate her future:
Aging out is terrifying.
Still…I can't wait.
I can't help believing I will be okay. Maybe I'm setting myself up for spectacular failure, but all this time I've been so lucky; if I am as perfect as I can be, I bet I can stave off the likely possibility of being homeless within a year, or pregnant, or dead. Outcomes for kids who age out with no family are mostly a nightmare, and it makes me furious. I refuse to let the stupid circumstance of my birth ruin me. I am a Muir, for Christ's sake! Not in meaningless blood, but in what truly matters. I believe that the nurses who held me and named me could tell John Muir's singular life force is in me and in our shared name, and I will end my childhood the way it began: alone. Finally free to live and take care of myself in the wilderness of the wide world.  
I hope.
In her latest novel, What I Carry, Jennifer Longo brings us on a heart-warming journey of independence, love, and vulnerability. While it can be difficult for anyone as a teenager to find their place in the world, Longo delicately conveys what it's like for a girl who never had a solid foundation to start with. For Muiriel, she believes her only true home is the unchanging outdoors —the forest, the night, the stars  — and the only foundation she can ever rely on is herself.
That is, until Muiriel meets her final foster mother, Francine.
Across Seattle waters on a thirty-minute ferry, Muiriel appears to find paradise in the cozy home of Francine. Unlike past caretakers, Francine's interests are all too similar to hers. While others enforced rigid boundaries on Muiriel, Francine gives her something she's never experienced before: freedom. Freedom to take her time and adjust to her surroundings, to explore her new town, to meet new people. To Muiriel, it all feels too good to be true. Despite her instincts to survive and disconnect from the world, Muiriel starts to find comfort with Francine who strives to understand her; she makes friends who like her for just who she is; she even gains an opportunity for the career of her dreams. There doesn't appear to be anything holding her back from a promising future.
But it's difficult to trust others; it's even more difficult to trust happiness.
Longo's What I Carry wonderfully explores that specific, transitional moment in one's life. A moment that isn't pushed forward by external events, but the struggles within oneself. Throughout the novel, readers learn why Muiriel carries herself as she does, and why being presented with this new support system is all too strange for her to accept. Too often in fiction, characters in foster care are shown as victims rather than people who, like anyone else, are just trying to survive. Muiriel represents that survival. Her strong sense of justice, independence, cautious behavior, yet love for other people show what she needed to get through the rootless life she has had so far. And while readers may find this new home an obvious solution to Muiriel's uncertain future, her experiences have proven the danger of staying, and it all may be too much of a risk to take.
The story of Muiriel teaches us the importance of learning someone's circumstances before judgment, the patience pain needs to dull, and the strength that is needed not only to be independent but to depend on someone. Through the beauty of that small town, the comfort of Francine's home, and the openness of new friends, Longo shows us the power of love beyond family ties.
---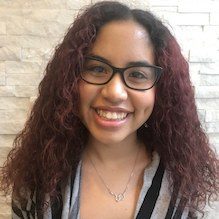 Aja Todd is a growing writer and editor from Chicago. She  earned her Bachelor of Arts in Fiction at Columbia College Chicago, where her work can be seen in Columbia's Hair Trigger anthologies. She worked at Cleaver Magazine as an editorial intern in Spring 2020.