EMPTY PARKING LOT by Matthew Tyler Boyer

EMPTY PARKING LOT
by Matthew Tyler Boyer
The first of my brother's birthdays that he wasn't there for was three months and two days after he passed. He would have been twenty-two on the 22nd day of June, but he wasn't. We let twenty-two lanterns go over Shanksville School. We lived a minute from the school. It has this big parking lot, it's small compared to other schools, but so damn big when no one's in it.  Big enough. All of our immediate family and friends came and parked and stood and let go of the burning pieces of paper that are supposed to work like tiny hot air balloons.
It was windy. We lived on a hill. The school lived on that hill. The burning paper lanterns couldn't get off the damn hill. Some of them did, about eighteen, made it over the pine trees.
I spent eight hours of that day at work, thinking about how much I wanted to stay there and not go home to spend time with my family in a lot of burning paper.
Three of them wouldn't take off. One got stuck in a tree. Aunt Betsy, who bought the lanterns for her first nephew, said she'd have to call the fire department. That the little fire would burn the whole tree down, and then the school. I hoped it would. Burn down everything so we could start new, fresh, the soil fertile from flames and mistakes and misjudged wind.
We laughed, and laughed, and laughed, and laughed. My grandfather sat in a lawn chair on the pavement with his oxygen tank and laughed. My uncle kicked the pebbles left behind by winter snowplows and laughed. Betsy picked up smoking again and shook smoke out from the belly. My grandmother talked to my cousins on the other side of the family, told them it's okay to cry. His best friend showed up late, but that made sense when nothing else did. We laughed when his wouldn't take off the ground, wanting to stay in his hands. No one cried externally. I think we all cried on the way home. All 98.6 degrees of us helped to burn down the bad of the day, but we had to wake up the next day and do it all over again, without each other.
---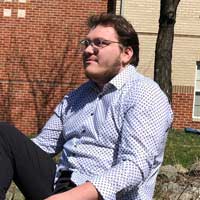 Matthew Tyler Boyer is a writer from Western Pennsylvania. He is a student in the Creative and Professional Writing program at the University of Pittsburgh at Greensburg. He is the author of the self published book Due to an Underwhelming Sex Education System in America. He is a fan of cats and oversized sweaters.
Image credit:  Lasse Møller on Unsplash