TWO FLASH PIECES by Francine Witte

Francine Witte
TWO FLASH PIECES
Waves  
Mary counts the ships. Rodney has just broken her heart.
"You're like the ocean." He points to the blue water carpet. "You will ebb and flow, you'll see."
There are five ships. A mother duck ship and four little ducklets. Last night, the radio talked of an oil spill.
"I hope those are rescue ships," she says, "for the poor oily birds."
She moves closer to the ocean. Foam tickle of water rushing towards her.
"The little black bird eyes," she says. "Blacker now with sludge."
"Think of it this way," Rodney says from the shoreline, "they're only birds and really won't know the difference."
She looks at the last of the ducklet ships. She hopes they can save the birds and towel the goop off the ocean skin.
Rodney keeps talking, but really he is just a memory now. This time, the foam tickle of water, pulling away.
---
Weakness
Sarah has a weakness for ice cream and so she buys a cow. She slips her landlord a twenty, and he agrees to let Sarah keep the cow in her closet.
Mornings, Sarah gets up, pulls the cow from her closet, and tugs the milk from the cow teat. Then she turns the milk into ice cream, and for dinner, she has a giant bowl of it.
This goes on till she meets Dave. Handsome and tall, but lactose intolerant. So much so that he can't even say the word "cow" without feeling ill. However, Dave has such heart-stopping blue eyes that Sarah gives up her ice cream routine.
Besides, Dave lets her sleep till noon.
One day, the cow gets hungry and starts to bang itself against the closet door. Sarah tells Dave that it's just wind.
Dave doesn't believe her. "Besides," he says, "the wind doesn't moo."
In the end, Dave leaves her for lying.
Sarah cries for a while—big, gloopy tears that eventually stop.
Then she opens the closet and feeds the cow.
---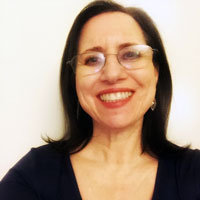 Francine Witte is the author of four poetry chapbooks and two flash fiction chapbooks. Her full-length poetry collection, Café Crazy, has recently been published by Kelsay Books. She is a reviewer, blogger, and photographer. She is a former English teacher. She lives in NYC.