PRETEND WE LIVE HERE, stories by Genevieve Hudson, reviewed by Ashlee Paxton-Turner
PRETEND WE LIVE HERE
by Genevieve Hudson
Future Tense Books, 168 pages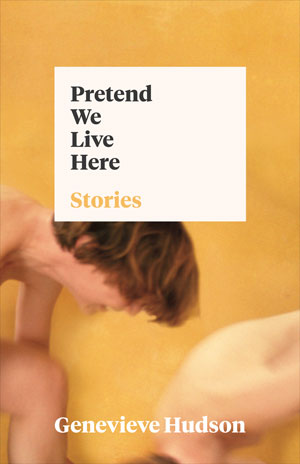 "College people like getting greens with soil still on the stems. It makes them feel real in a world made mostly of plastic and propane." This is what the first narrator, a 13-year-old Alabaman girl with a rotten tooth, tells the reader in Genevieve Hudson's debut collection of short stories, Pretend We Live Here. This type of humor and keen observation peppers the entire collection of fifteen stories.
Hudson, who lives in Amsterdam, received an MFA in creative writing from Portland State University. She is the author of A Little in Love with Everyone, a book on Alison Bechdel's Fun Home. Her work has appeared in a variety of publications, including Catapult, Hobart, Tin House online, Joyland, Vol.1 Brooklyn, Split Lip, The Collagist, No Tokens, Bitch, The Rumpus, and other places. In Pretend We Live Here, Hudson leads the reader on a journey alongside the many protagonists who are trying to find themselves.
The identity of the  "college people" in the collection's first story, "God Hospital," is wrapped up in doing what makes them feel real. For the thirteen-year-old narrator, Rae, "visualizing is an important part of how [she and her cousin] manifest the lives [they] want." But the visualization always focuses on her cousin. So Rae, like many of Hudson's other protagonists, must grapple with her identity and the life she wants through her experiences and the community in which she finds herself.
Hudson begins her showcase of identity-seeking not with a birth or a fresh start but with a familiar variety of decay, as the first story's narrator explains that her "tooth has gone black." Indeed, similar forms of tangible, relatable decay run throughout many of Hudson's stories as their various narrators come to terms with what that decay (or loss) means for them. For example, the relationship between loss and identity appears in "Too Much Is Never Enough," as the narrator reflects on her childhood, her dream of being a boy, and her deceased best friend, Mason. For a brief moment in time, the narrator and Mason were the same size and wore the same clothes. "Mason was exactly what a boy should be," and when the narrator recalls her childhood, she remembers herself as Mason. He was "the man [she] never could be" and "the man he never could be." In poignant language, Hudson expresses what it means for a desired identity permanently to be out of reach.
Identity-seeking for Hudson's narrators, however, not only requires coming to terms with decay and loss but also with the very communities in which they find themselves by choice or by accident. In "Adorno," the narrator finds herself in a bus with vegans and animal rights activists. She had joined We R Animals because she wanted "a purpose, something nonviolent, a set of rules to follow," and she had told the vegans that she only ate fruit. "That's why they decided to love me, to take me in," she reflects. Fruit is indeed all she eats, despite the pangs of hunger that she feels. The narrator had craved this purpose, even if it meant being hungry and riding around in a van smelling of menstrual blood, which would be smeared across anyone wearing fur. She was trying to come to terms with how and why as a lesbian she had nevertheless slept with her sister's husband. The van stops a petrol station where the narrator goes inside to use the restroom. But "[b]efore [she] know[s] what [she's] doing, [she's] peeling back the casing on summer sausage." After a diet of only fruit, she is famished and eats the sausages too quickly but not without concluding, "I don't care who's looking." She is not the "fruitarian" she said she was. The story ends with the narrator realizing that she's simply not that person, and she "doesn't even care." It is that type of self-realization that permeates Hudson's writing.
Hudson's stories span the Deep South, the Pacific Northwest, and Amsterdam. Although it is not often that these landscapes and their cultural and regional identities appear side-by-side, Hudson expertly uses them to map out the kind of soul-searching and identity-seeking that can happen anywhere. In "Cultural Relativism," the narrator returns to Alabama from Amsterdam because she "misses her dead brother." But in Alabama, the narrator then mourns the fading, now long-distance relationship with her partner back in Amsterdam. She teaches courses in Southern literature. A student, RJ, tells her about how his friend, Tyler, killed his own mother. In her courses, the narrator prepares to "talk about trauma in the South, how it runs so deep, how it's in the soil." In this powerful story, Hudson reminds the reader that there are certain things that shape a person that can't be outrun.
In Pretend We Live Here, the world is never as the narrators understand it. For example, there is no world where a bag of turnips can be exchanged for a healthy tooth, and yet, in "God Hospital," Rae is searching for that very world—where a cure can be bartered for. That's what connects these disparate landscapes and narrators—they're searching for something that they may never find. But at least they're searching. That might be the best lesson that Hudson can teach us. Keep pretending, keep searching until it makes sense.
---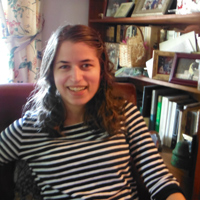 Ashlee Paxton-Turner is a native of Williamsburg, Virginia, and graduate of the University of Pennsylvania, where she was an English major with a creative writing concentration. A former Teach For America corps member in rural North Carolina, Ashlee is now a lawyer and graduate of Duke University School of Law.