TO MAKE AND EAT TIME: Pork Rillettes in a Pandemic by Greg Emilio
TO MAKE AND EAT TIME:
Pork Rillettes in a Pandemic
by Greg Emilio
I.
And one day, just like that, you will make time.
You will make time to dust off the cookbooks you've never used. You will pick up the fat French tome and crack it open and it will smell like your grandparents' kitchen. The papery redolence of oil, roasted chicken. The splattered windows of grease stains as holy as stained glass. Time to finger the recipes their pencils annotated. Time to make, and make do, to use what you have: time trapped in a half-forgotten bottle of Muscadet.
You will make time, because suddenly, you, and the rest of the world, will have time.
Lured by economy and the blind contingency of time and place, you will come to a recipe for rillettes. Pâté-tender pork preserved under a layer of lard. Peasant's butter back in the day, the fat cap keeping the meat for months. (Time to seek out foods that will stand the test of time.)
After a perilous excursion to the grocery store and a trip to the butcher (by comparison paradisiacal), you will be ready to set the cure on your inch by inch chunks of pork shoulder: salt, garlic, ginger, coriander, black pepper, and white wine. Plus the unexpected warmth of cinnamon, nutmeg, and clove.
And this is how you will set the cure. And this is how the beginning of time is made. And now, you must wait three days.
II.
And on the second day, you will find time right on the edge of spring in your part of the country, cool mornings giving way to lengthening days of high fresh light.
Light ladling down over the reemerging canopies, limbs bursting diminutive green flags.
Light catching the green-gold drifts of pollen sifting down from the trees like flour from a baker's sieve.
Your eyes will ravel and water and burn, the air perfumed with wisteria, purple evanescent blooms that will already be withering by the time you eat the rillettes.
You will pass time walking the block, jogging, getting reacquainted with your body. The neighborhood teeming with children as if it were summer. Neighbors reading on front porches. A legion of box gardens seemingly sprung up overnight. It will seem as if you're living in a bygone time.
On this, the second day, you will institute a nightly cocktail hour with your partner. After a day's work reading, grading, cleaning the house, you will come to savor the crawl of dusk, Negroni in hand, the person you love best in this world by your side.
You will find that by using your stockpile of time wisely, thoughtfully, you are actually making more time. Building a bank of memory to fall back on in tougher times.
(They will come.)
III.
And on the third day, the cure thoroughly set, it will be time to finish the rillettes.
Low and slow is how time works wonders in a poor kitchen. The pork, pungent with the aura of its spices, will cook for three hours in the melted lard.
10,800 seconds at 225 degrees to make a tender miracle of the meat. Roughly shredded, spooned glistening into small mason jars, each topped with a thin layer of lard.
After waiting three days, you will crave a fast forkful. But you will wait. (What you are losing in time, you are gaining in patience.) You will let it rest.
On the third day in the Book of Genesis, God parsed out light from darkness, invented sun and moon and a ceiling of stars and set the whole thing spinning: "To serve as signs to mark seasons and days and years." This is the day that time was made.
You will mark the dusk on your third day of rillettes in a time of pandemic with a glass of thin red wine, earthy and reasonable. The early spring air will be fragrant, full of the throb of new life, and the pulse of life coming back.
You will spread the rillettes over the face of a toasted piece of craggy bread. Top with some pickles or a thinly sliced radish.
And the clink of your glass against your lover's glass will ring out into the deepening evening, and your teeth will tear into the crackling toast, lush and otherworldly with the richness of rillettes, and the tongue of time will catch (just for a moment) in the imponderable jaws of God.
---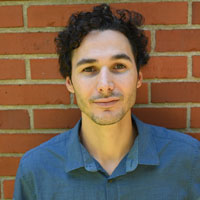 A food writer, poet and teacher, Gregory Emilio has recent work out in Best New Poets, Gastronomica, Nashville Review, North American Review, [PANK], Permafrost, and Tupelo Quarterly, among other journals. He won Georgia Poetry Society's 2019 George Herbert Reece Prize, White Oak Kitchen's 2020 Prize in Southern Poetry, and earned his PhD in English from Georgia State University. He lives in Atlanta.
Cover photo by Todd Quackenbush on Unsplash