THE UNDERSIDE by Eric Scot Tryon

THE UNDERSIDE
by Eric Scot Tryon
It was an exceptionally hot Saturday in April when my sister and I zombied our way through the tedious chore of packing Mom's house. A twisted, cruel part of the grieving process, but we refused to give in. No tears were shed as Wendy carefully bubble-wrapped the brown-stained coffee mugs we gave her as children. And I didn't break down as I folded and packed her clothes even though her smell was dizzying. Wendy and I hadn't spoken in hours—each sweating in a separate part of the house to avoid nostalgia and the "remember when's"—when I heard my name.
"Everything okay?" I was in the middle of tossing out towers of junk mail catalogs.
"Just come here."
When I arrived in the doorway of the den, Wendy was holding a framed photograph. The one from Yosemite. Dad, Wendy, and I sitting around a campfire holding up bent metal hangers. Dad's marshmallow a blazing ball of fire. His smile, open-mouthed. Always the clown. But before I could say anything, she turned the frame over and handed it to me. On the back, taped with small squares of masking tape, was another photo. A smaller one. Creased and faded. It was Mom. Mom and a guy. A guy that wasn't Dad. They looked to be in their early twenties. Both his arms were around her as he held the camera out in front. She, nestled into his chest, beaming.
"OK," I said. "But this was before us."
"Not before Dad." Wendy shook her head with resolve. "And there's another one." She pointed to an overturned frame that lay by her feet.
We held eye contact. Wheels turning. Questions rising.
"Do you think…" but I let my eyes finish the sentence as I scanned the room. The walls of the house were suffocated with framed pictures. Our lives, the four of us, documented in frozen five-by-seven moments.
Wendy and I began tearing them down one by one, ripping out nails and screws and chunks of drywall. We couldn't claw at the walls fast enough, white paint embedding itself deep under our nails.
Each and every frame we pulled off the wall held a photo on the underside. Every one meticulously held with four square pieces of masking tape in each corner. Once we unchoked the walls of the den, we moved to the living room, then the bedrooms, the kitchen, the bathrooms, even the long hallway, especially the long hallway.
Pictures of Mom and this guy at baseball games, restaurants, peeking out from under hotel sheets, sitting on trunks of cars that overlooked a lake or a beach or an IHOP. In some photos they were glowing, youthful. In others they were graying, tight-lipped. In some pictures there was only my mother, smiling in places we had never been. In others, there was only this man, smiling at a woman we no longer knew. His clean-shaven face a stark contrast to Dad's unruly beard. His blue eyes were kind but didn't hold the warmth of our father's brown eyes. Wendy criticized his clothes. I called him short. Reduced to pettiness, but this is all we had.
By the time the sun had set and the sweat on our backs had started to dry, we had all the photographs laid out, lined up, and ordered in our best guess at chronology. The trail of photos started at the front door and wound its way past the armoire where Wendy once chipped her tooth on the corner and down through the living room where we used to eagerly sit cross-legged on the floor on Christmas mornings, and then down the hallway, through the laundry room, and up to the edge of the back screen door, the one Dad would fix every time we burst through it. A trail of photos. Like a long winding vein. Underneath the surface, hidden. Keeping you alive.
---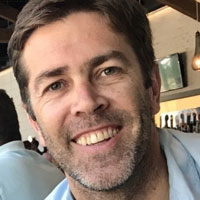 Eric Scot Tryon is a writer from San Francisco. His work has appeared or is forthcoming in Glimmer Train, Willow Springs, Pithead Chapel, Los Angeles Review, Fractured Lit, Monkeybicycle, X-R-A-Y Literary Magazine, Longleaf Review, Berkeley Fiction Review, and elsewhere. Eric is also the Founding Editor of Flash Frog. Find more information at www.ericscottryon.com or on Twitter @EricScotTryon.
Cover design by Karen Rile