THE SECOND STEP by Meggie Royer
THE SECOND STEP
by Meggie Royer
That night, the door so waterlogged with rain
it stuck for hours, hinges flush with the frame,
a mouth against spine.
In the woods that year, several syringes
we could never place, some long-ago nectar
unraveling like thread.
It was body memory, the feeling
of pushing the plunger,
neurons pulsing into every bell tone.
We filled them with marigolds instead,
gold punched into sharpness;
that night, they clattered against the door
like hail. Knowing we couldn't let them in
was easier than knowing we could.
---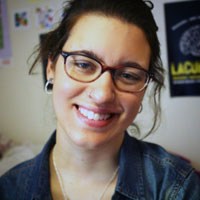 Meggie Royer is a Midwestern writer, domestic violence advocate, and the founder and editor-in-chief of Persephone's Daughters, a literary and arts journal for abuse survivors. She has won numerous awards for her work and has been nominated several times for the Pushcart Prize. She thinks there is nothing better in this world than a finished poem.
Cover Photo by Christian Allard on Unsplash