THE MYTH OF THE ARAN FISHERMAN: The Art of Jan Powell
THE MYTH OF THE ARAN FISHERMAN
The Art of Jan Powell
by Melanie Carden
[click images to enlarge]
Knitting transcends time and is a dominant theme in Jan Powell's life and work as an artist. Through her use and creative exploration of this craft, Jan has produced—over the past four decades—a tangible amalgam of heritage, feminism, and memory.
While working towards her master's degree, another artist told Jan the legend of the Aran fishermen, whose intricately hand-woven sweaters have long been the topic of myth and symbolism. Though proven untrue over the years, the sweaters were long believed to help identify the Irish fishermen if they died at sea and washed ashore.
It was 2004. The tragic tsunami of Indonesia was still in the headlines, and the artist found herself in sincere sympathy for the families of those killed. The story of the Irish fishermen so profoundly resonated with Powell—whose mother and grandmother taught her to knit—she shifted her art to focus on the exploration of and use of knitting, so steeped in symbolism of identity, heritage, femininity, time, and memory.
What began as a conversation with the artist's brothers, Parallel Perceptions is a monotype print created from deconstructed garments. While reminiscing, each sibling had such dissimilar memories of the same childhood story. It struck Jan as remarkable that though the basic structure of the memory was intact for each of them, the details—the fibers—had been uniquely distorted within each sibling's mind over time.
Similarly, in Worn Out, Powell draws on her childhood. Just as her mom would unravel old sweaters to repurpose the yarn, Jan deconstructed children's garments similar to the jumpers (sweaters) she and her brothers wore to create this piece. The symbolism of dismantling, through distortion, unraveling, and deconstruction, are as evident here as in her other works. Over time, our memories diminish, fade, and tatter—just like the sweaters.
Jan Powell's artistic journey following the connective themes of fiber is also inspired by the work of the artist Louise Bourgeois (1911-2010). Bourgeois worked in a variety of media, including textiles, and believed that clothing is a metaphor for times past. Makers both, Jan's mother and grandmother were avid knitters and dressmakers. The Fabric of Memory is a tribute to and celebration of this heritage. Inspired by Bourgeois' metaphors and the feminine, lacy styles her grandmother wore, Powell built up layers of old, knitted garments to convey the passing of ages and the progression of time. Charcoal and graphite create intensity while the grey, monochromatic palette steeps the piece in the idea of faded diminishment.
Matriarchy reverberates through Powell's textile work; the mother creates life, childhood memories—even, at times, the clothing. All of these strung together speak to one's identity. Bourgeois once said, "You can retell your life and remember your life by the shape, weight, color and smell of those clothes in your closet. They are like weather, the ocean—changing all the time."¹
It is in these ephemeral earthly elements that Powell draws inspiration for Temporal Fossils #1 and #2. These pieces—photographs of hand-knit shapes, frozen in ice—are designed to convey a sense of archeology and the fragility of the planet. Exhibited in HOT: Artists Respond to Global Warming at the Depot Square Gallery (Lexington, MA), the breadth of Powell's storytelling is obvious. She has captured the ultimate power of matriarch, Mother Earth, as well as the juxtaposition of strength and fragility. Though not intended by the artist, a case can also be made that the effeminately cast Temporal Fossil #1 is a poignant snapshot of the complexities of the isolation of a woman's infertility. The unattached string evokes a separation, a truncation in the ability to sustain life in the womb and here on earth as climate change erodes Mother Nature's cycles.
Powell layers her temporal theme not just in the creation of this piece, but in its literal dissolve; the original has, of course, since melted. What appears cast in eternity is impermanent and fluid, like time itself.
Most recently, Jan's work in Art on Science: 26 Etudes, is an installation in which a scientist is paired with and reacts to an artist's work. The inspiration for her print Something Vanished was dementia, and it is a collaged monoprint involving photo transfer, intaglio, and hand-coloring.
Both her mother and grandmother, honored in the piece, suffered from dementia. The artist's love of these women and fear of the disease are represented in the piece. Powell's piece was paired with David Kaplan, a biomedical professor whose work involves using silkworm cocoons to build neuroscience medical applications. Now sixty-nine years old, Powell says, "As I am getting older, I'm sort of thinking, 'oh my God, when am I going to get dementia?' I hadn't realized it was going to be that emotional."
Jan describes how emotion is a catalyst in the creation—but also the resolution—of a project. There is no failure in art she says, only the idea of resolution. She will ask herself, "Is it resolved?" Her philosophy of resolution has many components, and it changes with each work of art she produces. It may be texture, color, mastery of technique, or, of course, emotion. She has six unresolved versions of Something Vanished in her studio.
As in many of her works, Something Vanished offers layers of transparency, begging the question, what has been lost? Though the idea of hereditary dementia may be daunting to Powell, it is clear there is still so much left to be done—created—resolved. Just as the artist's mother would unravel an old sweater to create a new one, Powell's deconstructed textile tells the story of renewed purpose, even as threads fray and time plays trickster. The fibers may be worn thin from life's elements, but Powell's work lends proof that the myth of the Aran fishermen was, in fact, true. The weave of your sweater is your identity.
¹Morris, F. Herkenhoff. "P & Bernadec M. 2007 Louise Bourgeois: Tate Modern, London, 10 October 2007-20 January 2008." London: Tate
---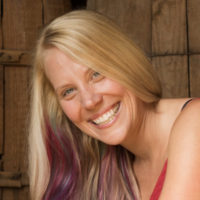 Melanie Carden is a Boston-based writer and editor. Formerly a newspaper columnist, she writes about food sovereignty, cooking, culture, and social justice. She earned her BA in food and culture journalism from the University of Massachusetts Amherst. She is a passionate advocate for lifelong learning—the traditional, immersive, and online classrooms alike—and remains an active alumnus for the University Without Walls department of her alma mater. Visit her website at www.melaniecarden.com