SOULS FALLING INTO HELL LIKE SNOWFLAKES by Roy Bentley

SOULS FALLING INTO HELL LIKE SNOWFLAKES
by Roy Bentley
"I saw souls falling into hell like snowflakes."
—St. Teresa of Avila
Am I the only one in the Cleveland Art Museum today
looking for mercy? I'm looking at an artwork about Hell
or the end of the world, recalling my then-small son saying,
of the Challenger disaster, I'd have gotten out. In the painting,
there are boats and the boats are filling, the sea aswarm and
starkly bullying like the first dopplered image of a hurricane.
Angels with an artist's idea of wings are manning the tillers,
captaining across a broth of larvae-white bodies, the deltas
and islands and archipelagos of extended arms and hands.
If the broken world in the painting does anything it repels,
a summation you'd prefer to skip altogether, thank you.
But if you're lucky, you're one of the rescued who
are now far beyond the graveyard of linear time.
When I was a kid, John Glenn went into space,
sardined into a Mercury capsule, Friendship 7,
and my hillbilly family cheered the tv-launch.
Appalachians think they know about an afterlife
and God—so when my silver-haired grandmother
read aloud from a King James Bible, finger tracing
the lines on the red-lettered pages, the birds of Ohio
a night-chorus outside the window, I could see where
this was going: to a hell of the Imagination. So I told her
to rest her eyes for a while. To settle back on her star quilt—
I'd read. I made up a Jesus. One without a beard and such
fragile looking skin. A man-god who looked like he could
appreciate rocket launchings, the quiet heroism inherent
in the dropping of bodies splashed down without shame
in a storybook Pacific, the wake of an aircraft carrier
roiling blue water under a big, glaring white sky—
my God looked like the astronaut John Glenn,
but I made sure he said the word verily a lot.
Enough to make him at least believable.
---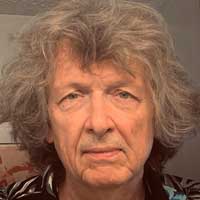 Roy Bentley, a finalist for the Miller Williams Prize for Walking with Eve in the Loved City, has published eight books, including American Loneliness from Lost Horse Press, which is bringing out a new & selected. He is the recipient of a Creative Writing Fellowship from the National Endowment for the Arts and fellowships from the Florida Division of Cultural Affairs and the Ohio Arts Council. His poems have appeared in Cleaver, The Southern Review, Crazyhorse, and Shenandoah, among others. Hillbilly Guilt, his latest, won the Hidden River Arts / Willow Run Poetry Book Award and will appear next year.
Cover Photo by Andrew Neel from Pexels