THE MORNING AFTER ANOTHER COMING-OF-AGE FILM by Daryl Sznyter
THE MORNING AFTER ANOTHER COMING-OF-AGE FILM
by Daryl Sznyter
I dream of a man cutting into my stomach
and you're observing it like a student, mentally
drawing the next incision. I try to sit up but then
you're walking away. I reach for you and you
tell me I'm probably just hungry. I reach through
the hole in my stomach and realize it's empty.
◊
I remember feeling grateful upon waking. I wake
you up to ask you how you lost your virginity,
recalling how in the movie, the bad boy character
tells the girl he just deflowered she would have a lot
of unspecial sex. Yours sounded magical, even from
the start. I somehow felt less special upon hearing this.
◊
Like the character in the movie, I can't remember
names. I remember one name and try to look him up.
The news says he's been missing since last December,
almost a year ago today. You ask me how many, but I
can't remember that either. In your silence, I doze again,
counting them on my teeth. In my dreams, my teeth are falling.
---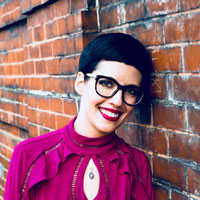 Daryl Sznyter is a Pushcart Prize-nominated poet and content writer from Northeast Pennsylvania. She received her MFA in Poetry from The New School. Her work has appeared in Phoebe, Gravel, The American Journal of Poetry, Poet Lore, WomenArts Quarterly, Bop Dead City, and elsewhere. Her first full-length collection of poems, Synonyms for (Other) Bodies, is forthcoming from New York Quarterly Books in March 2018.
Image credit: Frank Okay on Unsplash