THE FUTURE WON'T BE LONG, a novel by Jarett Kobek, reviewed by Jordan A. Rothacker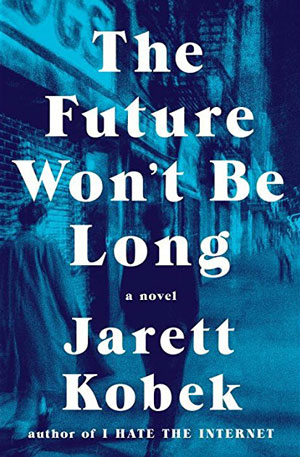 THE FUTURE WON'T BE LONG
by Jarett Kobek
Viking, 416 pages
Reviewed by Jordan A. Rothacker
Not even the greatest writers can write the story of how their own careers will go. Behind every success story that doesn't involve something like the dark arts there's always a lot of hard work, but also the presence of the most elusive element, luck. In his latest novel, The Future Won't Be Long, Jarett Kobek meditates on the nature of artistic success. He follows two friends coming of age in New York City in the late-'80s to mid-'90s as artists, their personal development and their artistic development hand in hand, all hard living, hard work, and big dumb luck. While this is Kobek's first book from a major publishing house—a measure of success for a once indie small press writer—he is no rookie; this is his seventh book to date (next year will see another, a 33 1/3 on Ol' Dirty Bastard's debut solo album, "Return to the 36 Chambers"). Kobek's own career trajectory might mirror that of his characters, as he's the kind of writer not afraid to dance back and forth across that nebulous boundary between art and reality.
If you read Kobek's I Hate the Internet (We Heard You Like Books, 2016)—as you should have, it was one of the best books of last year—you're already familiar with the protagonists of The Future Won't Be Long. Here we begin with Adeline and Baby, meeting for the first time in 1986, in a squat in Alphabet City, and each takes turns telling the story in alternating chapters. We know from I Hate the Internet that in 2013 Adeline will be a famous comic book artist and Baby a famous science fiction novelist, but now we get to see how they get there, how a deep yet tumultuous friendship becomes the center around which two very different lives and careers orbit and evolve.
The New York City of the decade in which The Future Won't Be Long is set is a city in transition, sloughing off the dirty skin of a seriously fertile artistic period to eventually reveal a heartless skeleton scraped clean by Mayor Giuliani and the NYPD by the book's end. From the start, the city is riveting for Baby, who describes how he "wandered New York, its manic energy seeping into my bones. The pavement vibrated, resonating with billions of earlier footsteps, centuries of people making their way, the city alive with the irregular heartbeat of its million cars and trucks, of its screaming pedestrians, its vendors and hustlers. The roar and clamor infected my blood, transforming my walk."
Adeline and Baby experience lower Manhattan for all it has to offer culturally from '86 to '96, mourning the passings of Andy Warhol, Jean-Michel Basquit, and David Wojnarowicz, and hobnobbing with such people as science fiction novelist, Thomas M. Disch, Bret Easton Ellis, Grant Morrison, Norman Mailer, and club promoter/convicted murderer Michael Alig. And while Kobek might cram reality into his fiction through noted historic personages, there is a brilliant moment of trans-fictional reality where after the death of Basquiat, as Adeline stands outside his apartment on Great Jones Street, a friend of hers mentions musician Bucky Wunderlick who used to live on this block. The friend releases a small diatribe about how great Wunderlick still is, but how his most recent albums are different from his early work. Of course it is true that Wunderlick did live on Great Jones Street, but only in the Don DeLillo novel, Great Jones Street.
Kobek's narrative deftness in this novel is illustrated by how the reader experiences the aging of the characters. Even though the alternating first person narrators talk to the reader and seem to be speaking from the present, the language, perspective, and awareness of each grows with each chapter as the narratives move forward in time. This conjoined narrative and character evolution is reminiscent of Joyce's project in Portrait of the Artist As a Young Man as the narrative grows more clear and intelligible as Stephen Dedalus matures. In much of Kobek's fiction, his characters often feel like props for cultural criticism and while this might be a problem, or cute gimmick, in the hands of a lesser writer, he pulls it off. He does so because he's created round characters of depth and the incisive and witty critiques they convey further build out their identities while helping establish a time and place. Most importantly, the cultural critiques and observations delivered by Adeline and Baby mature with them, not just the level of perception, but the chosen topics too.
Early in the work we see Adeline defending the film Pump Up the Volume, with the insight of a precocious teenager: "Even if one strips away all the terrific clichés and demands of the three act screenplay, there is something enormously appealing about Christian Slater establishing that radio station in his parents' basement. One doesn't often see that in film, one doesn't often see private worlds, disconnected realities built by outsiders through force of will, constructed with taste and abstention." Soon enough Adeline treats the television show, The Wonder Years, according to its wider social context, tossing off the line: "The whole thing is an excuse for Baby Boomers to remind everyone yet again the irrefutable Monumentalness of the 1960s."As we enter the 1990s the focus of her gaze gets more serious and we see the deep wisdom of an old soul. Her take on the first Gulf War rings even more true today: "it hadn't been a Good War where all the citizens buckled down under the weight of collective sacrifice. It wasn't even a Vietnam, with the American poor and dispossessed mangled by freedom fighters. The war was a video game in real time on a global scale, in which we unleashed billions of dollars of weaponry on a bunch of ill-educated Arabs."
Baby is more of a babe in the woods of the New York wilds and the wealthy, cosmopolitan Adeline plays a mentor role until he is financially and intellectual more able to stand on his own. Stripped of innocence through club land sojourns, Baby starts to find his voice as a writer and finally Kobek's scathing critique has another outlet. The greatest hits are when Baby is given to comment on the politics of his time, which he describes as "A world in which the zombified corpse of Ronald Reagan embraces profound and systemic industry deregulation and is followed into the presidency by Bill Clinton, a back slapping Southern politician who never saw a civil protection that he didn't detest;" and on art, as when he reminisces on Andy Warhol: "he was a beacon for America's fucked-up and alienated and gay kids. He transformed himself into a living idea like a Tibetan tulpa, an image that self-replicated across the whole culture. But the thing about Andy, the inexplicable thing, is that in addition to being a media superstar, he was the greatest American artist of the twentieth century. I'll defend that position to death."
The author himself has also experienced some reconciliation with his past through the publication of this novel. Last year, he told Chelsea Hodson at Literary Hub, "There's btw, there's I Hate the Internet, and there's an unpublished manuscript called The Future Won't Be Long. They're all part of an unofficially series—the American Decadence series—which spans from 1986 until 2013." While I Hate the Internet was written after The Future Won't Be Long, it's clear that the reverse order of publication gave the author the chance to see this earlier work with new eyes. In the penultimate chapter, when Baby admits he and Adeline "were only another group of rich white people on drugs," it sounds more authorial, an apology, and a moment of exegesis. Soon enough, in that chapter told by Baby, a different narrative voice takes over, seemingly Kobek himself. It is a post-I Hate the Internet Kobek voice. The new voice delivers a long rant with each sentence considering the different things fiction never addresses, such as "the way that free speech is the booby prize of democracy" and "the way the concept of intelligence was devised by men to exclude women." It is at once a jarring and brilliant piece of writing that takes the reader out of the narrative, but thematically rounding it all out and giving the author a chance to stand in the same place of retrospect and reconciliation as his characters. Nostalgia gives way to growth.
The Future Won't Be Long pulls no punches depicting cultural producers toiling in the fields, working with anything at their disposal, all to catch that budding glimmer of inspiration making it all feel worth it before the ghastly reality of the marketplace comes to bear. We feel the truth in the work and that feeling is evidenced by a career reaching a well-earned future.
---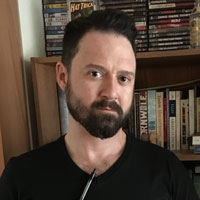 Jordan A. Rothacker is a poet, essayist, and novelist who lives in Athens, GA where he received an MA in Religion and a PhD in Comparative Literature. His books are The Pit, and No Other Stories (Black Hill Press, 2015), And Wind Will Wash Away (Deeds, 2016), and the meta-text My Shadow Book by Maawaam (Spaceboy Books, 2017).
You may also enjoy:
A Conversation with Andrea Jarrell, author of I'M THE ONE WHO GOT AWAY, by Elizabeth Mosier
LATE FAME, a novella by Arthur Schnitzler, reviewed by Robert Sorrell