THE FEMMINIELLO by Joy Belonger
THE FEMMINIELLO
Giuseppe Bonito, 1740/60
by Joy Belonger
His smile is a Spanish quarter, lopsides us down
Campania street inclines, dodging grime bullets.
Cerussite silk plunges down to nothing;
our stems swing steps in atomic tangerine
to highlight a something which nonne wag
their fingers at from melon stands, flag shops.
We storm the cafes, throw up our hands.
È la fine del mondo! Cue laughtrack.
Who wouldn't be chuffed by this look?
The bonnet folds with his recession line.
Never mind his coat tells a fortune in a lake,
the Galli pole dancing on laurel cherries,
sunning their hair to a tambourine.
Eunuchs • were • the first • third • gender • here.
Each coral pearl being measured is a "Day of Blood."
One the Irpinia sun. Another a flagellation drop.
Are we there? Maybe.
Cite Newton for that clown sleeve cover,
a matter of Opticks and edible pigment.
Prussian blue brings a broader palette,
but Bonito bent over for complements.
I can't believe
Portland's popping a goiter for this binch.
What's an antonym for opposites? they ask,
guess. Erasure
or anything-you-can-get.
---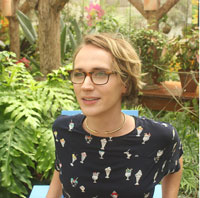 Joy Belonger is a queer transfeminine writer, educator, and printmaker from Chicago, IL. They currently live in Iowa City, where they are a poetry MFA candidate at the Iowa Writers' Workshop. Previous work has appeared in Black Warrior Review, Storyscape, The Cardiff Review, and elsewhere. Follow them on twitter @JoebyElonger
Image credit: The Portland Art Museum