THE DIRT BENEATH HER PLANTS by Tara Isabel Zambrano
THE DIRT BENEATH HER PLANTS
by Tara Isabel Zambrano
Have you tried Amma's ghosht tarkari and ghee parathas? Oh, you must. Succulent lamb chops served in earthenware while Kishore Kumar and Asha Bhosle croon through an old radio. She runs a dhaba, a roadside food stall not far from the Yamuna Expressway. Next time you are on your way to see the Taj Mahal, you should try her food. The cauliflower and carrot sabzi is sold out an hour after she makes it. Potatoes, carrots, onions, and cauliflowers grow in her backyard. She doesn't bother with tomatoes because they require a moist soil throughout the year and water is a scarcity in and around Delhi.
When you arrive, greet her with your hands folded, your head bowed. Amma is always smiling, most of her teeth missing or brown. She'll point to an iron tube well and ask you to wash your hands and feet while she decides your menu. It could be naan or tandoori roti, with lamb or vegetables. Don't talk back or argue. Just accept, and you won't be disappointed. Her dhaba is a tin roof shack, except the walls are not made of bricks but bones. It's constructed on a piece of land that was a crematory during the time Mughals ruled India. Amma claims she makes use of whatever mother earth provides.
Amma's daughter-in-law Prema sells bangles and bindis. She's in her early thirties, with olive skin and dark eyes, her thin wrist covered with bracelets, an orange teeka between her bushy brows. Wears white every day since her husband died in the 1993 Kargil War. She serves food and cleans the tables while Amma sits cross-legged, chewing paan and stirring the lamb gravy, flipping parathas on the stove with her bare hands as if they aren't coated in skin but iron.
You may be asked to sit on a charpai, a woven cot, next to an old banyan that faces the highway. If you trace the branches of the banyan, you'll see a figure. Some say the ghost is Amma's husband, now accompanied by her son. Don't worry, they don't bother anyone. They only keep an eye on their women.
Once the food is served, you'll find an extraordinary appetite in you. As if all you've lived so far was to witness this craving. But don't overeat. It'll make you sick and nothing will ever cure you. The trick is to stop before you realize you are full.
Oh, and don't forget to leave a few rupees in the gullak, the tip jar next to Amma's cushion. It's for the soldiers, she'll say. And buy a few colored bangles from Prema, even if you've no use for them. She might invite you to see the garden, and past the back door you'll see a line of urns filled with ash. Prema will lift her fingers to your lips and whisper, it's the human ash that makes the food delicious. If you appear shocked, she'll laugh and say, the whole earth is a graveyard, and we're feeding off it.
When you leave, don't look back. Even when Amma calls you by your name. Jingle those bangles you bought. Pray for the dead and walk away. There's nothing you can do now. You've consumed her food, you're connected to her. And the craving you feel right now will bring you back to her dhaba time and again. Until someday you decide to stay and end up as dirt beneath her plants.
---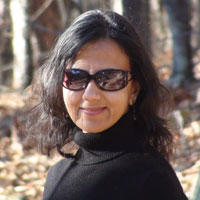 Tara Isabel Zambrano moved from India to the United States two decades ago. Her work has recently appeared in Storm Cellar, Lunch Ticket, Moon City Review, Parcel, and others. She lives in Texas and is an electrical engineer by profession.
Image credit: Omendra Singh on Unsplash