THE DEATH OF ARCHIE: A LIFE CELEBRATED by Paul Kupperberg et al reviewed by Natalie Pendergast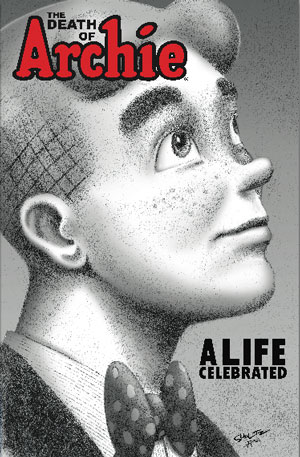 THE DEATH OF ARCHIE: A LIFE CELEBRATED
Text by Paul Kupperberg; Illustrations by Pat Kennedy, Paul Kennedy and Fernando Ruiz
Archie Comic Publications, Inc., 113 pages
reviewed by Natalie Pendergast
The Death of Archie: A Life Celebrated is the long-awaited two-part finale of the Life with Archie series, the most recent incarnation of which began in 2010. The series is a revival of the original Life with Archie comics that, along with spin-offs like Pals 'n' Gals and Betty and Veronica, began in the '50s, spanned several decades, and consisted of hundreds of issues. Unlike the other variant series, however, the early Life With Archie comics were characterized by generic shifts from romantic comedy to drama and fantasy, as well as experimental alternate universes.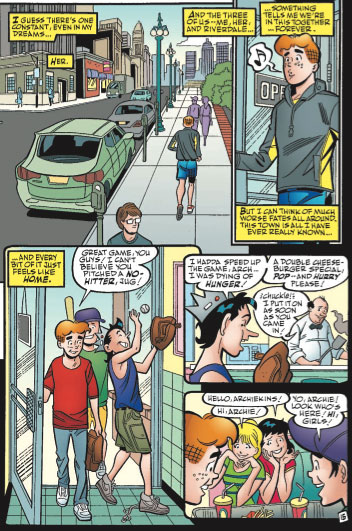 Now, the latest Life With Archie comics have surpassed all others by dismantling the romance genre that promised a life of wedlock and nuclear family values, in favor of tragedy in the form of the untimely death of a hero. Victor Gorelick, The Death of Archie Editor-in-Chief, anticipates the obvious question on everybody's mind, writing, in the forward to #36, "[s]o, why does Archie have to die?" Quickly, he answers, "[i]t's not because Riverdale has changed, or that the fundamental basics of what made Archie great have been altered—what's changed is reality."
Archie has grown up, and his fans have grown up (and old), it's true. But The Death of Archie not altering "the fundamental basics of what made Archie great" has definitely not been my reality in reading the comics.
Archie's greatness was constantly being altered from the beginning. He was probably at his all-time greatest while Dan DeCarlo was drawing him, and he seems to be at his least great in these comics. The reasons for my criticism are threefold.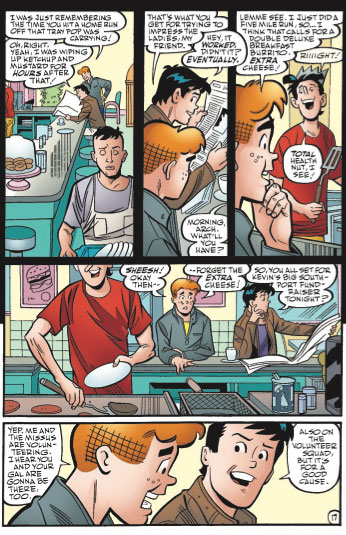 First, the comics are cheesy, and not in the good, campy, retro, pie-in-the-face-humor sort of way. The switch to drama has changed Archie from an impulsive guy to a virtuous, introspective one, but worse—it has the distinct feeling of being prescribed drama, with predictable lines about life's milestones. We are being asked to take a clown seriously; well, that is just not fun.
Let me explain by way of comparison. Tom Hanks used to be an Archie. Back when he was a goofy guy in movies like Splash and Big, I was really into him. So I didn't appreciate it when Tom Hanks became a primarily dramatic actor back in the early '90s, and I don't appreciate my Archie Comics being drama-by-numbers now.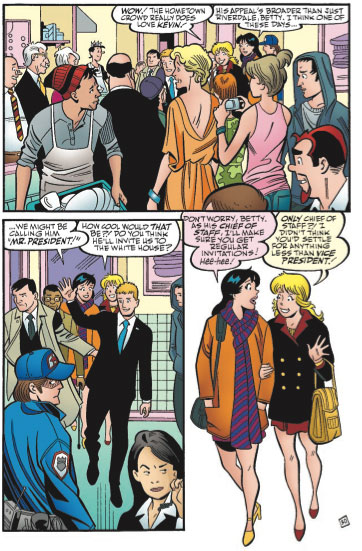 We are also being asked to take Kevin Keller, who personifies political correctness—he is a politician who is not-so-incidentally gay—seriously. But he is not realistic. He is more of a description of what soccer moms want gay men to be than any gay man I've come across. He's a Christian singer/song-writer, the kind that performs with an acoustic guitar during song circle, and someone has convinced him to go to Riverdale and pretend to be a gay man.
Archie doesn't need to have wholesome values; all he needs to be is our forever clumsy, all-American "waffle head," to use Adam Hughes' term of endearment.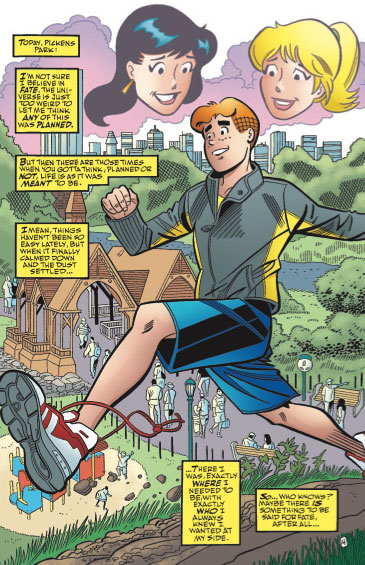 Second, Archie didn't have to grow up for his character to continue developing. Since the dawn of the Life with Archie series, Archie has been steadily checking off his "normal guy" to-do list. He has blossomed into a starkly sober, completely socialized, self-aware, mildly depressed, and utterly boring adult. Yes, the every-boy has turned into the every-man and the series message has unwittingly remained a scowling "grown-ups suck!"
The beauty of Archie comics has always been the way we develop Archie in our imaginations. He is built on error-upon-error in judgment, red cheeks, bleary-eyed "va-va-va-vooms," and teenage tomfoolery.
Third, the death of Archie does not feel tragic. In tragedy, the hero's flaw is the cause of his death. Archie thus should have gotten shot by Betty as she caught him in bed with Veronica. In the penultimate issue, Archie's death registers as Christ-like and he is heralded as a very (un-Archie-like) martyr. He is not tortured enough by his longstanding inner conflict to befit the tragic hero archetype. In fact, I don't know that Archie even realizes he is in a love triangle or that it may be socially unacceptable to have two wives.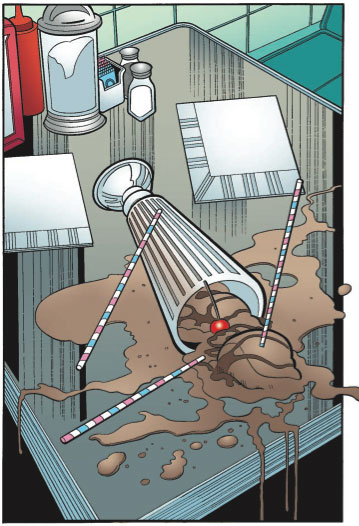 I do like some things about The Death of Archie. The story is quick-paced and has clever transitions. There is graphic rhyming (Archie's pooling blood recalls a spilt chocolate soda, for example). The Betty or Veronica enigma —which one did he choose?— is consistent and riveting throughout. The paratextual notes and collectable covers drawn by various artists at the end are a treat for fans.
Fear not fellow Archie fans—this "ending" is most certainly not the end. We fans have an understanding with the industry: our heroes can die or get married once in a while, but they will always return to the pages of future issues, restored to their original bachelor status, unscathed from battle. Gorelick even confirms this reader-publisher agreement before we get to a single speech balloon: "It's a sad ending, but comic books are still here and Archie will live on in our comics, digests, graphic novels, digitally and in the not too distant future, TV and the movies. So wipe away your tears, Archie's still here and will be here for years to come."
---

Natalie Pendergast is a Ph.D. candidate in Comparative Literature at the University of Toronto. She specializes in American, Canadian and French graphic novels and bande dessinée. She is active in creative circles that dabble in various media such as prose writing, drawing, beat poetry, video-making and theatre. She is also the communications officer for the nonprofit Acadian organizations of Prince Edward Island.