SUNSPOTS by Julia Leverone
SUNSPOTS
by Julia Leverone

The hair the doctors cut to clear
from underneath the stitches,
long and light,
marbled my black shirt.
As with solar flares
storming, I was learning and losing
hot shapes rapidly,
cultivating the worry
sparking my scalp, my nape, my spine,
and on around,
a long caress,
to my right breast,
to my mons pubis.
With the second excision
eyes leaking on the plastic pillow I knew
or came to know
this was my
stellar life:
another few years two moles might
morph and halo,
fizzle out. Brilliant and
varyingly performed
ruptures. Confining
pleasures.
---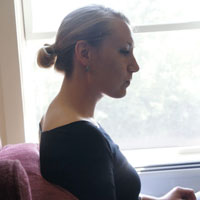 Julia Leverone adjunct lectures at UT Dallas in Spanish and creative writing. Her second chapbook, "Little Escape," won the 2016 Claudia Emerson Poetry Chapbook Prize from JMWW; her book of translations, Fuel and Fire: Selected Poems of Francisco Urondo, is forthcoming from Diálogos Press. Her poems have been placed in Cimarron Review, Salamander, Posit, the Cortland Review, and other literary venues. Julia is the editor of Sakura Review.
Image credit: NASA Goddard Space Flight Center on Flickr