STAYING ON TRACK by Ori Fienberg
STAYING ON TRACK
by Ori Fienberg
Like his father, whenever he voiced a new idea a steam-engine-run train emerged from his mouth. It was possible to spot the idea coming, as his throat would glow and the area around him rumbled slightly. Specialists assured him there was no cause for alarm; it was a mysterious nuisance, but hereditary, and besides, the trains were quite small.
School discussion posed some difficulty as well. Fortunately, it was a well-documented condition, and so accommodation could be made; each room was equipped with a circular track, and he was given extra time to articulate particularly in-depth ideas, which could lead to additional cars, or a tiny, overly-energetic conductor, repeatedly pulling the train's whistle. Some ideas were like that.
It could get overwhelming: all those ideas: all those trains to maintain, or to find bearing down on him in the night. The trains kept irregular schedules, returning the next day, or much larger, years later. His father insisted that one day the trains would take him someplace, though he was vague on the exact details of the location.
---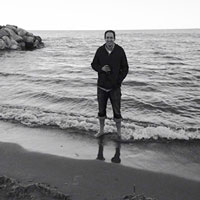 Ori Fienberg, a graduate of the University of Iowa's Nonfiction Writing Program, publishes exclusively flash fiction and prose poetry regularly in venues such as Boaat, Diagram, Pank, Mid American Review, and Subtropics. He telecommutes to work for the College of Professional Studies at Northeastern University in Boston, while living with his fiancée and dog in Evanston, Illinois.
Image credit: Petar Milošević